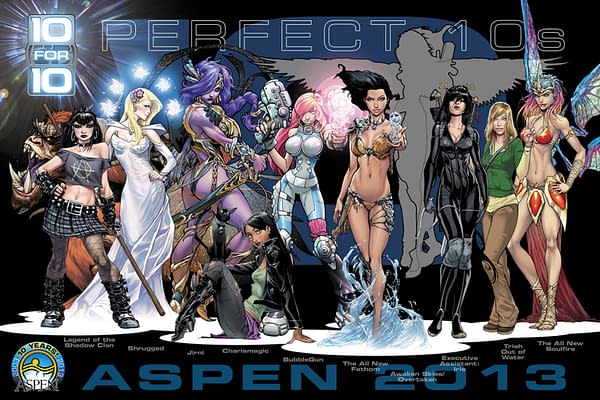 Aspen Comics has announced their full "Ten For Ten" line of new comics, ten titles for their tenth year in publication. And with Lady Mechanika leaving ,each one stars a different young woman in a variety of stages of dress, undress, and standing balanced on one hip.
February – Legend of the Shadow Clan (Brand New Series)
March – Shrugged Volume 2
April – Jirni (Brand New Series)
May – Charismagic Volume 2
June – BubbleGun (Brand New Series)
July – All New Fathom
August – Awaken Skies/Overtaken (Brand New Series)
September – Executive Assistant: Iris Volume 4
October – Trish out of Water (Brand New Series)
November – All New Soulfire
As previously BleedingCooled, Aspen is also offering "Reserved Edition" covers for each new release, for those who preorder with their local comic shop. Collecting all ten will make you eligible for a limited edition poster featuring all ten covers, for free.
As for that Awaken Skies/Overtaken double, Aspen readers get to choose between the two as to which comic will actually be published.
Maybe you'll get to choose which hip they rest on as well.
Enjoyed this article? Share it!