'Atomic Robo: Dawn of a New Era' #5 Ends "Kinder, Gentler" Storyline
[rwp_box_recap id="0"]
Atomic Robo: Dawn of a New Era has been a very interesting departure from the typical Atomic Robo series, in that it was very much a typical Atomic Robo series, just without, you know, all the punching.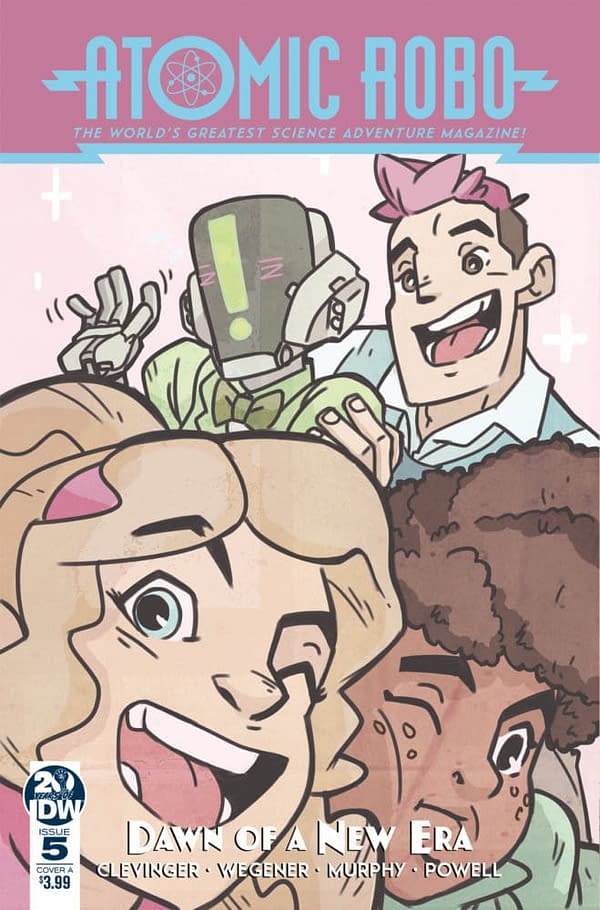 By Robo, that is.
There was a lot of punching, kicking, and fighting going on, especially between Jenkins and the escapees from the vampire dimension. There was plenty of intrigue with the "Dead Scientists Club" learning how to be action scientists.
Then there was Lang's quest to find a book without a dragon on the cover, because apparently Vik only owns books with dragons on the cover.
Robo, though, spent most of the series teaching etiquette to his secret robot son, ALAN, who is not the same ALAN that tried to destroy the earth. But close, just potentially not evil. The only thing that this ALAN appears to hate is bow-ties, which are of the Devil.
So, Robo spent a lot of time teaching action scientists and a secret robot son based on the mind of Alan Turning. He also learned a few lessons about trust, which has to be hard for a 100 year old robot who has had to operate largely in the shadows.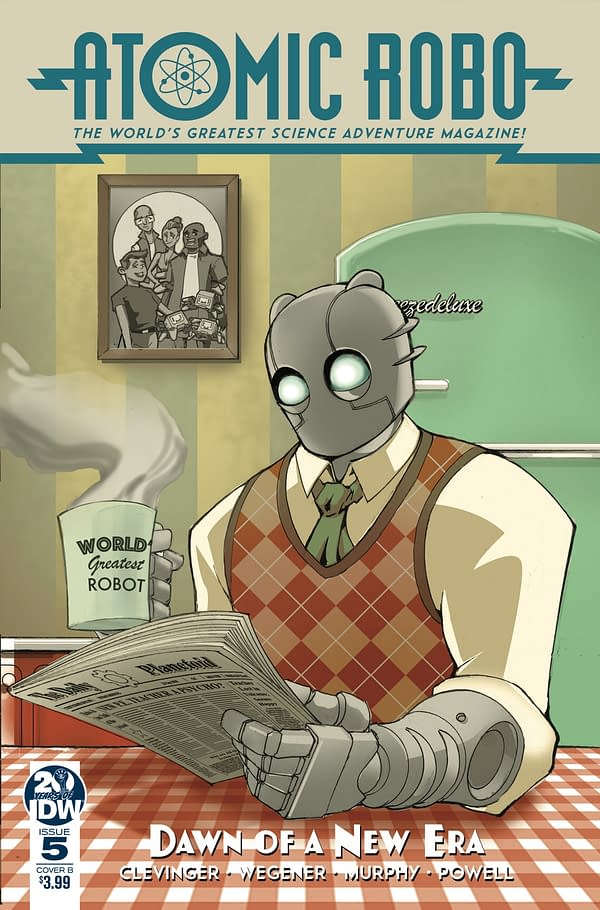 While I absolutely loved this short, kindler, gentler take on Atomic Robo, I am hoping we get back to the high-octane action that makes this series soar. Is that a dig at "Dawn of a New Era"? Absolutely not. The writing was everything I ever want from Brian Clevinger in a Robo story, and while it took a while to adjust to Scott Wegener's new version of his iconic art, it's still a blast to look at.
And change is good for us- I imagine the change of pace was probably a welcome change for Clevinger and Wegener.
The humor in this issue was killing me, though. Jenkins apparently travels about the base using ventilation shafts, since "doors are a tactical liability". It's only after that revelation that Robo realizes how many ventilation shafts the base actually has.
There's also a little momentum with Bernard and his "awakening" as a phasewalker beneath the earth. Considering this is the end of "Dawn of a New Era", I'm assuming this is a story that will play out bigger in issues to come.
The creative team is promising more action with the next installment, Atomic Robo and the Vengeful Dead. I'm already really excited!
If this is your first time reading about Atomic Robo, you should really check it out. Even though the series is released physically by IDW, Wegener and Clevinger have been releasing the series for free online since the beginning. The assumption is that if people enjoy it, they'll support it… which appears to be working out so far!
SUMMARY: Script:Brian Clevinger; Art: Scott Wegener; Colors: Shannon Murphy; Letters: Jeff Powell; Editor: David Mariotte; Publisher: IDW Publishing; Release Date: May 8, 2019; Cover Price: $3.99; 33 Pages
Atomic Robo opened Tesladyne Institute's doors to the next generation of Action Scientists. Everything was going pretty smoothly until Lang discovered Robo's secret robot son who is kinda (sorta) a new iteration of the old automatic intelligence that tried to cook the Earth in nuclear fire some years back. No way things are falling apart, right?
[rwp-review-ratings id="0"]
[rwp-review-form id="0"]