Austin Janowsky Plays Ejay Russell Over Batman Poker Game
Ex-Marvel bullpenner Ejay Russell tells Bleeding Cool about an experience of his that is rather… Granitoesque.
My name is Ejay Russell and I got into comics full time about 4yrs ago. I have a modest site that does fairly well and launched my very first self published comic at this years NYCC, also well received. I certainly haven't made a name for myself big enough to justify stealing from me, but apparently having a big name isn't all it takes these days.

At this year's NYCC, I was booked in Artist Alley along with an artist I'd met online a few years back, Austin Janowsky. I met Austin thru Digital Webbing and he seemed like a cool guy and decent inker, though there was nothing to collaborate on at the time, we stayed in touch about as much as anyone does online. Then about three yrs ago I came up with an idea for a book and needed an inker, naturally I contacted Austin and I got him involved. This was right before another Con in New York and I made sure there was plenty of time to get the pages ready for a sample presentation I was putting together for the publishers there.

In addition to getting the inks in too late to get a proper presentation ready, the quality of the inks were below the work I'd seen previously. Afterwards I pretty much stopped contacting Austin and outside of being Facebook friends, we really had nothing to do with each other.

Fast forward to NYCC 2011, as I'm setting up on Thurday, Austin and I met up in person, we exchanged small pleasantries and got back to setting up our tables. The next morning I'm setting up and I notice a stack of prints on my table, the biggest surprise being they were prints of a pencil sketch I had done in 2008. The print had a sepia tone wash added to it, along with the name of another artist, drawn into the actual artwork. The name of the artist was Austin Janowsky.

A few minutes later Austin walks over as though nothing is wrong and proceeds to tell me how he "created" it as a commission for some poker tournament. I was literally speechless!

I avoided my first inclination to do something violent, I wasn't about to get kicked out of the Con. So I waited till the next day when I good and calm and approached Austin and told him this had to stop. He seemed surprised not just that I wanted him to stop selling my prints but also that I had no interest in selling them either. Despite that, he had no problem trashing the prints he had and I thought 'that was that'; he didn't make a fuss and I didn't want to make a big deal out of it especially since this was someone I "knew".

But that wasn't going to be the end of it. I get home after the show, and through the most random set of circumstances I see the print popping up online, not for sale, but posted by buyers saying how much they loved the print and the "work" of the "artist". To make matters worse, in his acknowledgement of his fans praise, he never once mentions the actual artist or the truth of what his "contribution" was.
Here's the original piece;


And here's a screencap from a YouTube video by someone who bought one of the prints (Nine minute mark).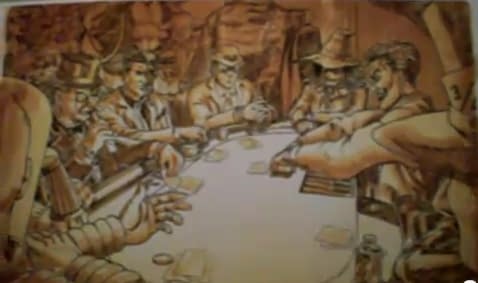 Is this an isolated case? Does anyone notice anything else?
UPDATE: Here's a now-removed screencap from Facebook