Avatar Press In October 2016 With Alan Moore, Kevin O'Neill, Max Brooks, Kieron Gillen, Garth Ennis And Christos Gage
You know, someone should consider a mature readers version of Pokemon Go based on Kieron Gillen and Ignacio Calero's Modded….
Here are Bleeding Cool's owner Avatar Press' solicitations for October 2016.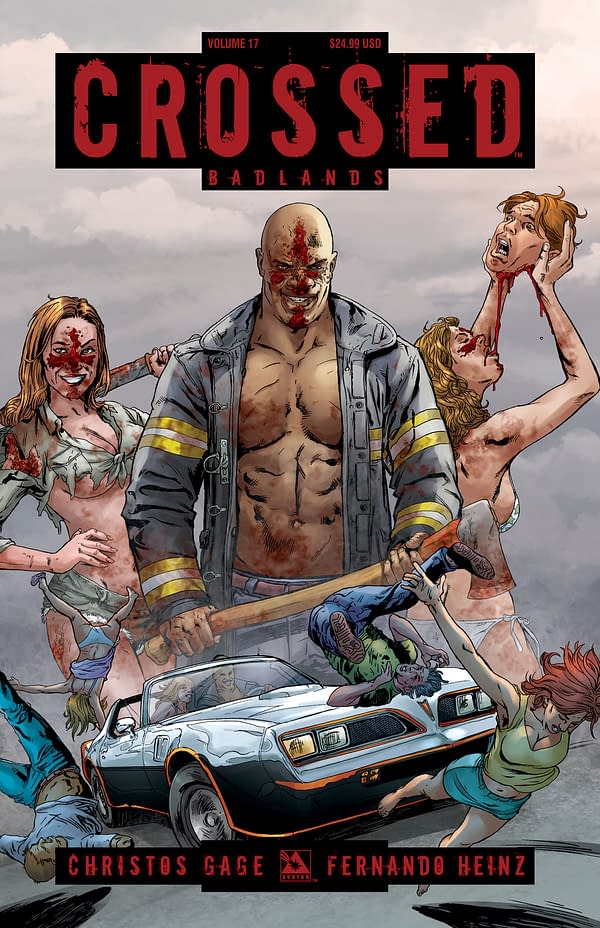 CROSSED VOL 17 TPB
$24.99
Cover: Raulo Caceres
Writer: Christos Gage
Art: Emiliano Urdinola
MR, Color, 208 pages
TV and Screenwriter Christos Gage returns to the grueling world of Garth Ennis' Crossed with a vengeance. Fans favorite Alpha-Crossed Smokey has returned and he's on the mission he began back in the legendary "Quisling" story arc. Driven by a powerful controlled cruelty, Smokey discovers a survivalist bunker and forces a desperate man to help him do the unthinkable…create a new Crossed civilization and city called "Smokeyville." But how long can even a creature like Smokey hold the murderous Crossed to his will before they turn upon each other? It's the ultimate sociological experiment amidst the wreckage of civilization. There is no equal to the terror and depravity within the pages of Crossed. It is simply the most terrifying uncensored horror comic book being published. This volume collects issues #93 – 100 of the ongoing Crossed: Badlands series. CROSSED VOL 17 HC
$39.99 CINEMA PURGATORIO #6
$6.99
Cover: Kevin O'Neill
Writers: Alan Moore, Garth Ennis, Max Brooks, Kieron Gillen, Christos Gage
Artists: Kevin O'Neill, Raulo Caceres, Michael DiPascale, Ignacio Calero, Gabriel Andrade
MR, B&W, 48 pages, ongoing monthly, no ads
The lights are low and that surreal ticking noise from behind you could be the film reel or something else… As the first images begin to flicker across the screen, you feel the hairs on the back of your neck stand and a chill run down your spine. It's an like an old cartoon meant to amuse before the main feature starts – but something is very wrong with it. This is the beginning of Alan Moore's trip to the theatre of the unreal. Now showing: Cinema Purgatorio by Alan Moore and Kevin O'Neill, A More Perfect Union by Max Brooks and Michael DiPascale, Code Pru by Garth Ennis and Raulo Caceres, Modded by Kieron Gillen and Ignacio Calero, and The Vast by Christos Gage and Gabriel Andrade. Each story has its own cover by the series artist and there is also an Ancient Tome Premium edition limited to 1000 copies.
MERCURY HEAT #12 CVR $3.99
Writer: Kieron Gillen
Cover and Art: Nahuel Lopez
MR, Color, 32 pages, ongoing
The last issue of Mercury Heat is here and it promises to go out with a nuclear blast sized bang! Luiza is ready to dole out some catastrophic payback to the miscreants that turned a station full of innocents into a charnel house. Now with the true nature of the "Crossed" discovered and scum-bags behind it in her sights, can this one woman wrecking machine manage to save the day without costing everyone at the station their lives? It's a no holds barred race to the finish with a Nuclose-enhanced cop unleashing the hounds of war! Available with Regular, Wraparound, Art Nouveau, and Excessive Force by series artist Nahuel Lopez.
PROVIDENCE ACT 2 COMPLETE BOX SET
$139.99
MR, Color, 28 comics in a box
An amazing set for fans who that want to obtain a complete set of covers to Providence #5, 6, 7, 8- what we call Act 2.We have all six covers on each of the four issues included, all original first printings. This is the Regular, Wraparound, Women of HPL, Pantheon, Ancient Tome and Weird Pulp covers for all four issues! To top it off, we include the Providence #7 Paintings of Ghouls Set, featuring the incredible images of Ghouls described by Alan Moore, illustrated by Jacen Burrows, and painted by Michael DiPascale! This amazing set is limited to just 100 boxes, so act fast as we expect a prompt sell-out!