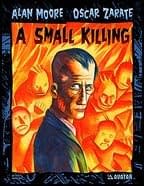 Avatar Press is the publisher of Bleeding Cool. Based in Illinois, ahead of C2E2, they are having a sale on their trade paperbacks and hardcovers, at 50% off cover price for one week. This is similar to the price retailers pay wholesale. Indeed, with reduced shipping rates, this may be an opportunity for retailers to clear Avatar out on certain attractive volumes. And they do seem to be burning through anything a year or older…
Work on sale includes the work of Alan Moore, Garth Ennis, Warren Ellis, Kieron Gillen, Max Brooks, Jonathan Hickman, David Lapham, Christos Gage, Si Spurrier, Justin Jordan, Jacen Burrows and more.
All this work stems from a desire of Warren Ellis to get a comic published that DC/Vertigo had rejected. Finding success with it, publisher William Christensen created a whole body of published work on its back and changed the focus of the publisher from action erotica to a boutique publisher for material that name comic book creators found harder to get published elsewhere. He ended up becoming Alan Moore's favoured publisher for new work, Garth Ennis' home for his war stories and other, harder, works of horror, and invested in writers such as Kieron Gillen long before they broke out at Marvel and on The Wicked And The Divine. They now publish the anthology, Cinema Purgatorio, featuring the cream of that talent.
Anyway, I thought I'd take this sale opportunity to point out a few of my favourites of my erstwhile employer, currently at Glitchwatch prices.
A Small Killing can be considered the missing book in the Watchmen, V For Vendetta, Marvelman mix. Written by Alan Moore, painted by Oscar Zarate, it preceded Big Numbers and was Moore's first major attempt at a more naturalistic graphic novel, the story of a man haunted by the image of a young boy following him around, and exposing his hollow life. The book was remastered and republished by Avatar and it remains one of my favourites. It also sits alongside Fashion Beast, the unmade screenplay that Moore wrote with Malcolm McLaran, transformed into a graphic novel by Antony Johnston by Facundo Percio and with all the movie's dialogue retained untouched, and Light Of Thy Countenance adapted by Johnston and Felipe Massafera. And the adaptation of his Courtyard novella and collection of Yuggoth Cultures would also lead to Avatar publishing possible Moore's most controversial work, Neonomicon. Yes, even more than Killing Joke.
As Warren Ellis gets new attention with the current political scene for Transmetropolitan, Avatar has a bunch of his other works at the same discount, including Anna Mercury, Aetheric Mechanics, Gravel, Ignition City, No Hero, Streets Of Glory, Supergod, Bad Signal, Black Gas, Crecy, Black Summer with Marvel's Juan Jose Ryp, Captain Swing, Doctor Sleepless, and my favourite, the John Wyndham-like Freakangels with Paul Duffield, thematically a prequel to his current series Trees.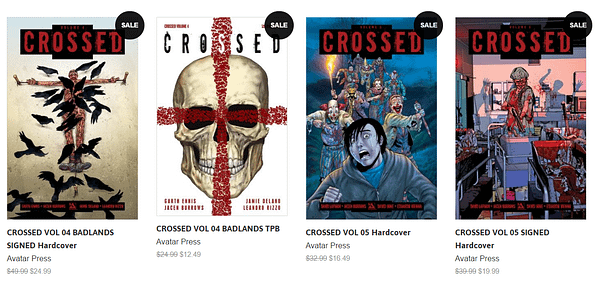 Crossed is the massive zombie-like epic created by Garth Ennis and Jacen Burrows and carried on by all manner of folk, including Kieron Gillen, Jamie Delano, David Lapham, Si Spurrier and Alan Moore with Crossed +100
Garth Ennis' other work is well represented, such as Wormwood, War Stories, Dicks, Caliban, Stitched, Red Rover Charlie and more.
Jonathan Hickman's God Is Dead, taken on by Mike Costa, is available in its entirety.
George RR Martin adaptations of Skin Trade, House Of Worm and Fevre Dream.
Christos Gage has gained greater comics credentials of late, but his Absolution superhero series goes further than any of those.
Enjoyed this article? Share it!