Posted in: Batman, Comics, DC Comics | Tagged: alfred, Batman, bryan hitch, dc comics, pennyworth, the batman's grave, warren ellis
---
The Bat Signal As a Symbol of Fear, and Blame For Alfred's Death (The Batman's Grave #5 and Pennyworth RIP Spoilers)
There is no Alfred in today's The Batman's Grave #5 by Warren Ellis and Bryan Hitch, which is a crying shame, as recent issues' highlights have revolved around just what insult, criticism or takedown Alfred Pennyworth is going to throw Bruce Wayne's way – and maybe even that he is a figment of Bruce's imagination, after his death in the monthly Batman titles. But not to worry, we have the warden of Arkham Asylum on hand to welcome Batman through their doors.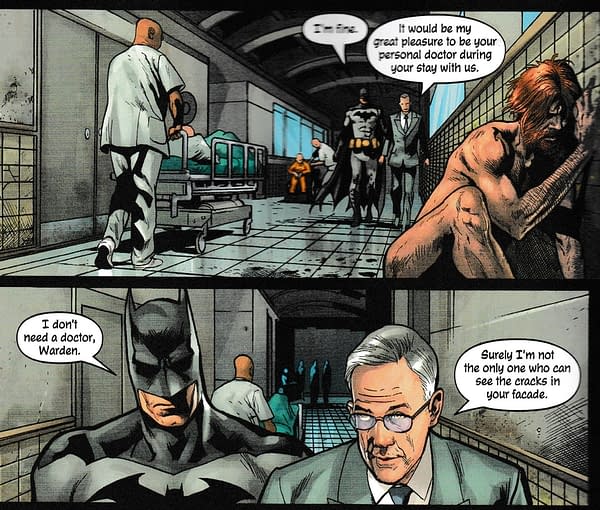 And hoping he might stay around a while.

Indeed, that's pretty much what the entire Tom King Batman storyline of late was from establishing Bruce Wayne as a survivor of a suicide attempt as a child, and looking at how only a damaged Bruce Wayne can be Batman – a happy, peaceful, content Bruce Wayne would just stop. And even getting Bruce Wayne to punch his dead dad with a POW sound effect.
And in Pennyworth RIP, Barbara Gordon has some words for how all that storyline went down.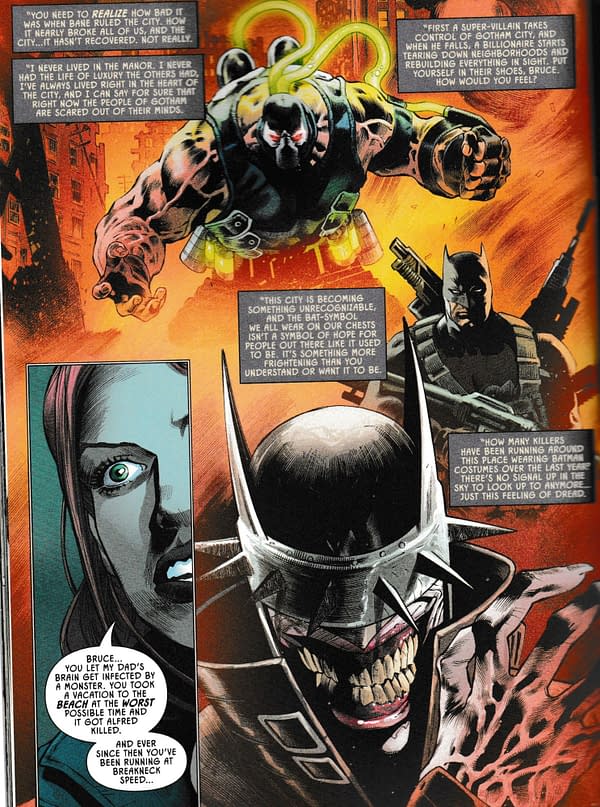 With the Bat Symbol redefined in Gotham as a symbol of Fear. Something Jim Gordon negs Batman about in The Batman's Grave #5 as well.
As Bruce Wayne said back in Detective Comics #27 – "criminals are a cowardly and superstitious lot… I shall become a bat."
Turns out after eighty years of it shining over the city just before Gotham goes to hell, rubs off a bit. Back back to the blame game. Who is to blame for Alfred's death? After Barbara's criticism on Bruce Wayne for leaving for a beach holiday in the middle of City of Bane, Jason Todd also gets in the firing line for not being in Gotham.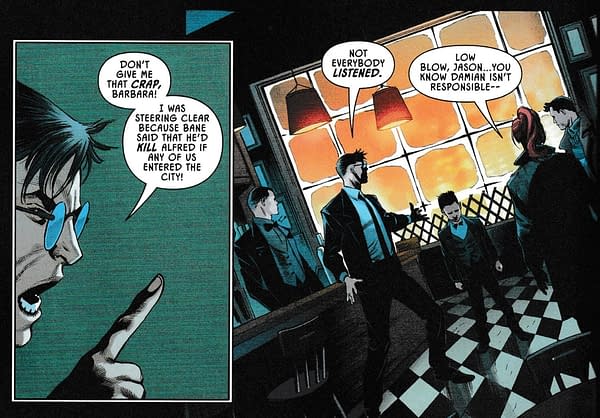 And it was indeed Damian entering Gotham that was to blame for Bane killing Alfred…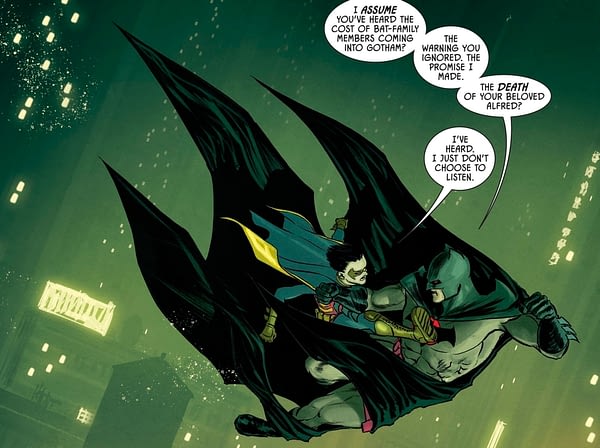 …despite warnings from Thomas Wayne…
…as Damian took on his parallel-dimensional Grandfather-Batman…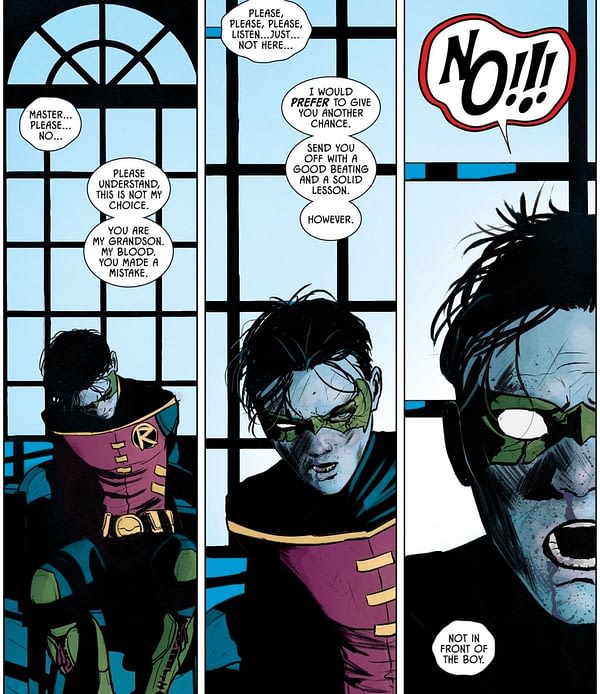 …and paid the price.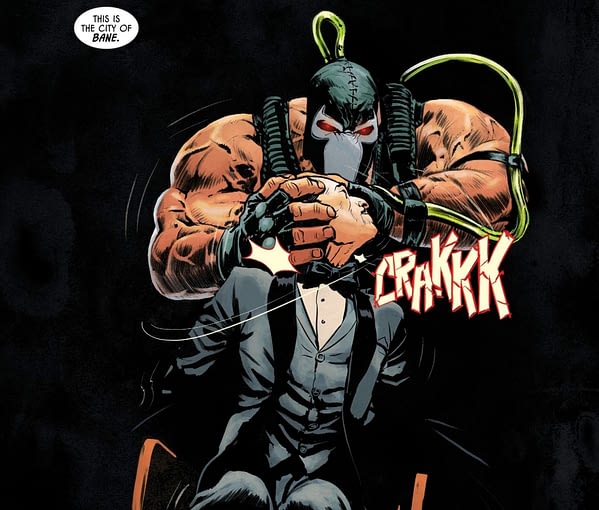 But then in Batman #79, we discovered it wasn't quite such a headstrong decision after all.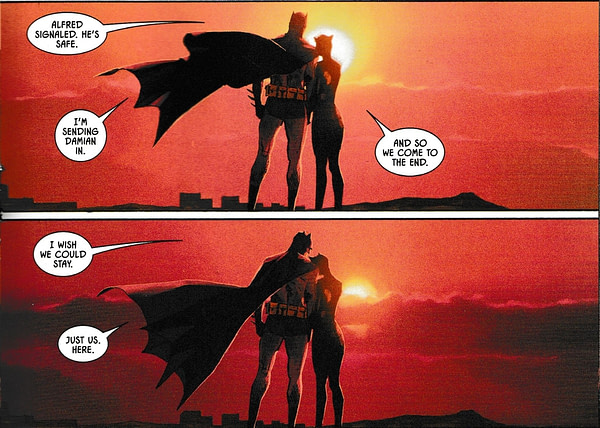 So when Damian takes all the blame on himself…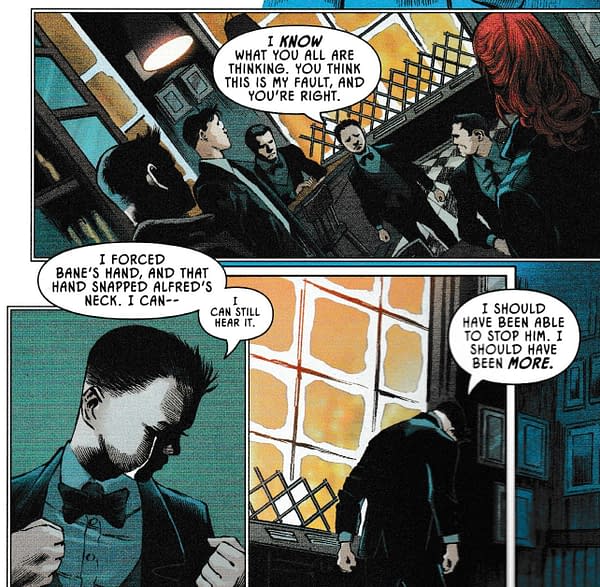 And Bruce Wayne is rather mealy-mouthed in response…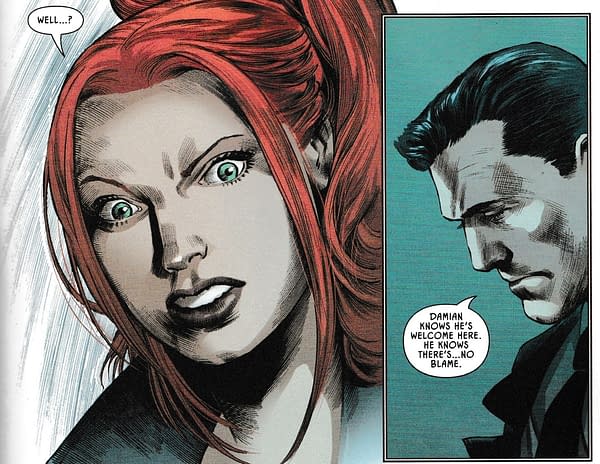 … Batman just goes with 'there's no blame'. Rather than saying 'actually I was the one who told Damian to go into Gotham, when Alfred, unbeknownst to us, sacrificed his own safety. But I should have known, it's all on me' rather than just building a statue and driving himself into knocking down and rebuilding Gotham full of bat-backdoors.
BATMAN PENNYWORTH RIP #1
(W) James TynionIV, Peter J. Tomasi (A) Eddy Barrows, Eber Ferreira, Others (CA) Lee Weeks
Alfred Pennyworth served the Wayne family for decades-even through the tragic loss of Bruce Wayne's parents. His death at the hands of Bane is the only event that could possibly compare to that fateful night in Crime Alley, and it leaves Bruce at a similar crossroads. If Alfred was the glue that held the Bat-Family together, how will Batman deal with that all falling apart? And if the Caped Crusader is to be truly alone, he might either hang that cape up once and for all…or double down and carry on with this vengeful quest forever. Batman: Pennyworth R.I.P. #1 celebrates the life of one of the most important people in the history of Gotham City, while also addressing questions about what's next.In Shops: Feb 12, 2020
SRP: $4.99

BATMANS GRAVE #5 (OF 12)
(W) Warren Ellis (A) Kevin Nowland (A/CA) Bryan Hitch
The Batman is summoned to Arkham Asylum, where he is presented with parts of a deadly puzzle he couldn't see assembling all around him. And he may not make it out alive.In Shops: Feb 12, 2020
SRP: $3.99
The Batman's Grave #5 and Pennyworth RIP #1 are published today from DC Comics. I bought mine from Piranha Comics in Kingston-Upon-Thames. Piranha Comics is a small south London comic store chain with a small south-east store in Kingston-Upon Thames's market centre, which runs Magic The Gathering nights on Fridays, and a larger south-west store in Bromley, which also runs Magic nights and has an extensive back issue collection and online store. If you are in the neighbourhood, check them out.

---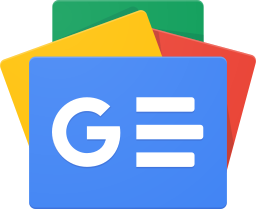 Stay up-to-date and support the site by following Bleeding Cool on Google News today!