Posted in: Comics | Tagged: baltimore comic con, Batman, entertainment
---
Batman Day At Baltimore Comic Con With Scott Snyder, Greg Pak, James Tynion IV, Tom King & Jimmy Palmiotti
Devon Sanders reports from Baltimore Comic Con:
Baltimore Comic Con's Batman panel kicked off strongly, moderated by their VP of Talent Development, Bobbie Chase.
Joining her on the dais was Batman's principle writer, Scott Snyder; along with writer James Tynion IV (Batman Eternal),
Greg Pak (Superman/Batman), Jimmy Palmiotti (Harley Quinn) and Grayson's Tom King.
King started out talking of Grayson is an emotional book for him to write and how despite all of that how thrilled he is to be writing one of the seminal characters of comics' long history.
Tynion IV speaks next and talk turns to Batman and Robin: Eternal and how the thing he's most proud of his being able to write former Batgirl, Cassie Cain into the DCYou Universe. Tynion then reminds the audience that he will be writing the upcoming six-part mini-series, Batman/Teenage Mutant Ninja Turtles for DC Comics. He reminds us that it's a thing that is happening.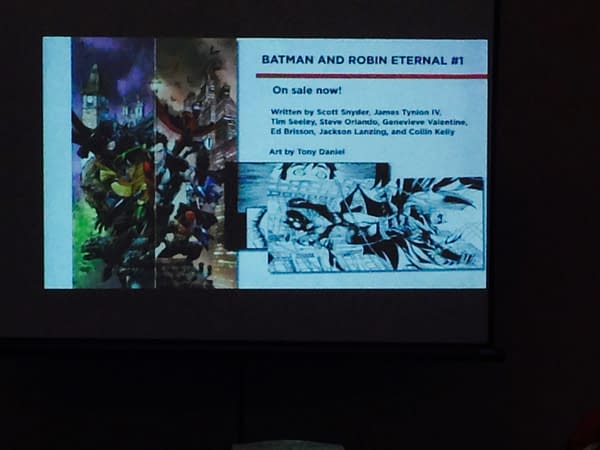 Greg Pak speaks next and talks of the unique challenges in bringing new dynamics to Superman and Batman's decades long alliance. Vandal Savage is the main villain in the latest story arc and speaks of a significantly less powerful Superman and his interactions with a new Batman in Jim Gordon and how while he may appreciate Superman and all he is, he doesn't want him anywhere near Gotham.
Batgirl will be appearing, furher adding to the complcations of the new Superman/Batman dynamic. She suddenly finds herself interacting with a new Batman who she has a sneaking suspicion could be her father.
Tom King talk of the upcoming Robin War and how it's a celebration of all things Robin, threading out throw its own one-shots and the Robin, Son of Batman, We Are Robin and Grayson titles. Mostly, it will examine what Robin has come to mean to DC Comics. King hints strongly that The Court of Owls will have a major impact on the books outcome. King promises that if you're tired of events, it's their job to wake the readers up.
An audience member asks Snyder if he'll have any involvement in the Fox series, Gotham as it's been announced that his creation, The Court of Owls will play a role in the show's future plans. He joked he may show up in the background giving nothing but thumbs ups.
An attendee asks Greg Pak what effect Superman's identity being exposed will have on his mission and responds that it will make things harder but he's Superman. He'll prevail.
Snyder takes the mike and adds that he's fascinated by how different groups react to stresses and how it led to the creation of the latest Batman issue and the origin of new Batman villian, Mister Bloom. Snyder states that he's scary mainly because he's inclusive to all and in that, is scarier than The Joker, a lone sociopath.
Palmiotti is asked about how he feels about the new Suicide Squad movie and says he's excited for it, mainly because it's a new perspective and takes the property to another level. He notes that when you really get down to it, it shows you just how powerful the Batman brand truly is that it can spin off Suicide Squad.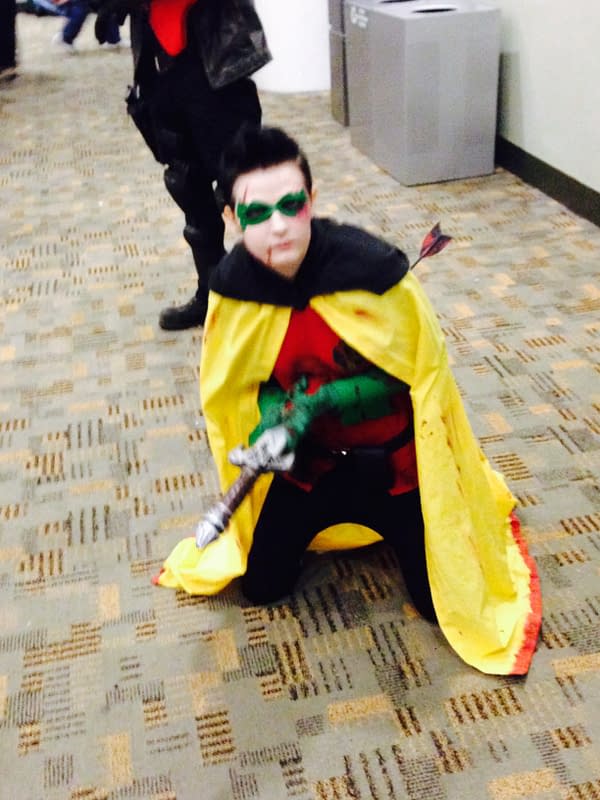 Pak then talks he just loves Batman, period. Batman '66 to Batman's first issue to The Dark Knight Returns and that it all simply adds to the legend of Batman.
Tynion talks of just how hopeful he is just from seeing Affleck's Bruce Wayne in the trailer. The scene where he cradles a child in the wake of destruction was, to him, just the most Batman thing ever.
Palmiotti talks of how the neighbor kids came over to his house after seeing the new Suicide Squad trailer and said, "Oh, NOW we get what you do!"
Snyder is then asked who'd win in a fight between Superman and Batman and replies, "Batman always wins".
He'd also like to do an out of continuity Joker story that's been on his mind a lot lately just needs to find the time to get it out there but assures the audie that it's coming.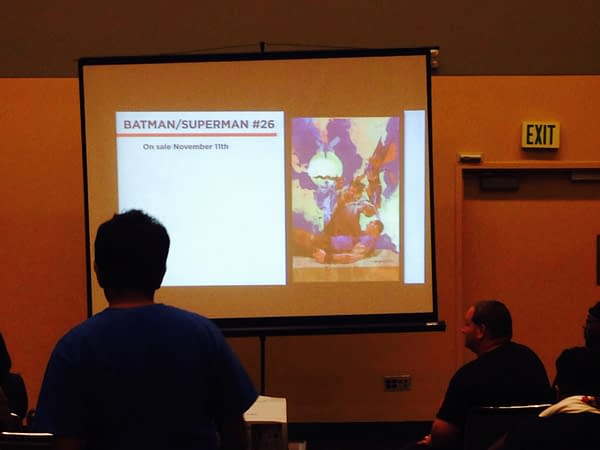 He's then asked who his favorite Batman is to write as he written Batmans, Bruce Wayne, Dick Grayson and Jim Gordon.
He cites how he first started writing a Dick Grayson Batman but states that he loves that he can always find Batman, no matter who wears the cowl.
---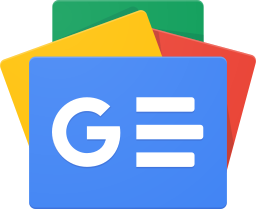 Stay up-to-date and support the site by following Bleeding Cool on Google News today!