Did a UK Publisher Make Us Believe Superman Could Fly in 1939?
Superman as created by Jerry Siegel and Joe Shuster is without doubt one of the most popular and successful fictional characters of all time. People around the world recognize the iconic costume, know about his super powers and weakness to Kryptonite, and have seen or read his now-familiar origin story. He is the prototypical superhero, and has been featured in a nearly countless number of comics, books, films, games and on any kind of merchandise you can possibly imagine from pajamas to jigsaw puzzles.
Everybody knows Superman's origin story, his powers, and even the cast of characters which includes Lois Lane, Jimmy Olsen, and Lex Luthor. A condensed form of the origin tale was there from the very beginning in Superman's first appearance in Action Comics #1, published April 18, 1938 (according to Library of Congress data). But it's far less known that this origin hasn't remained the same over the decades — and that many other now-famous elements of the Superman mythos were added across years of time and several mediums. The core rocket ride to earth by the baby who would become Superman was there at the beginning, but many other now-famous elements were added in later times.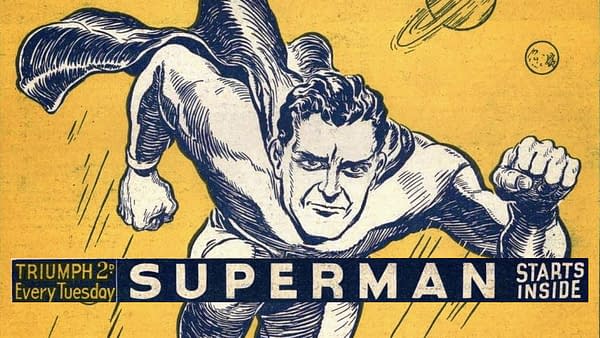 Superman, Inc.
Superman's success from nearly the very beginning enabled DC Comics publisher Harry Donenfeld to turn the character into a media and licensing franchise very early on, and these wide ranging elements ultimately influenced the core mythos over time. For example, several key elements of Superman's origin were identified or clarified in the Superman newspaper strip which began from McClure Syndicate on January 16, 1939. Krypton was identified by name in this strip, and Superman's parents were given the names Jor-L and Lora. Many key elements of the Superman mythos came from the radio show which began on February 12, 1939, ranging from Superman's weakness to Kryptonite to the name of the Daily Planet.
Over a decade later in 1951, Action Comics #158 finally named Jonathan Kent and gave us our first version of the Pa Kent death scene, in which he tells young Clark, "your super-powers made you a champion of right as Superboy! Now you must continue your role as Superman — but always keep your true identity hidden!", a touching moment that has been retold and revised several times in movies.
The Superman radio show is also traditionally credited with making us believe that a man could fly. While Superman was still simply leaping tall buildings in the comic books, the radio program which hit the airwaves on February 12, 1940 gave Superman the power of true flight, introducing famous phrases like "Up, up and away!", and "Look, up in the sky!" in the process.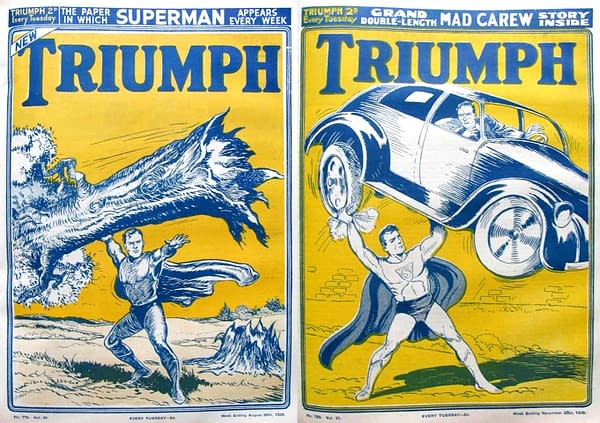 But it would appear there's more to this story. Superman was licensed for reprint publication in the British story paper Triumph beginning in Triumph #772, August 5 1939. Like most British story papers of the era, this series from publisher Amalgamated Press contained a mix of illustrated fiction and some comics. Amalgamated was the historic UK company known for publishing characters like Sexton Blake and Night Hawk among countless others, renamed Fleetway Publications in 1959, the assets of which were acquired by Rebellion Developments in 2016.
Amalgamated used McClure Syndicate's Superman newspaper strips as a source, reformatting them into pages, often adding introductory half-splashes drawn by UK illustrator John "Jock" McCail, who also did several Superman covers for this run. Triumph serialized Superman weekly in issues #772-792, 807-814.
Up, Up and Away
Superman's run in Triumph is noteworthy for several reasons. They are the first Superman comics to be published outside the United States, and because they are based on the comic strip source, they also contain the first more complete origin of the character to be published in comic book form anywhere in the world. And then there's that fascinating cover on the debut of the run, Triumph #772.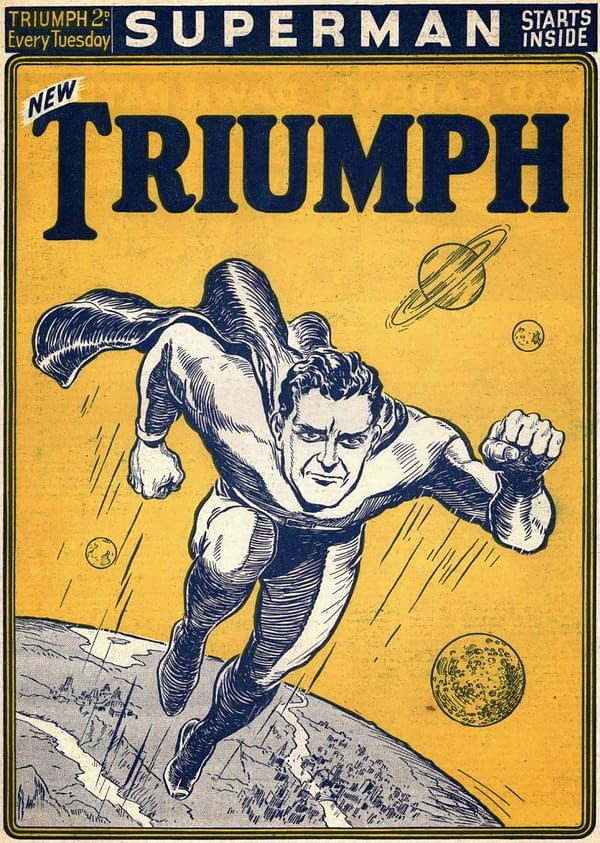 This is clearly not Superman leaping tall buildings. He's flying up in the sky, high above the earth, using that now-familiar fist-first technique as he bursts towards us from the cover. Triumph #772 was published on August 5, 1939 — obviously well ahead of the debut of the Superman radio show on February 12, 1940.
What happened here? Is it possible that the radio program writers were influenced by this cover from the UK? I think that's very possible — and perhaps even likely.
The Superman radio program was developed by Robert Maxwell (no relation to the media mogul of the same name who later purchased Triumph's publisher) and DC's press agent Allen Ducovny. Maxwell was a pulp writer who had worked on DC Comics owner Harry Donenfeld's pulps years earlier. With Superman's initial burst of success, Donenfeld brought Maxwell in to oversee Superman licensing and to get the character onto the airwaves — radio in 1940, and television in 1951.
Given these wide-ranging responsibilities, it is not unlikely that Maxwell payed close attention to the finished product of Superman's first international comics licensing deal in Triumph.
We can't say for sure that the cover of Triumph #772 nudged Maxwell and Duckovny towards giving Superman a new super power. We can be more certain that Jock McCail meant for the character to defy gravity as he punches the sky at the edge of space on that cover. And by all accounts, Maxwell was hands-on and detail-oriented to the extreme, which is part of what made him good at his work on Superman licensing and media development, and the timeline and elements are in place for him to have seen Jock McCail's flying Superman cover and taken notice of what made it so effective.
Comic Connect had two of these super rare Superman gems available at auction tonight, and the buyer got one heck of a deal on them. Hat tip to eccomic on the CGC forums and UK comics historian Terry Hooper-Scharf for additional images.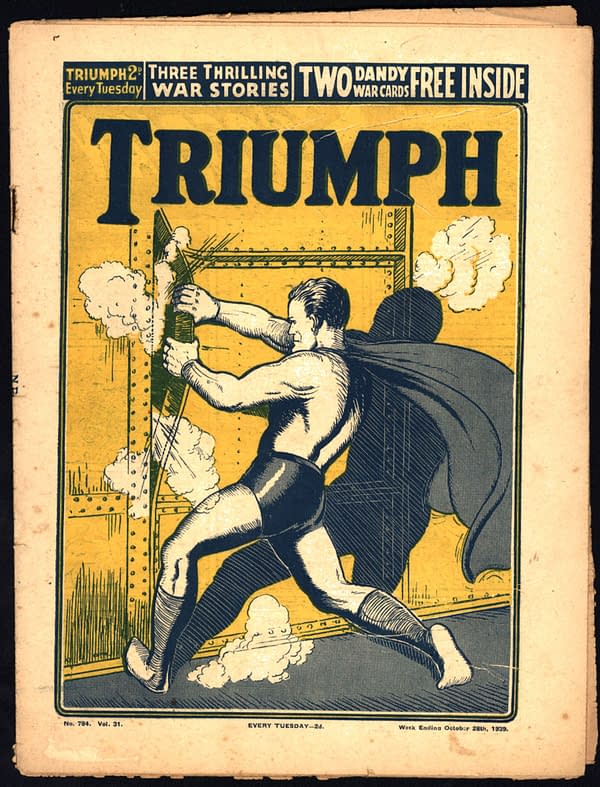 Affiliates of Bleeding Cool buy from and/or consign to ComicConnect.