Benjamin Percy Off Nightwing Already?
The events in Nightwing #50 are certainly meant to be dramatic, spinning out of Batman #55. Advance artwork appears to suggest a serious headwound, and a serious haircut. There have also been rumours that this will spin out into a long-running new status for Dick Grayson.
However Bleeding Cool understands that status is not a story that novelist and current Nightwing writer Benjamin Percy will be telling. He joined the comic book with May's Nightwing #44 but rumours reaching Bleeding Cool suggest that he may not last the year. Nightwing #50 beginning in November is solicited as a four-part story and written by Percy… but will he be finishing it? And what then?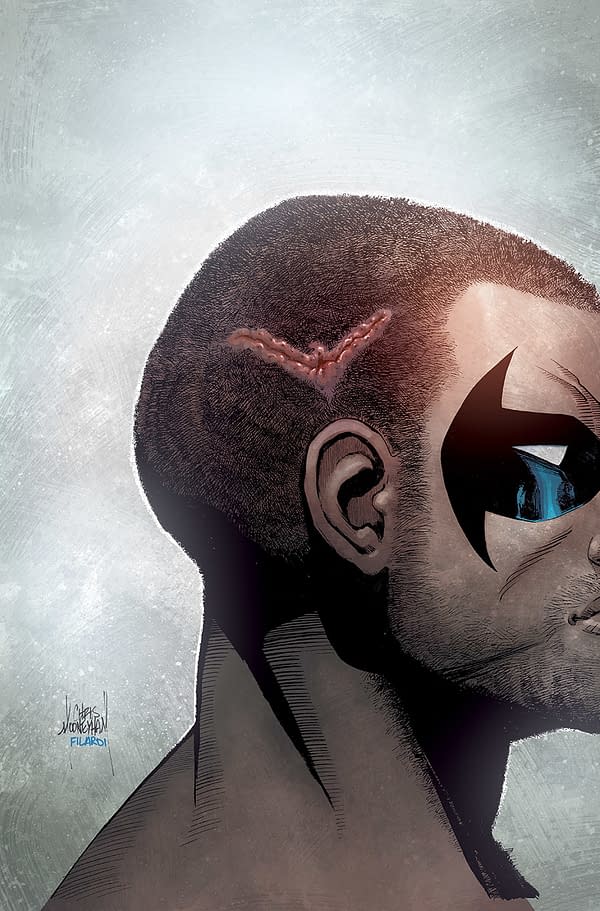 Is this down to new DC plans to treat Nightwing in a similar fashion that Marvel treated Superior Spider-Man, with a longform storyline for his new status? Even when a there's a slightly-more-traditional-but-sweary Nightwing in the Titans TV series for the DC Universe app?
Percy achieved critical acclaim at DC Comics for his work on Green Arrow, but he has said that the Batbooks would be his dream job. If not Nightwing, where next for his prodigious talent?
He may be a bit busy. Including his new sci-fi novel franchise optioned by the Russo Brothers just reported by Bleeding Cool, he also recently talked about seven projects all covered by NDAs that he is currently working on. So there's that.
But will he really not get to tell that Nightwing/Scarecrow story he was planning? At least, not now? Let's see what December solicitations tell us…