The 38th Asterix comic book will be released on October 24th. It will, as is traditional, take over every possible printing press in every possible territory for as much as the warehouses can stand before launching, printing several million copies and then going to a further printing as soon as is humanely possible. With a little bit of Getafiz's potion to help things along.
The comic book character is celebrating 60 years after being created by René Goscinny who died in 1977, and Albert Uderzo who handed over the characters to the current writer and artist team Didier Conrad and Jean-Yves Ferri (while still acting as a creative overseer). The new book will be their fourth album together.
According to Conrad, the new book will begin "at dusk in front of the chief's hut, and we see three enigmatic visitors coming in … remember that someone very important comes to the village." and the visuals suggest that these warriors are Arvenes as seen in Asterix and the Chieftain's Shield. The book, rather than travelling to foreign fields as is traditional will all take place in the Gaulish village exploring just who the familiar opening in the French versions 'Our ancestors. the Gauls' really refers to. Time for a Gallic Origin Story folks…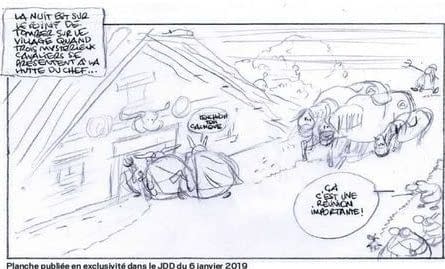 And we have the first panel and a whole page to obsess over between now and October…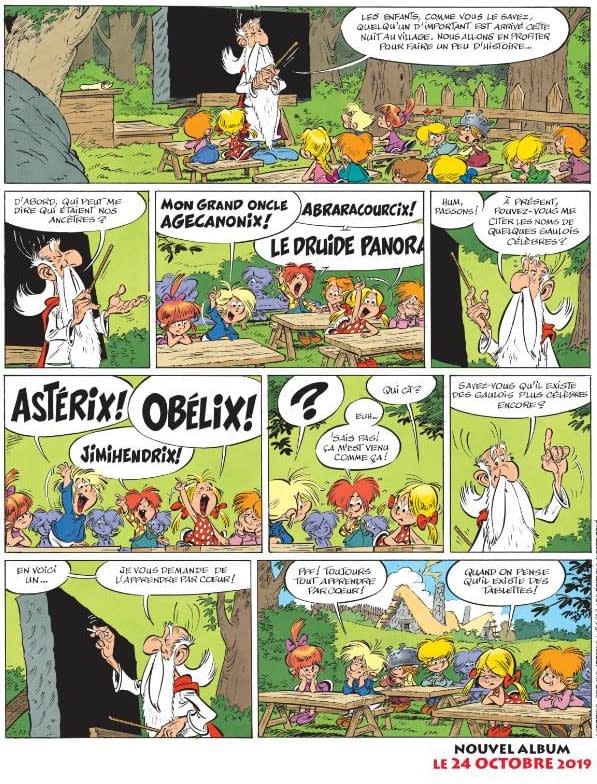 And yes, confirmation that Jimmy Hendrix was a Gaul…
Enjoyed this article? Share it!