Artists, Writers and Artisans LLC, the new New York comics publishing company set up by Bill Jemas and Axel Alonso, has its first Diamond listings, and they will be providing copies of the preview magazine that has been seen through comic con season, but to comic book stores as well. Upshot Now Magazine #0 and #1 are listed under AWA STUDIOS, and will be 144 pages long each. Upshot Now #0 will be in comic book stores on December 11th, and #1 on January 20th, as a bit of a surprise to comic book stores.
Look for previews of J. Michael Straczynski and Mike Deodato Jr.'s The Resistance shared universe, Michael
Moreci & C.P. Smith's supernatural espionage thriller Archangel 8, Jason Starr & Will Conrad's gritty tale of border
paranoia taken to the limit Red Border, John Lees & Dalibor Talajic's chilling horror anthology Hotell, Frank Cho's high-stakes sci-fi adventure Fight Girls, Year Zero by Benjamin Percy and Ramon Rosanas, Devil's Highway by Benjamin Percy and Brent Schoonover, Ollie Masters & Rob Williams & Laurence Campbell's supernatural crime story Old Haunts. They also include full issue-length stories in black-and-white as well.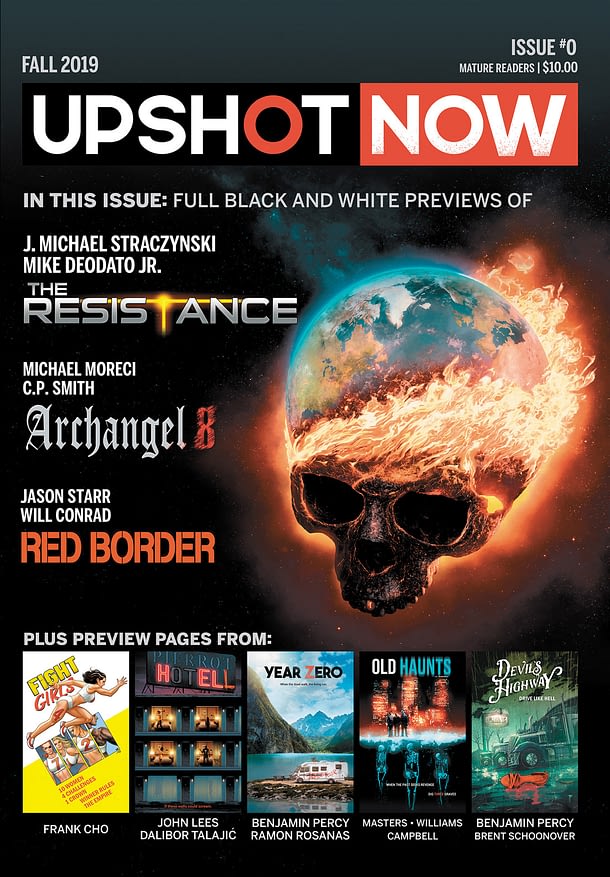 Enjoyed this article? Share it!