19 More Black Friday Sales In Comic Book Stores This Week
We have thirteen new listings for Black Friday comic store sales tomorrow… you can see the previous six and eighteen listings here, a grand total of thirty-seven!
Take it away boys
Best Comics International, 1300 Jericho Turnpike, New Hyde Park, NY 11040, (516) 328-1900

The Comic Bug, Manhattan Beach & Culver City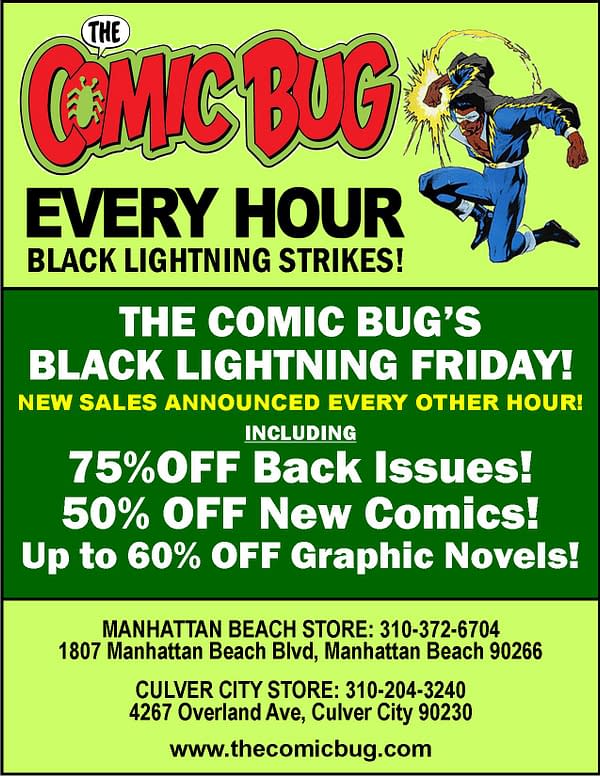 Earth-2 Comics, Sherman Oaks, 15017 Ventura Blvd. 91403 and Northridge, 8967 Reseda Blvd. 91324 Coliseum Of Comics, Downtown Lakeland, Fashion Square Mall, Kissimmee, Millenia, New Tampa and Seminole Town Center, Florida Things From Another World, 10977 SE Main St. Milwaukie, OR 97222 (503) 652-2752 or 2916 NE Broadway St. Portland, OR 97232 (503) 284-4693 or 4390 SW Lloyd Ave. Beaverton, OR 97005 (503) 643-4222 or 1000 Universal Studios Blvd. Suite #179 Universal City, CA 91608 (818) 622-8464

Currently in the midst of our Gray Days of November Sale where folks will save 20-60% on nearly every in-stock product at TFAW.com. Starting at 12:01am on Black Friday, the savings get even better, with customers getting 30-70% off most in-stock product.

Two waves of Doorbuster Deals are planned for Black Friday, one for 12:01am, and another at 12:01pm. These deals start out at just $2.00 and feature products from popular properties like Star Wars, Buffy the Vampire Slayer, The Walking Dead, Batman, X-Men, and more.

Finally, we'll be offering up a third batch of awesome Doorbusters at 12:01am on Cyber Monday.
Wade's Comic Madness, 8750 New Falls Rd. Levittown, PA 19054, 215.946.9381 Jesse James' Comics, 10620 N 43rd Ave #6,7,8,9,10 Glendale, Arizona +1 602-993-0392 We tried to stay dark on this as long as possible. If you haven't been to a BlackFriday with us get ready to ROCK. They are HUGE and its a No Excuse Weekend. Doors open at Midnight Friday Morning and we don't close till Monday Morning at 3 am. That's right 75 hours straight. Our Sale involves 98% of the store inventory. From 50% off, to some items 75% off. Door busters Galore! Midnight to 3 am Friday, Saturday and Sunday tagged tables are $1.00 each then go to 50% the rest of the day. Trades 50% including 400+ that have never been on the floor. We will have a Pre-party from 11 am till 11.50 am Thursday night. And of course NO WAITING in Line till the last 10 minutes. We will announce more and our guest throughout the next 48 hours. Last year over 25,000 sold in three days we want to sale more by giving you the Best Prices Best, Best Inventory and of course our Industry winning Best Customer Service. **** Harley Quinn, Walking Dead will be smaller sale prices
Samurai Comics, 1051 E. Camelback Rd. Phoenix, AZ 85014 602-265-8886, 1120 S. Country Club Dr. Mesa, AZ 85210 480-962-1123 and 10720 W. Indian School Rd. Phoenix, AZ 85037 623-872-8886
| | |
| --- | --- |
| | |
| BUCK-A-BOOK SALE!It's back! Our most popular sale ever! Newer comics on our 6-month wall regularly priced $2.99-$3.99) plus back issues in our regular back issue bins are $1 each! | BUY 1 GET 1 HALF OFF SALE!Each store will have special buy 1 get 1 half off deals on select merchandise. Items will range from T-Shirts to Drinkware to Game of Thrones action figures & more! See stores for full details & sale merchandise! |
Plus each store will be offering our popular comic book bundles at 50% OFF! This is a great way to start a new collection!
FRIDAY, NOVEMBER 28TH 10 AM UNTIL 6 PM
AT ALL THREE SAMURAI COMIC LOCATIONS!
Little Shop Of Comics, 393 Park Ave Scotch Plains, New Jersey +1 908-322-9402
11am – 12:59pm 25% off*
1pm – 8pm Mystery Discount*** 20% – 40% off*

75% off Back Issues all day long

Deep Discount Room(CASH only):
Selected Merchandise 50-90% off**

Dollar COMICS!

BACK BY POPULAR DEMAND
#1 DOOR BUSTER: $5 LONG BOXES!
FIRST COME FIRST SERVED
LIMIT OF 1 PER FAMILY
NO DEALERS
MINOR'S MUST BE ACCOMPANIED BY AN ADULT
AGAIN THESE BOXES GO ON SALE AT 10:30AM
The Comic Book Shop, Delaware
Original comic art! Full pages and sketches! Signed prints, posters, & comics! Stuff signed by Stan Lee, Alex Ross, Frank Miller, Jim Lee & many more! Comic sets & full runs! We completed runs so you don't have to! Newly restocked discount TPBs & Hardcovers! Books! Discounted art books, novels, & sketchbooks!

Funko Pop Vinyl & ReAction Figures! 3 for $25! Including Universal Monsters, Horror, Walking Dead, BTVS, and More!

Magic the Gathering Grab Boxes! $25 for an 800ct Box! Boxes include a mix, mostly Commons & Uncommons, from Revised to current series. Boxes do not contain Basic Land.

Discounted Toys, Statues, & Collectibles Including: Marvel*DC*Star Wars*Sci-Fi

Comics Grab Bags: 30 Books for 10 Bucks! A mix of Current and Classic issues!

We also stashed a surprise in a few of the bags – you might win a Gift Certificate to The Shop!

Gift Certificate Bonus! Buy $20, Get $5 FREE*!
Pittsburgh Comics, 113 E McMurray Rd, McMurray, PA 15317, (724) 941-5445
All Back Issues 50% Off! Graphic Novels – Buy 2 get 1 Free! The free one must be of equal or lesser value than the other 2. All of my overstock graphic novels are up in the store at 50% off! Huge selection of good stuff. All statues 20% off! All action figures 20% off! All board games 20% off! All Cards 20% Off! Stadium Comics in 499 Main St S, Brampton, ON L6Y 1N7, Canada +1 905-451-3751
Online sale begins at 12:01 am EST where you can save up to 90% off the regular price on variants and rare comics. Our in-store sale starts at 9:30am on Friday, and we have tons of limited door crasher deals with savings of up to 90% on selected Hardcovers and TPBs, as well as sales on back issue comics, posters, action figures, and statues. Visit http://www.stadiumcomics.com/2014/11/25/black-friday/for full details of everything on sale (it's a very long list!)
Fat Jack's Comicrypt, 2006 Sansom St Philadelphia, PA, (215) 963-0788 or 521 White Horse Pike Oaklyn, NJ,
we have a ton of 1/2 marvel, dc and other trades. plus 10% off everything except new books through Monday. we've also just expanded out gaming section for the shopping season.
Jetpack Comics, 37 N Main St, Rochester, NH 03867 (603) 330-9636
BLACK FRIDAY SALE DONATION – PRESENT THEM TO THE CLERK BEFORE YOU SHOP

2 Toys or 15 food items (come on – that'll cost you like $5) and you can PURCHASE the following.
SQUISHABLES & all plush – BUY 1 Get 1 FREE limit of 2 times

WARHAMMER & GAMES WORKSHOP – BUY 2 get 1 FREE even on paints & tools limit of 2 times & not applicable to the last month of releases.

ACTION FIGURES – BUY 2 GET 1 FREE even SALE ones priced in the SALE ROOM limit of 2 times

THE $1 Comic Room is now the 25 cent comic room but you have to buy 100 (HINT – Bring these to the counter as soon as you leave the sale room or you won't get the deal) limit of 2 times

COMIC & CARD SUPPLIES – BUY 2 get 1 FREE Bags, boxes, sleeves & more limit of 3 times

MAGIC THE GATHERING STARTERS – 2 for $15 – Just the standard ones gang limit of 2 times

MAGIC the GATHERING BOOSTER PACKS – 10 for $30 applies to standard priced packs only limit of 3 times

HEROCLIX / DICEMASTERS – BUY 2 GET 1 FREE limit of 3 times

TRADES, HARD COVERS & BOOKS – BUY 2 get 1 FREE Sale priced & regular limit of 2 times

YU GI OH BOOSTER PACKS – 10 for $15 limit of 3 times

STATUES & BUSTS – BUY 1 get 1 HALF price limit of 1 time

BLIND BOX / BAG FIGURES – 5 for $25 Must be five different limit of 1 time

SILVER / BRONZE AGE & WALL BOOKS – Buy 2 get 1 Free (No bulk discounts on this) limit of 3 times

GAME of THRONES STUFF – Buy 2 get 1 Free limit of 2 times

DOCTOR WHO THINGS & FUN – Buy 2 get 1 Free limit of 2 times

HOODIES – BUY any HOODIE & get 2 FREE T-shirts limit of 1 time

T-SHIRTS – BUY 2 T-Shirts & Get 2 FREE limit of 1 time

PINT GLASSES & MUGS – BUY ANY MUG or PINT GLASS & GET a JETPACK Mug or Pint Glass for FREE limit of 3 times

WALKING DEAD & ALL THINGS ZOMBIE – Buy 2 get 1 Free limit of 2 times

POKEMON – 5 booster packs & 1 Starter – $25 limit of 2 times

POKEMON BOX SETS & TINS – BUY 2 get 1 FREE limit of 2 times

FUNKO POP / REACTION / LEGACY FIGURES – BUY 3 GET 1 FREE limit of 2 times

10 BUTTONS for $5 limit of 2 times

MY LITTLE PONY TOYS / TRINKETS / BAUBLES & more – Buy 2 get 1 Free limit of 2 times

TEENAGE MUTANT NNJA TURTLES TOYS / TRINKETS / BAUBLES & more – Buy 2 get 1 Free limit of 2 times

MIX and MATCH try 10 different indy comic titles for $10 ($3.99 cover price max & they all have to be different)

BOARD GAMES BUY 2 Get 1 Free limit of 2 times

MUNCHKIN – Buy a box set & get a booster

MAGIC BOOSTER BOXES – $80 each – limit of 3 total boxes Choose from Khans, Journey, Born, M15 and select others while supplies last!

SINGLE MAGIC CARDS – get $25 off your purchase of $100 or more worth of Magic Single Cards limit of 1 time

MAGIC DECK BUILDERS TOOL KIT or Holiday Gift Box – 2 / $25 limit of 2 times

MAGIC FAT PACKS – 2 / $50 limit of 2 times

DUNGEONS & DRAGONS & /OR PATHFINDER BUY ANY 2 D&D or Pathfinder Books & Get a FREE D&D or PATHFINDER MINI BOOSTER PACK limit of 3 times

Want to save the dollars? You best show up with the appropriate donations. If the donations suck you will NOT be allowed into the sale. Give and save! That's our rule. It should be yours as well. You have to make a donation every time you want to take advantage of a sale!