This is the Top Ten Bleeding Cool Bestseller List, as compiled by a number of comic stores from their sales on Wednesday and Thursday. It measures what are known as the "Wednesday Warriors", those who can't wait till the weekend to get this week's comics. We salute you, and the keenness you bring to your passion.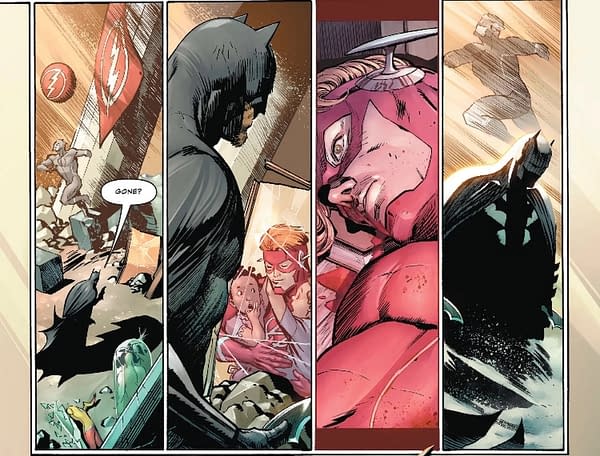 Top ten bestsellers:
Batman #64
Justice League #17
Green Lantern #4
Daredevil #1
Uncanny X-Men #11
The Walking Dead #188
Avengers #14
Young Justice #2
Conan the Barbarian #3
Female Furies #1
Thanks to the following retailers
Who had this to say:
Another five-five split between Marvel and DC this week–but this time, Marvel took three of the Top Five. We keep hearing more reader dissatisfaction with the current direction of the DC Universe; even long-time DC collectors are dropping titles. Meanwhile, fans really like Marvel's new take on books like Hulk, Conan, Uncanny X-Men, and Avengers. Ah, if only we could have a prolonged period during which BOTH of the Big Two were delivering their A-game…
—–
It's a week that a Batman title comes out, which means Batman has taken the top spot at FFF! Surprisingly, Green Lantern is in the top half of this week's best sellers. There's either something to this book I'm missing, or there's a new legion of Morrison fans eating up the galactic offering. Either way, I'm glad to see the book selling and I've learned sometimes it's best not to question sales. Walking Dead falls to the middle of the 10, but still remains a solid seller in store even after the first week has passed. Conan continues to sell well, but I'm worried we'll see a downward trend once there's three Conan themed titles competing for attention and customer's money. We've been waiting for Marvel to learn the "less is sometimes more" approach, but it doesn't seem likely to happen anytime soon. I think Daredevil #1 shows that this relaunching/multi-series trend can do more harm than good for a title. Zdarsky's first issue of Daredevil was surprisingly solid, with smooth writing and even better artwork from Checchetto. Despite its solid first issue, it's closer to the bottom of our top 10. Is it fatigue from Man Without Fear's weekly run? A reluctance to try yet another Marvel #1? I think both are overwhelming contributions, but hopefully this will pick up on its second week and we'll see a return for #2.
—–
No big surprises in sales this week. It's hardly worth mentioning that Batman came out on top, because of course it did, and always does. I was really hoping Daredevil #1 would give it a run for its money, but no dice. I think a lot of folks are a little hesitant to pick it up, given that so many sat out the tail-end of the previous run, but it still did okay, and the reviews I've heard from customers thus far have been nothing short of glowing. Avengers seems to be dropping, and X-books are on the rise, with three separate X-Titles making their way into the top ten. The $8 price on Uncanny X-Men #11 did nothing to dissuade the audience, and Marvelous X-Men was gone within a few hours- let's hope they can maintain that hype!
—–
In the battle for the top spot, the Grant Morrison-led GREEN LANTERN tops the Tom King-less BATMAN, with Keiron Gillon's DIE only steps behind. New launch DAREDEVIL #1 comes at #4, with DC's FEMALE FURIES #1 down at #9. Though all of those periodicals were topped in dollar sales this week by MAX & THE MIDKNIGHTERS, the newest book from "Big Nate" author Lincoln Peirce, who will be signing for the general public at Comix Experience on Sunday Feb 17th from 11 AM
—–
A bad combo this week. Diamond delayed getting us our shipment until Wednesday afternoon and more bad weather made it for a terrible Wednesday. Thursday was very cold, both outside and inside. Not one person picked up Female Furies. After reading it I wanted a refund. Darkseid letting people talk back to him and challenging him to his face and him letting it go? Female Fury bake sale? Has this writer never read a past story with Darkseid in it? Where was the editor on this? Hoping for a better week next week. I know it can not get much worse.
Notable sales:
Secret Wars #8 VF $75 First black suit Spider-Man
Avengers Annual #10 VF $35 First Rogue appearance- Second one sold recently!
Amazing Spider-Man #361 VF $75 First Carnage
Enjoyed this article? Share it!