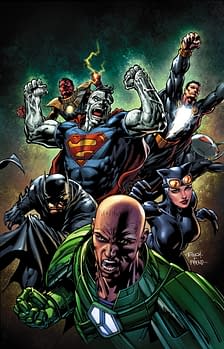 This is the Top Ten Bleeding Cool Bestseller List, as compiled by a number of comic stores from their sales on Wednesday and Thursday. It measures what are known as the "Wednesday Warriors", those who can't wait to the weekend to get this week's comics. We salute you, and the keenness you bring to your passion.
And this week, all but one store had Forever Evil #5 as its bestselling title. And despite massive ordering incentives, Wolverine's relaunch only got third place.
Forever Evil #5

Detective Comics #28

Wolverine #1

Green Lantern/Red Lanterns #28

New Avengers #14

Ms Marvel #1

Earth 2 #20

X-Men 10.NOW

Punisher #1


Forever Evil: Arkham War #5
Thanks to these retailers,
And this is what they had to say,
Wolverine was the clear this week, but Punisher came in a close second. With so many titles coming out this week many of the books did just normal sales across the board.

Sheltered was the big mover for back-issues. I was worried about getting #2's and #4's so i could move sets. Now i do not have that problem since everything got wiped out on the normal issues. I still have plenty of the variants on issue #1 and #6, but that is not a bad problem to have. Happy for Ed and Johnnie, this could not have happened to a better couple of guys in this industry…congrats on the success.

Punisher #1 had a strong debut this week. Of the four new Marvel legitimate #1 issues it definitely did the best by far. Lots of customers who haven't read Punisher in years were giving it a try. Customers continue to be angry about Marvel doing their fake #1 issues just to confuse people. Also had a couple customers angrily drop Black Widow this week. Saying they liked the book, but could not afford something that comes out weekly. Let them know that it was supposed to be monthly after this but they weren't happy! DC fans were extremely happy to see Forever Evil finally drop. They have been foaming at the mouth for it, and seemed to be quite happy with the issue.

Supergirl becoming a Red Lantern has driven up sales on Supergirl, Red Lanterns, AND Green Lantern. A lot of people had dropped these books and I'm now seeing them scooping up the ones they had missed to catch up on this storyline.

Jokers Daughter would have been higher, but I sold out Wednesday. I ordered Catwoman numbers based on the tepid response to the Villains month book and $4.99 price tag. I was wrong. Even the DC Presents Harley Quinn reprint may have charted, but I played it safe with an $8 reprint book. People love their Harley.

The weather slowed down Wednesday a bit, so we are getting the end of the week trickle effect. So far Ms. Marvel is the Marvel NOW book everyone is taking about while Earth 2 continues to sells strong, We've been summing it up as DC's answer to the Marvel Ultimate line. No interest from customers in Joker's Daughter #1.
Enjoyed this article? Share it!