It seems this is the modern way to indicate that you have an English character in your comic book. One word that sums it all up. From today's Buffy The Vampire Slayer #3.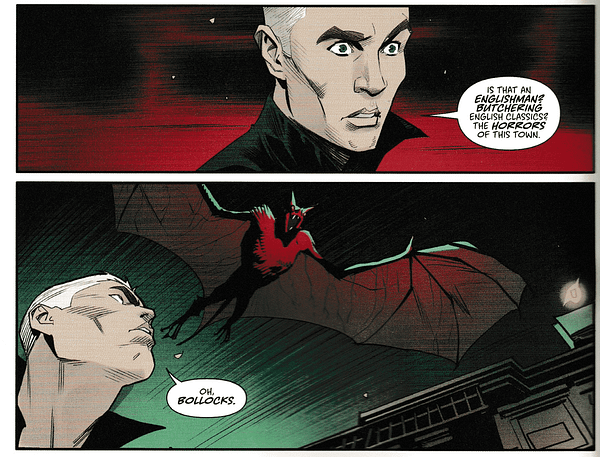 And from Tony Stark: Iron Man #9.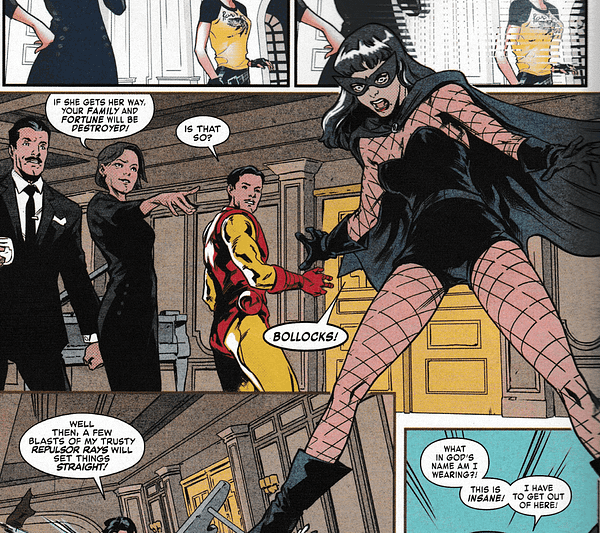 It is used to declare something's not true, or of poor quality but more about extreme frustration, resignation and self-criticising, as well as so one may quibble abut the exact examples. It's not quite a synonym with 'bullsh-t' but it seems this is the new shorthand for declaing Britishness. Some kind of shibbollocks-eth, that has escaped.
It remains, however, the eighth most offensive word in the English language when you're actually in Britin. You won't see it on the TV before the 9pm watershed. But its printed origins go back 750 years to scripture.
One of the first appearances of the word is in the John Wycliffe Bible of 1382, with Leviticus chapter 22, verse 24 translated as "Al beeste, that … kitt and taken a wey the ballokes is, ye shulen not offre to the Lord…". Cut off the animal's testicles and you can't offer it as a sacrifice to God.
Another word for testicles or "balls", it's mostly used to describe that something is awful, pathetic, a disappointment, not fit for use. "It's a load of bollocks" is a common example. It is also an exclamation to express displeasure and disdain, as seen above.
Making the word a definitive article however, reverses that. If something is "the bollocks" or "the dog's bollocks" then it's very good indeed. Don't ask me why.
The only British comic you'll see it commonly used in, is the over-18s only Viz Comic, specifically the character Roger Mellie, where it became a catchphrase. A Ron Burgandy style TV presenter, it would always be used inappropriately on live television…
But in the UK? Comedy Brit…
And it's much more on the nose than last week's Doomsday Clock.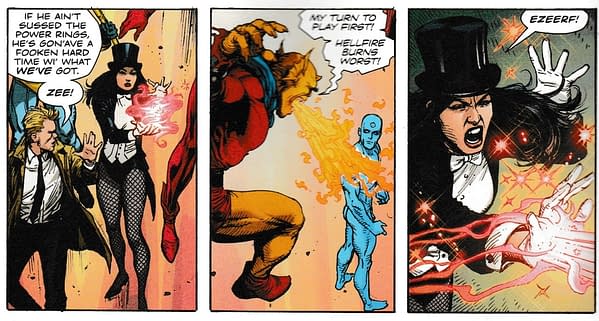 Yes, Geoff Johns, there's only one response to that mangling of the accent. BUFFY THE VAMPIRE SLAYER #3
(W) Jordie Bellaire (A) Dan Mora (CA) Taylor, Matt
Buffy and the Scooby Gang (the name was Xander's idea, he's workshopping it, it probably won't stick) delve deeper into the heart of Sunnydale's underbelly-and make a shocking discovery about the true nature of the Hellmouth. Meanwhile, Drusilla-AKA THE MISTRESS-sets her sights on Cordelia, as Cordy and Spike find accidental common ground. In Shops: Mar 13, 2019 SRP: $3.99

TONY STARK IRON MAN #9
(W) Dan Slott, Jim Zub (A) Valerio Schiti (CA) Alexander Lozano
"STARK REALITIES" PART FOUR!
• Who controls the eScape? Who controls the real world? And who is in control of Iron Man?
• The answer to at least one of these questions is the Controller.
• The answer to the others might surprise you.
• It's an all-out battle on multiple fronts with reality, the cyberscape and the heart, mind and soul of Tony Stark at stake! Rated T+In Shops: Mar 13, 2019 SRP: $3.99
Enjoyed this article? Share it!