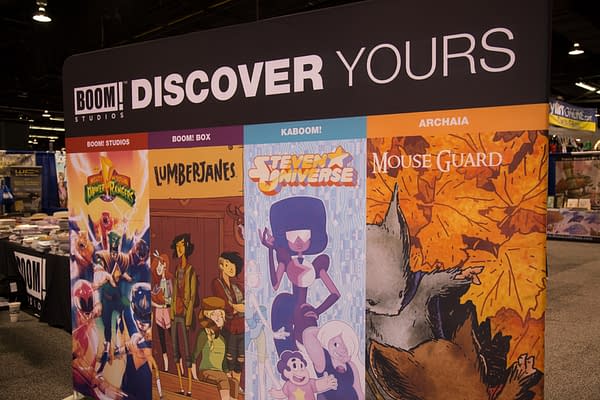 Emilie Badaboom reported from Wondercon for Bleeding Cool with Matthew Quitney taking photos – the dream team!
Boom! Studios is hard to miss, their brightly colored booth still somehow manages to stand out amongst the dealer hall wares and prints. The booth boasts having a comic for everyone, and they live up to their claim. If you see an exclusive you love, buy it while it's available at only $10 a comic and only 250 prints they are definite comics to add to your collection.
The Wondercon exclusive comics all showcase the vivid colors Boom is known for. The Power of the Dark Crystal #1 with an exclusive cover by Mike Huddleston is the comic book sequel to the well loved Jim Henson movie The Dark Crystal. The artwork is reminiscent of the movie, with the same dark tone Henson fans young and old will enjoy.
Boom partnered up with DC Comics on a Green Lantern mashup in the new Planet of the Apes/Green Lantern #1, with a Wondercon exclusive cover by Elsa Charretier. The brightest green of the Statue of Liberty pales in comparison to Caesar as a Lantern on the cover.
Boom also debuted a con-exclusive Steven Universe #1 by Adventure Time alum artist Missy Peña. This comic showcases the warm tones and colors the Crystal Gems are known for.
Boom also debuted a new original comic Godshaper #1 with a cover by Jonas Goonface, best known on Deviantart. This story follows a world where every human has a god… except one. He pairs up with a humanless god and together the oddball pair shape other gods, humans, and their world.
Rounding out the con exclusives just in time for wrestlemania is WWE: WrestleMania 2017 Special #1 with a cover by Rahzzah. This short-story collective has all of your favorite WWE wrestlers and is larger than the average comic and is retailing for $20.
Exclusives aren't the only draw to Boom. Limited edition comics are for sale throughout the booth, including The Official Making of Big Trouble in Little China and The Official Art of Big Trouble in Little China, complete with a signed bookplate by director John Carpenter. Only 100 were created and a limited amount made it to Anaheim.
Over the Garden Wall Vol 1 also made a debut, complete with a hardcover matte green, black, and gold by artist Kevin Jay Stanton. Lumberjanes badges and a pin are also available for purchase at the booth.
Enjoyed this article? Share it!