Boom's WWE Comics Are The Best Wrestling Comics Ever Made – Seen At At San Diego Comic-Con
Wrestling comics in the past and up until now have been…not so great. No matter what publisher has tried to do it, wrestling has not lent itself to adaptation in this medium. Nobody has ever focused on what makes professional wrestling as entertaining as it is. The performers themselves are superheroes come to life. You don't need to make them other worldly being or anything of that nature. If you would just focus on telling the stories of the wrestlers themselves it would work, And I am happy to say after attending the Boom WWE panel today, I have faith that they may be the ones that get it.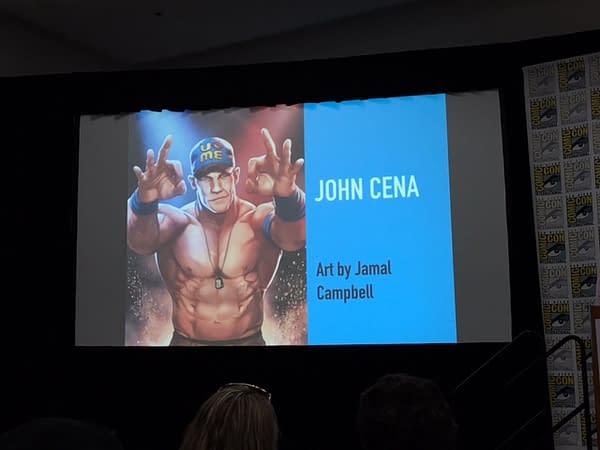 The panel included Filip Sablik, Bryce Carson, Eric Powell, Eric Harburn, and Dan Mora, fresh off receiving some awards last night.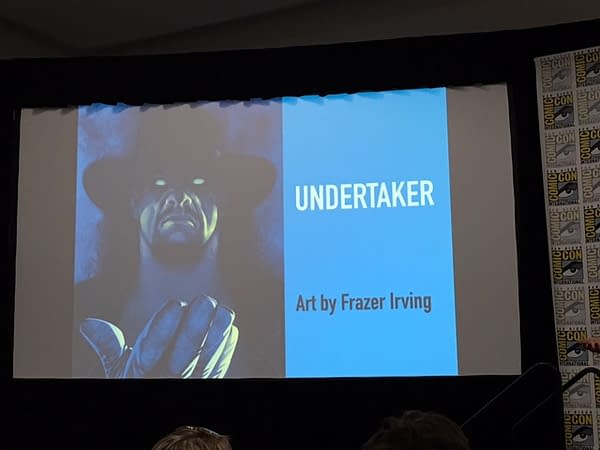 They opened the panel by talking about the SDCC exclusive one page comics on sale at the show, which they then showed all of the art for. They just got them done in the last couple weeks. They are sold at their booth in blind bags, so you don't know which one you will get (I bought 6 to try for a whole set and got 4 out of 6). From there they all talked about heir history watching wrestling. They all were introduced to it in different ways, from watching Saturday Nights Main Event, growing up in the mid-south territory in Nashville from back in the day, to playing the video games on the Nintendo 64. They also have a love for all eras of wrestling. The Hulkamania years, the Attitude Era, up to the current product, or the Reality Era.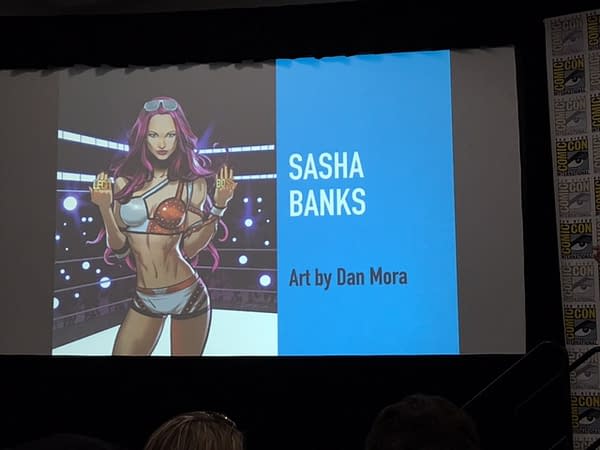 What is perfectly clear is that they all appreciate the art of professional wrestling. The long form storytelling, how collaborative it is. How these performers pour all of themselves into these characters they portray for our entertainment. How they make a point to preserve the fan experience and the interaction they have with us watching. It really is one of the last true performance arts. These people are real life superheroes, there is no need to exaggerate that. Powell is asked what he wants out of this comic, and he mostly just says he is just as curious as we are how they will pull it off when so many people have failed in the past. Harburn chimes in and says they will be focusing on ring action, backstage, and everything these superstars go through in between. They want to be the WWE 24 of comics (WWE 24 is a show on the WWE network that goes behind the scenes of superstars lives in and out of the ring). From there, they got into specifics of what is coming. The whole shebang will be kicked off with a one-shot story titled Then Now Forever, which is the WWE's motto. It will be 40 pages and cost $3.99. It is there where they announce Dennis Hopeless as they writer of the series by playing a hilarious video of him cutting a wrestling style promo about the content of the book. During the book, to emphasize that he will write whatever he wants, he talks about how he killed a bunch of heroes in his Avengers Arena and won a bunch of awards for it, and then decided to make Spider-Woman pregnant, and people flipped out.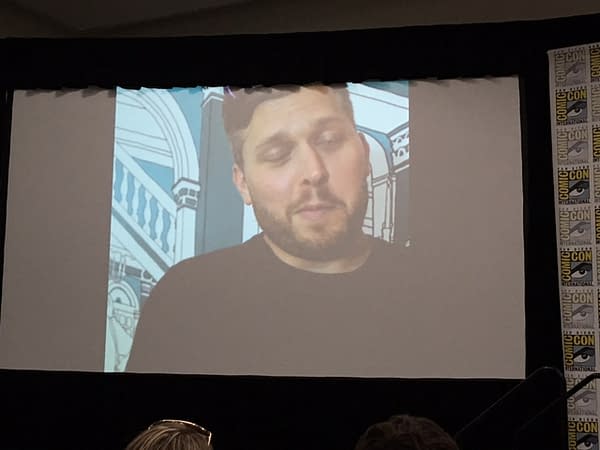 So he will write what he wants. And he wants to write about the destruction of The Shield, a wrestling faction that was widely popular the last two years until Seth Rollins turned his back on the group and broke them up. The special will tell the story leading up to that faithful night of the turn and feature three interlocking covers by Mora. No artist was announced. All in all, I am pretty jazzed for this series to start. If they can nail it, the possibilities are endless. Brand split books, an NXT book, flashbacks to old storylines (the panel really wants to do the Montreal Screwjob). If they put that much care into it, put me down for all of it.