Last week, Bleeding Cool reported a number of times after the mayor of Rio de Janeiro ordered the banning of a comic book at a book fair because it depicted a same-sex kiss. Mayor Marcelo Crivela demanded that the Biennial Do Livro book fair wrap all copies of Avengers: The Children's Crusade featuring the Young Avengers, in black plastic. And then that the comic be removed from the event entirely.
After the book fair refused, there was a raid by officials on the fair, with all copies to be seized for containing "sexual content for minors."  By then, though, the book had sold out. Brazilian YouTube celebrity Felipe Neto also bought 4,000 copies and gave them away for free at the event, and the fair filed an injunction against the mayor.
The government has a new challenge now. As the most read newspaper in Brazil, Folha de S.Paulo has posted the scene in question, Hulking and Wiccan kissing, as drawn by Jim Cheung, from the comic book, on the front cover of the newspaper, above the fold.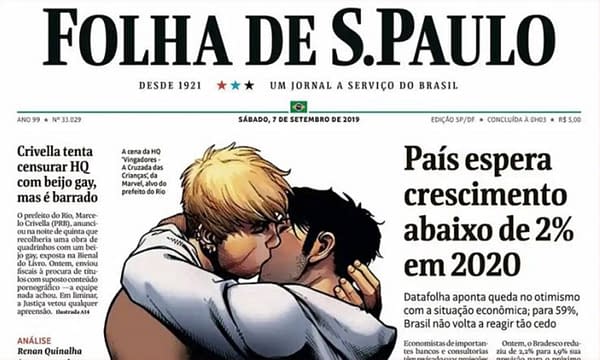 With a circulation of around a third of a million, that will be a lot of newspapers to seize…
Enjoyed this article? Share it!