Breaking: Five Random Food Products We Found In Our Pantry
Comic book news is a complicated business that is constantly evolving, and in order to remain competitive in a sector saturated with comic book websites, it's important to keep abreast of the latest trends. That's why we've been paying attention to our rivals over at ComicBook.com and their recent foray into food-based clickbait, carving out a slice (no pun intended) of a market which might not be traditionally considered within the auspices of a comic book website.
ComicBook.com's latest article shows how far they've advanced their technology in just a short time, developing sources within the poultry-industrial complex in order to bring their hungry readers news of the latest developments in frozen chicken products.
And the clickbait prose is delivered with expert precision, deftly increasing seo-rich word count while conveying obvious information a reader could figure out on their own from the tweet, such as the fact that Chicken Chips are not "an actual potato chip."
A part of the food manufacturers wildly popular Any'tizers line, the name of the product is a bit misleading. Rather than being an actual potato chip or shelf-stable snack, Chicken Chips are essentially a flattened chicken nugget in the shape of, say, a Dorito or corn chip.
Reading this article, it's clear that ComicBook.com has done their research and it will take some serious effort if we hope to catch up to them on this latest comic book news trend. But we here at Bleeding Cool have never backed down from a challenge, which is why we're going to jump right in and explore Five Random Food Items We Found in Our Pantry.
---
Beef Sticks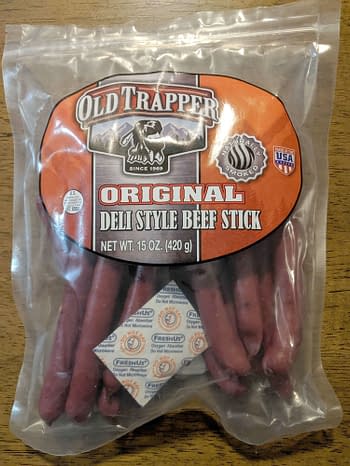 Call us old fashioned, but we prefer to eat beef in its traditional form: a stick. These beef sticks provide all the nutrition one might expect from ingredients such as Beef Hearts, Monosodium Glutamate, Hydrolyzed Corn Protein, and "Spices," all in a convenient form factor that can be quickly consumed while trying our best not to think about the fact that we're eating cow hearts. To complete the package, these beef sticks are packaged in an industrial-strength plastic bag the likes of which one might expect to find something like a carburetor or economy-sized package of batteries. Additionally, the package contains a packet of silicon designed to absorb moisture from the bag which is clearly labeled with a warning not to eat it, but we can reveal that this is secretly the best part.*
[*Editor's Note: Bleeding Cool does not encourage the eating of silicon packets and will not be responsible for any damages incurred thereof, no matter how much delicious beefy flavor they've allegedly absorbed.]
Canned Vienna Sausages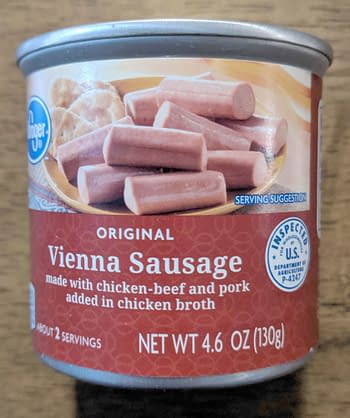 We certainly didn't buy these canned Vienna sausages, and no one in our house will own up to buying them either. It's entirely possible the sausages were here when we moved in, the previous owners of the house hoping to unload them on us. However, we do subscribe to the theory that every household contains at least one can of Vienna sausages that no one can remember purchasing and no one is ever going to eat because they're canned sausages. Maybe we should send them to Rich Johnston. The British are into this sort of thing, we're pretty sure.
Organic Quinoa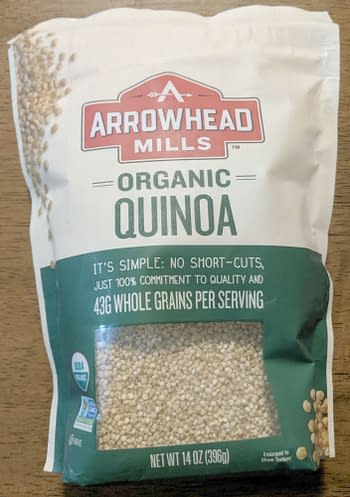 We're not entirely sure how this unopened bag of organic quinoa ended up in the pantry. Maybe we bought it under the delusion we would get serious about health and stop eating junk food. Maybe it's just there to scare the children. Whatever its origin, one thing for certain is that the 43 grams of whole grains this bag purports to contain is exactly 43 more whole grains than we are likely to eat on any given day.
Half-Empty Jar of Peanuts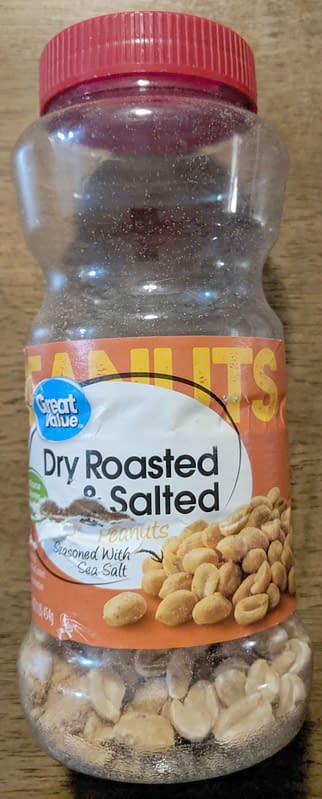 At first glance, this may appear to be a simple jar of Walmart generic brand roasted peanuts, but there's so much more below the surface for the astute observer. What has this jar gone through to earn its grizzled appearance? How did it get that gash in its label? What has this half-empty jar of peanuts survived? What is its story? These are the kinds of questions we ask ourselves before deciding we'd prefer to eat something more sugary and, if possible, fried.
Mayonnaise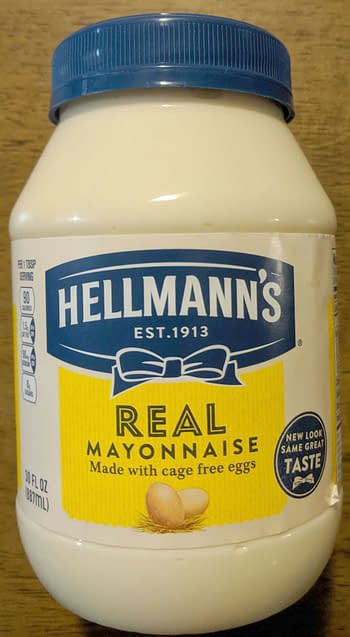 We read on the internet that Millennials are killing mayonnaise, so we figured it would be best to stock up on it. You may have taken our sit-down Pizza Huts and our plastic straws, Millennials, but you'll have to pry our mayo from our cold, dead hands. We'll be dead from eating so much mayo, by the way.
---
We hope you enjoyed this look at five random food items from our pantry, and we hope you will consider choosing Bleeding Cool, not ComicBook.com, whenever you need to visit a comic book website to read about food products completely unrelated to comic books.
And check back in later today when we review this week's comments by eating them!