We brought you a first look inside the Welcome to The Whedonverse FCBD Special from BOOM! Studios, where we learned that this Anya now manages to quite tolerate bunnies. But there's something bigger beginning in this issue tomorrow. And it will also tie into what we told you about Team Angelus appearing first in Angel #1.
It's Buffy Versus Angel.
Now the two don't meet face to face, but they both do visit Anya for the same mystical device – and Buffy gets it first. So now we're learning more about why Angel has to kill Buffy, as BOOM! revealed when they announced the series.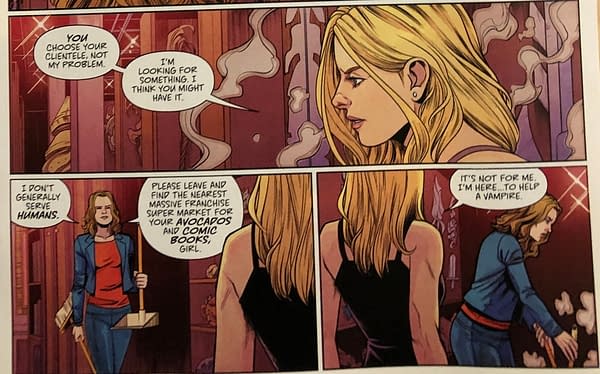 I'm told this coming battle between Angel and Buffy has been set up from day one in the new Buffy The Vampire Slayer series – though good luck tracking down first printings those issues as each of them have sold out despite offering retailers full returnability and orders over 25,000 units on each issue – and you've already seen the seeds of it in Angel #0. You know, the issue that is already on its second printing after it was surprise Kirkman-style dropped on comic shops with no heads-up. Not being available to order conventionally through Previews, created a lot of excitement…and caught many retailers with their pants down.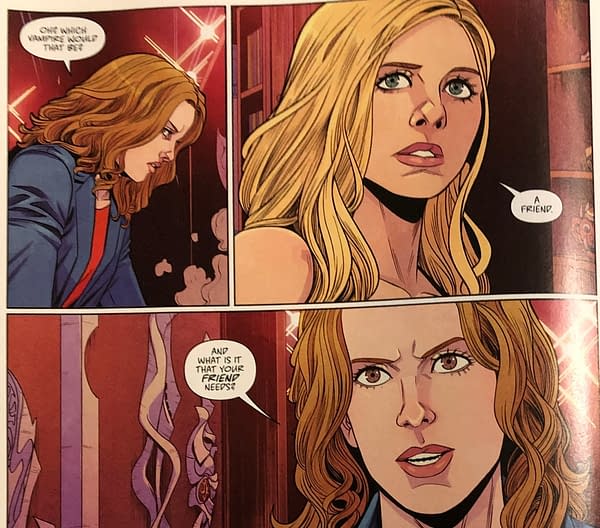 So what's the big deal? Well, while we've seen Buffy battle Angelus in the television series, we've never really seen Buffy versus Angel in any big, vicious one-on-one battle. And that will be coming in the Buffy comic. Or the Angel comic. Or both.
I've also been told to expect these two series to be tied together much more closely than folks realize, as Angel and Buffy will meet before the year ends– but unlike the TV series, don't expect any kissing.
So if you're only reading Buffy, it's time to place your orders for Angel because all those first appearances of new characters and the new missions are going to have a big impact on everyone's favorite Scooby Gang real soon.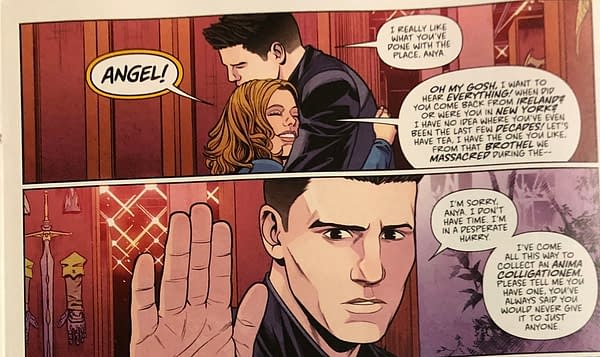 And if sales on Buffy are any indication, you're not going to be able to find first printings of Angel for very long…
It all starts in Welcome To The Whedonverse FCBD Special which is in comic shops tomorrow for free.
FCBD 2019 WELCOME TO WHEDONVERSE
(W) Greg Pak, Jordie Bellaire (A) Ethan Young, Dan Mora, Serg Acu?a (CA) Greg Smallwood
The perfect jumping-on point for the Whedonverse with all new stories from the worlds of BOOM! Studios' hit series Buffy The Vampire Slayer and Firefly.
First, Captain Malcolm Reynolds and his first mate Zoe Alleyne Washburne have a bond that was forged in blood during the war that shaped the 'Verse…but when the awful secret at the core of that bond is finally revealed and they're called to answer, the people who love them are left to pick up the pieces.
And in the second exclusive story, there's something evil lurking under Sunnydale High School, namely a gateway to a hell dimension that's been foretold to destroy the world as we know it. Buffy and the gang have mostly got it under control…as long as everything stays exactly as it is, and we mean zero new plot points, no new characters, and absolutely no twists, turns, or misunderstood prophecies. Easy peasy!
Rating: TeenIn Shops on Free Comic Book Day 2019!
SRP: PI
Enjoyed this article? Share it!