Bye Bye To DC's Combo Digital Comics?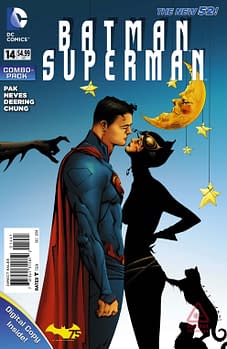 Since the DC relaunch back in October 2011, DC Comics have published "Combo" editions of certain titles. While Marvel gives away digital versions of their comics with each $3.99 title, DC Comics rather sells $2.99 books and charges an extra $1 for a bagged version with a digital code. Or $4.99 for a normally $3.99 title. And a slightly different cover. But only on select titles.
Well, as told to the retailer roadshow crowd at Orlando yesterday, this may be going away, with "light sales" being blamed for the change. Redemption of combo pack codes show that many buyers just wanted a bagged version of the comic – and are willing to pay a dollar for the privilege.
DC was considering doing away with the "combo" pack books and just putting a code in all the $3.99 books, like Marvel. However, a hand poll was taken of retailers who should want digital codes in all the DC comics similar to Marvel and the majority of the room voted no.
A decision won't be made until the end of the road shows.
To follow all our DC Retailer Roadshow coverage, click here.