Captain Britain Doesn't Want Any Brexit Jokes in Avengers #11
This week's issue of The Avengers #11 from Marvel Comics promises War Of The Realms in four months. But there are other realms it is concerned with in this issue, the superpowers. Or rather the countries represented by superheroes, being addressed by Wakanda's Black Panther, now styled King of The Avengers. Which includes Sunfire from Japan…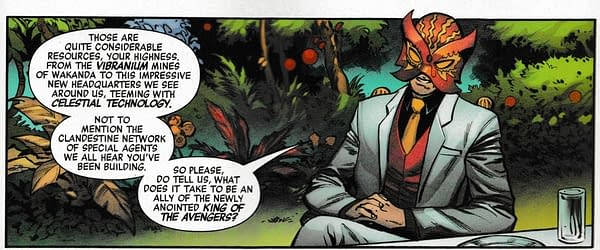 Black Panther creating a replacement for SHIELD…

And a certain Captain Britain making his feelings known.

You have to know that Brian Braddock, Captain Britain, voted Leave, yes? That particular Lord of the Manor probably went to school with Jacob Rees-Mogg and/or Boris Johnson… definitely a member of the Bullinger Club…
But this is a time for hands across the divide.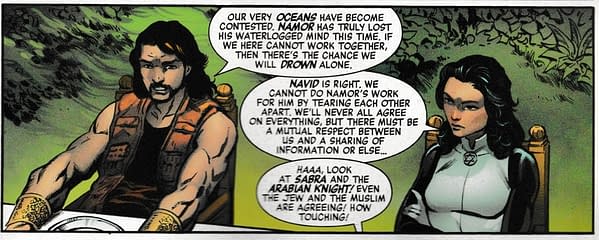 For almost everyone.

The Russians less so. Still, by using Ursa Major rather than Vladimir Putin, they avoided issues that DC Comics faced…
The Americans have their own non-Avengers team of course…
AVENGERS #11
(W) Jason Aaron (A/CA) Ed McGuinness
THE AVENGERS WORLD TOUR COMES TO A SHATTERING CONCLUSION!
To deal with the fallout from last month's world-shaking issue #700, the Avengers organize an international super hero summit, gathering heroes from the most powerful nations on Earth. But no one was expecting the shocking new representatives of the United States. The world is about to become a far more dangerous place. Especially for the Avengers. Plus Hulk and Thor try to go on a date.
Rated T+In Shops: Dec 12, 2018
SRP: $3.99