Carol Danvers to Lose Her Shirt in Poker Game with Wolverine in April's Captain Marvel #17
Captain Marvel #17 hits stores in April, and as Marvel's April solicitations reveal, Carol Danvers will apparently play poker with an all-star guest lineup featuring Wolverine, Monica Rambeau, Spider-Woman, Hazmat, Jessica Jones, and Ms. Marvel. The solicitation claims that Carol will "lose her shirt" in the game, but we're going to assume that's a metaphor for financial misfortune and not an indication that this is a game of Strip Poker. Sorry. We know you clicked on this link because you're a pervert.
Of course, if it were a game of strip poker, we know who we'd be rooting for to lose, and it's not Carol. No, that would be one we want Wolverine to lose. Because if these ladies can cause Wolverine to lose all of his clothes, it might finally prove, once and for all, what we've always known to be true: that Wolverine has two dicks: one for f**king and one for making love.
CAPTAIN MARVEL #17
KELLY THOMPSON (W) • FRANCESCO MANNA (A) • Cover by PEPE LARRAZ
DEAD MAN'S HAND!
It's poker night at Casa Danvers, and with Wolverine, Monica Rambeau, Spider-Woman, Hazmat, Jessica Jones and Ms. Marvel all in the game, Carol might just lose her shirt. But who – or what – is THE NEXUS and why is it ruining this much needed R&R!?!
32 PGS./Rated T+ …$3.99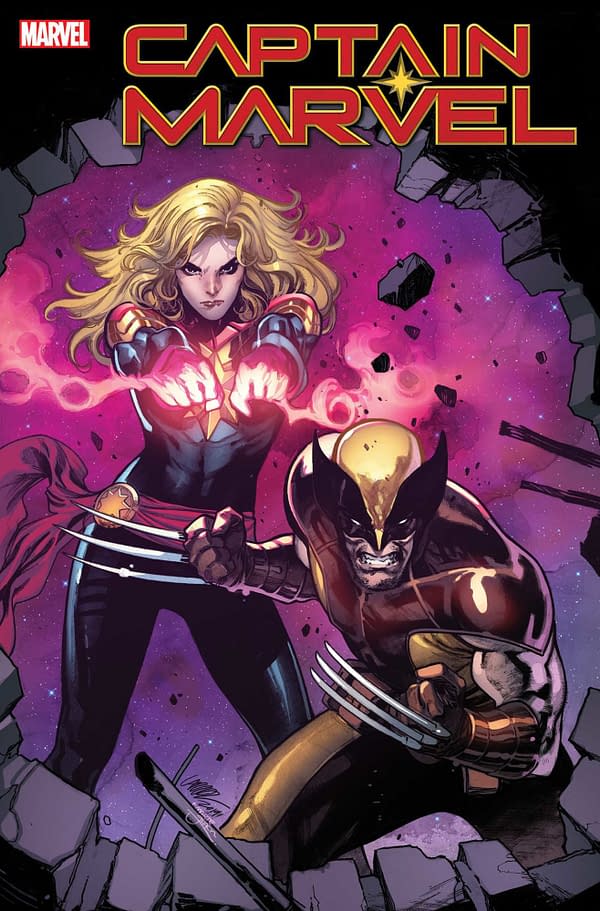 Yeah, this article has taken an unexpected turn, hasn't it? But then again, perhaps we're not that far off the mark as April's solicit for X-Force #10 reveals that one of the team's "secrets" are "unraveling." Will April be the month that Wolverine is exposed for the two-dicked little runt we all know he is?

One can only hope.
X–FORCE #10
BENJAMIN PERCY (W) • JOSHUA CASSARA (A) • Cover by Dustin weaver
THE DEADLY GARDEN!
As one of the team members struggles with their secrets unraveling, the rest of X–Force has to fight to stay alive long enough to salvage their mission.
32 PGS./Parental Advisory …$3.99