Next week's Age of X-Man: Marvelous X-Men #4 takes a look at an important question: does Charle Xavier f***? Of course, X-Men fans already know the answer, which is, yes, Charles Xavier f***s a lot. But it's something that the mutants living in Nate Grey's repressive dystopia seem to have forgotten. Luckily, Apocalypse and his X-Tracts are here to remind them when they invade the Xavier Day celebrations in London, as we see in this preview…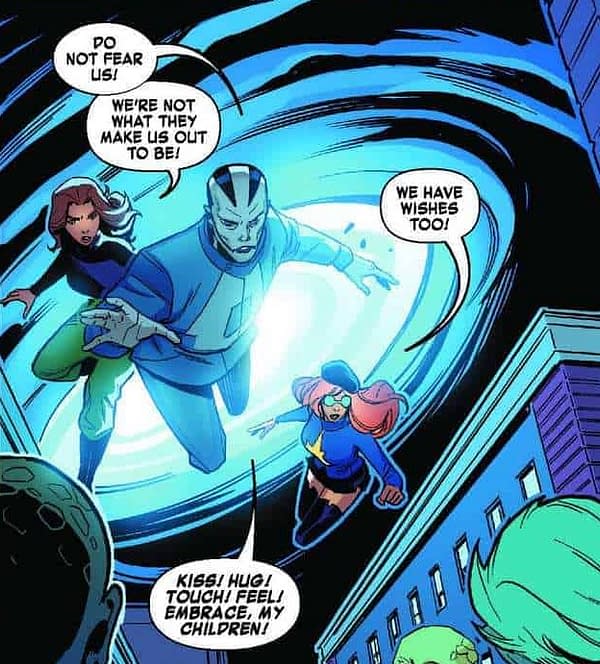 Apocalypse appears to be trying to incite an orgy on the streets, which is totally against the rules set up in this world. And he's planted followers in the crowd more than happy to put on exactly the kind of show he want to shock the people into realizing that it's okay to love each other.

But when the X-Men object, Apocalypse has an ace up his sleeve: the many sexual X-ploits of their founder, Charles Xavier. Charles Xavier, who had many lovers. Who knew the benefits of sexuality. Who knew the power of raw eroticism.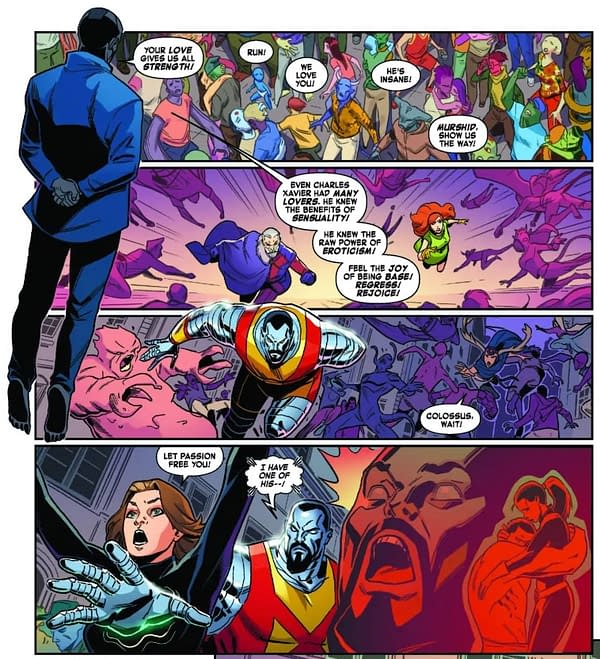 Well, if this doesn't bring the Age of X-Man crashing down, we don't know what will. But whatever it is will have to hurry, as this comic is almost over.
Age of X-Man: Marvelous X-Men #4 hits stores on Wednesday.
Age of X-Man: Marvelous X-Men #4
(W) Lonnie Nadler, Zac Thompson (A) Marco Failla (CA) Phil Noto
THE AGE OF X-MAN CONTINUES!
Is the world beginning to crumble or are the X-Men going mad? The protectors of the perfect planet of peace find themselves pushed to the edge.
Rated T+
In Shops: May 15, 2019
SRP: $3.99
Enjoyed this article? Share it!