Charlie Adlard's Cover to Simon Furman and Geoff Senior's To The Death #10 Finale
Yesterday, I was able to introduce the owners and managers of the Piranha Comics chain in London to Simon Furman. They were big fans of his Transformers comics – and many others – but weren't aware of his recent self-published venture with the artist of many of those tales, Geoff Senior. As a result, many orders were made in the pub for the first nine issues of To The Death, Furman and Senior's revival of the spirit seen in their nineties' series Dragon's Claws. Which, since Furman and Senior keep all issues in print, was an easy sell, for them and for Piranha's customer base.
Which also gave me the chance to mention the upcoming series finale To The Death #10 with a guest variant cover by The Walking Dead's Charlie Adlard guest variant cover.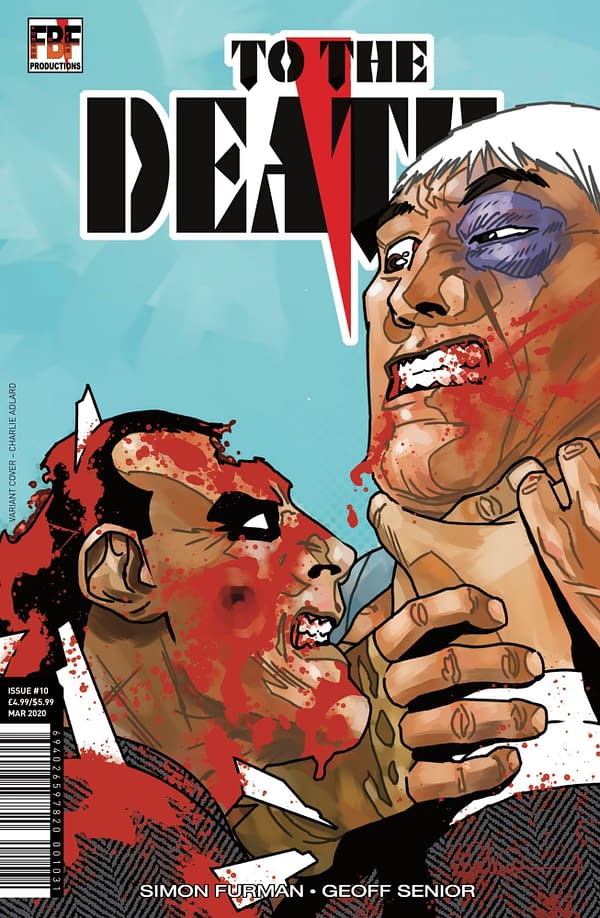 TO THE DEATH #10

(W) Simon Furman (A) Geoff Senior

Earth, 2674: it's the quite possibly world-shattering end! We didn't call this comic To The Death for nothing… as the bodycount goes stratospheric and the lives of the 12 billion inhabitants of Earth hang by the slenderest of threads. Who lives (maybe no one)? Who dies (possibly everyone)? No happy endings are guaranteed as the most visceral, searing and in-your-face action epic reaches its fiery finale. At no extra cost, we offer intensive counselling once you've put this comic down.

Prestige format: 48pgs, FC £4.99
It's on sale (officially, see below) on March 4th. Available from all good UK comic book stores (and a few lucky US ones) or direct from this website – and all issues are still available.
Also, Simon Furman and Geoff Senior will be joining Bryan Hitch, John Higgins, Lee Sullivan and Simon Williams are signing at Forbidden Planet Megastore on Shaftesbury Avenue on the 29th February from 1 to 2pm where, along with the copies of the Death's Head Omnibus, they'll be signing early release copies of issue #10.
While, associated to this, there is a gallery of Geoff Senior and Bryan Hitch's original DH art at Forbidden Planet Newcastle.