Claire's Hair by Joe Kelly and Andie Desiderio Joins Panel Syndicate
Panel Syndicate, the digital pay-what-you-want comic book publisher owned by Brian K Vaughan and Martin Marcos is launching a new project, Claire's Hair by Ben-10 and Manchester Black co-creator Joe Kelly and Andie Desiderio. An adult-themed picture book.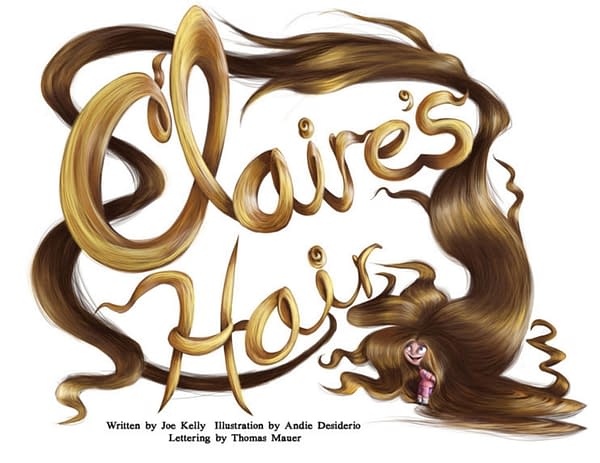 Being an original is the best thing a kid can be.

Claire's hair has a life of its own, literally. Claire loves this wild and unique aspect of herself, but when everyone from her mom to the school bully tells her that different equals bad, Claire begins to have second thoughts about her unruly locks. Will she cut her hair to be "normal?" Or will Claire learn that the things that make us different are the things that make us special? Don't miss this special 29 page Children's book, available now at panelsyndicate.com for whatever price you want to pay, including zero!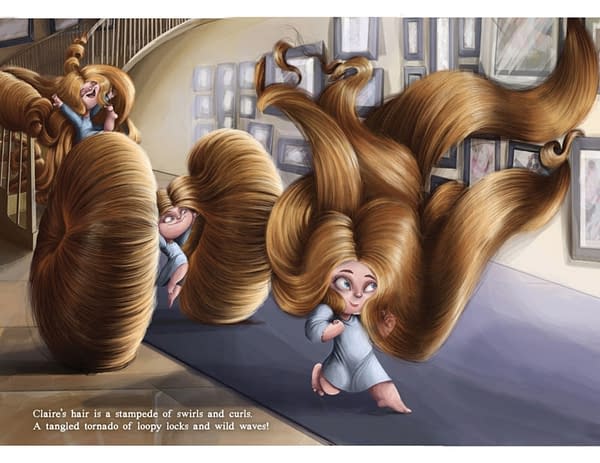 Panael Syndicate are also publishing the following right now, on the same pay-what-you-want model.
PARANOIA KILLER
By Victor Santos
A thriller with elements of Sci-Fi about identity, divinity and the privatization of violence.
2 issues released. Ongoing.
BAD KARMA
By Alex de Campi, Ryan Howe and Dee Cunniffe
Army veterans Sully and Ethan go on a Christmas road trip to free an innocent man blamed for a mercenary job they did. Turns out nobody's interested in the truth, but they get very interested in making sure Sully and Ethan don't live to see the New Year.
4 issues released. Ongoing.
FRIDAY
By Ed Brubaker, Marcos Martin and Muntsa Vicente
Friday Fitzhugh spent her childhood solving crimes and digging up occult secrets with her best friend Lancelot Jones, the smartest boy in the world. But that was the past, now she's in college, starting a new life on her own. Except when Friday comes home for the holidays, she's immediately pulled back into Lance's orbit and finds that something very strange and dangerous is happening in their little New England town…
3 issues released. Ongoing.
BARRIER
By Brian K. Vaughan, Marcos Martin and Muntsa Vicente
An unconventional drama about violence, language and illegal immigration.
6 issues released. Finished July 2017.
UNIVERSE!
By Albert Monteys
A series of self-contained and yet, somehow connected sci-fi tales.
6 issues released. Ongoing.
THE PRIVATE EYE
By Brian K. Vaughan, Marcos Martin and Muntsa Vicente
A detective story set in 2076, when everyone in the United States has a secret identity.
10 issues plus The Making Of special. Finished March 2015.
THE WALKING DEAD: THE ALIEN
By Brian K. Vaughan and Marcos Martin
A black-and-white story firmly set in THE WALKING DEAD comic book continuity.
Special one-shot issue. April 2016.
BLACKHAND IRONHEAD
By David López
A comedy about family, with super heroes, not about super heroes.
7 issues released. Finished September 2018.
UMAMI
By Ken Niimura
Who said cooking was only for nourishing? The little big adventures of Uma and Ami, the kitchen heroes.
9 issues released. Ongoing.
GLACIER CITY
By Jay Faerber and Michael Montenat
Police Chief Wes Cutter is the only law enforcement in a secluded Alaskan town where everyone has a secret and his closest backup is hours away.
Special "pilot" issue. May 2018.

THE ONE YOU FEED
By Donny Cates, Dylan Burnett, Dean White and John J. Hill
One day, long ago, and for no reason whatsoever..the moon rose in the night sky, and every human being on the planet began to violently change into the demons that live inside of their souls. Some of these monsters were good. Most…were not. Now, after hundreds of years of these nightly horrors, a young prince, armed only with a mysterious sword named Attum, must journey into the night to face the monsters under the stars, and meet the wolf that lives in his own heart…
1 issues released. Ongoing.