New Mutants: Dead Souls #6 by Matthew Rosenberg and Adam Gorham didn't so much end the series as stop in the middle of a story — Avengers: Infinity War style. Spoilers: you have a bunch of New Mutants infected by a semi-evil Warlock technovirus, a bunch of New Mutants teleported out, and a bunch of techno-New Mutants doppelgängers. Because, as we have pointed out, Marvel Comics is obsessed with characters having doppelgängers right now. And I don't just mean Multiple Man — another book Rosenberg is writing, as well as Astonishing X-Men and the upcoming Uncanny X-Men weekly series.
A lot of people asking where our NEW MUTANTS story will be picked up next.

You can follow Boom-Boom in Extermination right now! And both Rictor and Shatterstar will be appearing in Shatterstar this fall! Get excited. pic.twitter.com/OgQ9YAutcx

— 𝙼𝚊𝚝𝚝𝚑𝚎𝚠 𝚁𝚘𝚜𝚎𝚗𝚋𝚎𝚛𝚐 (@AshcanPress) August 30, 2018
But is Matthew Rosenberg planning something to link all his books together?
Oh, yeah. Him.

— 𝙼𝚊𝚝𝚝𝚑𝚎𝚠 𝚁𝚘𝚜𝚎𝚗𝚋𝚎𝚛𝚐 (@AshcanPress) August 30, 2018
So, yes, indeed in Astonishing X-Men #13 we meet Colonel Callahan, the man behind the Reavers' commissions…

Paying the mercenary cyborgs to get up to all sorts of naughtiness.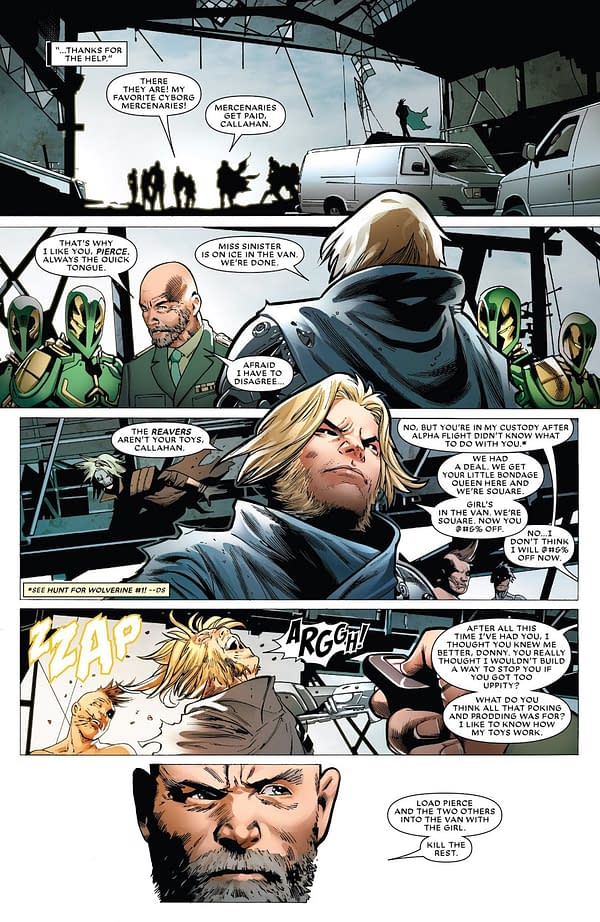 And collecting his fair share in mutant flesh — behind a troop of folk who tried to take down Dazzler.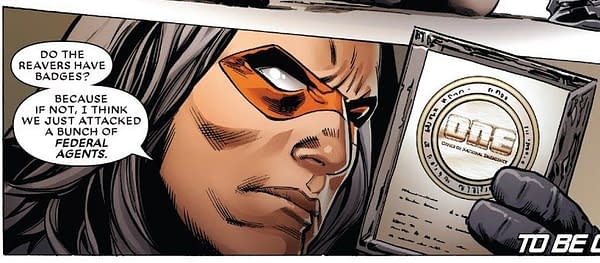 He also gets a mention in that final issue of New Mutants: Dead Souls.
He's back again in this week's Astonishing X-Men…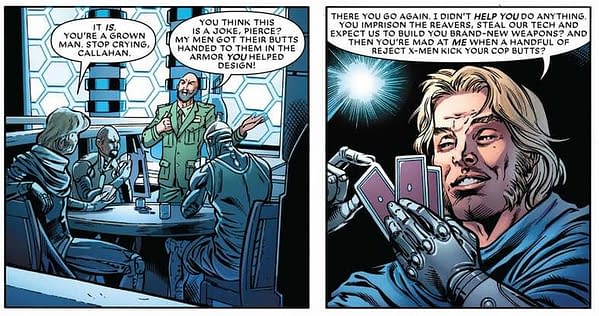 Could he have a greater role in Uncanny X-Men to come? Or maybe he'll get a doppelgänger?
ASTONISHING X-MEN #15
(W) Matthew Rosenberg (A/CA) Greg Land
• After the events of last issue, Havok and his team are on the run from the law.
• Plus, the Reavers' secret mission is revealed! Rated T+ In Shops: Sep 05, 2018 SRP: $3.99
Enjoyed this article? Share it!