Drew Ford writes;
No one wants to publish this thing! I don't understand? I mean, publishers tell me it's good. I mean, they like it, but they don't think people will 'get it'. Everyone keeps telling me the only way this thing will ever see the light of day is through a crowd-funding website like Kickstarter. Is that a good idea? Artwork by Gerald Forton from the upcoming Freakestate comic book
Let's start over. I love comics. I mean I really love them. Love their ability to deliver a special kind of story in a way only comics can do. Want to know the details of it…the science? Read Understanding Comics by Scott McCloud. Reading it helped me, for the first time, connect words and definitions to feelings I had been experiencing (but was unable to accurately define) my entire life. It definitely contains some very helpful stuff, in my humble opinion. But without McCloud here to explain it in much better terms than I ever could, I'll just say that comics are about as magical a thing as I've ever found in this life. To say that I appreciate them in all their styles and forms is a gross understatement.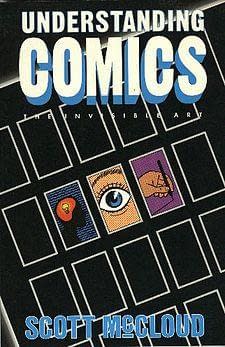 Understanding Comics by Scott McCloud
So yeah, like many who's lives have been touched so deeply by this medium, I began making my own comics. I even worked my way up the ladder, and eventually had one of my stories published by DC Comics. A Jesse Quick story, to be precise, penciled by the extremely talented Andy Smith. I then was lucky enough to sign a deal with Dark Horse Comics to publish my first original graphic novel (Steam), co-created with newcomer artist Duane Leslie. Wait until you see what he did with my script. This kid has skills. He's gonna rock the world.
Artwork by Duane Leslie from the upcoming Steam graphic novel
OK, so things seem to be going good, right? Sure, things are going great. Thing is, I have this other story I had been working on quietly for quite some time called Freakestate, with veteran comic book artist Gerald Forton (more on this incredible individual in a moment). And the problem here is that no one wanted to publish it. It went like this…I show the work to a publisher or editor, they read it, look at the art; they like it…but they all agree that people won't 'get it'. They kept asking questions like, why is it in black and white? Where's the color? This artwork is to old fashion. It looks too traditional. No superheroes? No zombies? People won't buy this. Sorry, kid. Artwork by Gerald Forton from the upcoming Freakestate comic book
Well, obviously, while I understand everyone's concerns, I respectfully choose to disagree. I believe people will buy it, and more importantly that they will 'get it'. And I think they'll 'get it' for the exact reasons why many felt it won't work.
Artwork by Gerald Forton from the upcoming Freakestate comic book
The art is black and white, and has a more traditional feel to it, because it's a period piece set in 1933, and we are trying to re-create that nostalgic feeling of an old black and white movie. For this reason, Forton's brilliant, classic art styling is a perfect fit. Looking back on his 50-plus incredible years of drawing comics (yeah, I said 50 years!) both here in the Unites States and in Europe, it is clear to me that his name (which is so respected) and personal style (which is so unique) takes Freakestate to a whole other level of goodness. Put simply, I am lucky to work with such a talented and dynamic artist. One, I might add, who has NEVER given up on this comic one day getting published. For that, I will always be grateful. Artwork by Gerald Forton from the upcoming Freakestate comic book
So, there we were, a decent story with beautiful artwork and no one wanting to put the thing in print. Over the weeks and months that we had been shopping the thing around, several industry pros who happened to see Freakestate mentioned that we should consider using Kickstarter to fund it's publication. I had never used Kickstarter before, and wasn't sure what to expect. But when it became clear that we simply were not going to find a publisher who shared our vision, we finally decided to give Kickstarter a shot. And, although we are only 11 days into our Kickstarter campaign, and pretty far from where we need to be to get it funded, I couldn't be happier. Through this campaign, I've met so many awesome new people who seem to really understand and even believe in what we are doing with this comic, pros and fans alike. Sure, we don't have enough backers yet, but we sure are having a blast along the way! And yeah, there's always the possibility that the campaign won't be successful, but regardless of what happens I will never regret having started a campaign on Kickstarter! Why? Because I appreciate the opportunity it has provided me to bring my stories and Forton's artwork to a whole new group of people who otherwise may have never found it. And it's given the entire project a huge shot in the arm to discover that some of these publishing folks might have been jumping the gun by passing on this, and that in fact many readers DO 'get it', and in fact like it enough to tell others about it, and even give us money to get it published! With 19 days left in our Kickstarter campaign, we are hoping that a little of that comic book magic I spoke of earlier will find it's way to our neck of the universe! I mean, heck, ya never know, we might actually get this comic funded…stranger things have happened!
Enjoyed this article? Share it!