Rod Lamberti of Rodman Comics writes weekly for Bleeding Cool. Find previous columns here.
With brand new recent issues over the last few months going for at times up to three times cover price or more right after their release, comic stores have had to deal with a lot more flippers (people wanting a comic only to flip it or because they think it is worth more than cover). They are not doing anything wrong. Who would pass up a chance at a store to buy something and make triple or more on what they paid for it? We had one person leave this for us on Facebook regarding the recent Marvel Comics Presents #6:
Went to Rodman comics looking for a comic book that came out today for 4.99 I asked rob himself if he had any and he said they are sold out. I searched for the comic book online and found one on ebay that he is selling for $35 dollars. Greedy
Rodman Comics responded privately to this review.
No one named Rob works here.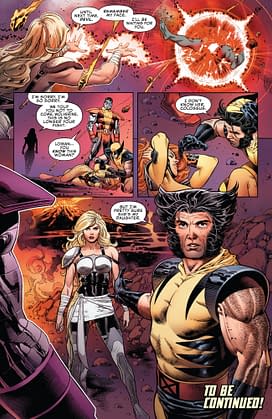 All the copies on the shelf were sold out. Everyone who had it on their pulls had it put in their pullbox. Though who knows if everyone will actually pick up their pullbox. That is the nature of the beast. People had been calling in for the last issue of the Walking Dead and odds are at least someone with it in their pull box will not pick it up. We give every customer a month (actually six weeks) to pick up their pull list so we will not know for a while. I got lucky on the Marvel Comics Presents #6 issue, I upped my order on this issue because Deadpool is on the cover and in the issue. We still have a group of customers that are big Deadpool fans. Guess what? Those Deadpool fans were not interested in it. Go figure. Sometimes they want all the different covers of the regular Deadpool issue along with Deadpool's appearances in other comics, sometimes they do not. They make up their mind usually after the issue has hit the stands. Everyone who was regularly collecting Marvel Comics Presents through us was able to buy a copy for cover price. If someone is collecting or reading a comic, it is always a priority to get a copy of the comic to them. A flipper is not a priority. The extra copies I then put on eBay.
The copies we sold of Marvel Comics Presents #6 online went for $40 or more. We went from unsold copies of the previous issues to all sold out. Issue one and others of Marvel Comics Presents sat on the shelf for months untouched.
The only thing that made me do an eye roll about this review was he thought my name was Rob. No, Rod is a part of Rodman Comics. Robman does not have a good ring to it. I got robbed at Robmans!
I have people who buy comics from us and then try to flip it back to us. People who I thought wanted the comic to read or collect. I never understand that. Why would I sell something for cover price just to buy the exact comic back for more?
Why would I sell something to a non-regular customer who is only going to buy from me so they can flip the comic? We can just sell the comic online ourselves and make the money. A purpose of a business is to make money. Not leave money on the table. Flippers are not loyal to a store or care about a store. Which is fine, though there is no concern by me about trying to get flippers as customers. Our priority is people who read comics to be our customers. Customers who actually read what they buy are far more likely to be loyal to a store and care about a store.
Comic stores sell comics to make money. To sell something for $4.99 when we could have sold it for $40 to someone who is just buying it for $4.99 to sell it for $40 is foolish.
The person who buys a comic for a higher price online very well maybe buying it to read or for their kid to read.
I have had people go through the store's dumpster in back and try to sell me back material that I threw away. We had so many Magic cards I threw the commons away. Then days later a small group came in with Magic cards and as I was going through them, I thought surely these are not the cards I threw away. So, I asked. Sure enough one of them told me they were. I was like what the heck? Why would I buy cards that I threw away? Well, they have to be worth something right? Was the reply. I said if you can find someone to buy them, go for it. Always a good feeling knowing people are going through the store's dumpster looking for anything.
We called people who had the last issue of Walking Dead on hold in the pull boxes and were behind on picking their comics up. I along with my employees stated if you do not want your comics just let us know we can sell them, no problem. That last issue was going for $20 online that day. For once, all the people we called about pull boxes came in to make sure to get that issue for cover price. Currently, we have not sold any of the last issue of the Walking Dead online. I had so many regular customers who wanted to see how it ends that never picked up a Walking Dead comic before, that we sold out quickly. There are copies in people's pull boxes so technically we still have copies. These people are not behind currently on their pull box.
The new comic Second Coming came out. It sold out here the day it came out (except for what copies that are in people's pull boxes). We did not hold on to any copies to sell on eBay. It was hitting $20 online. Did some flippers get a copy? Might have, if so, they made some money. Once someone actually buys something from here, it is theirs, until then it is the store's. This title I was actually happy with selling out quickly. The online stink about the comic did not carry over into real-life thankfully.
How do other stores handle flippers? I do not view them as bad people. As I said Marvel Comics Presents was not doing well and all of a sudden, we have no copies of it left which is great. Issue one sat there this whole time along with issue 5 not selling out before 6 came out. I know some people get mad when comic stores make money, how dare you make money off my childhood love of comics! I know I am happy to make money just like everyone who works likes to make money.
At times we do limit copies of a new comic to one per customer. Why limit flippers? Because we need to make sure there are enough copies on hand for pull customers and regular walk in traffic that want to read a comic. As I learned years ago when we had most of our copies of the New 52 Batman #13 and Batgirl #13 bought out due to the die-cut mask cover by one person. We were then very short on copies for our regular walk-in traffic and should have limited them to one per person. My employee# who did the sale# thought it was great# though I knew we would be shorting regulars.
Opinions on flippers? How do other stores handle flippers? Again, they are not doing anything wrong we just want to try to make our main stable customer base happy.
Enjoyed this article? Share it!