So… Heroes In Crisis #1, eh? Man, there are going to be some lively panels at Baltimore Comic Con this weekend and at New York Comic-Con the week after….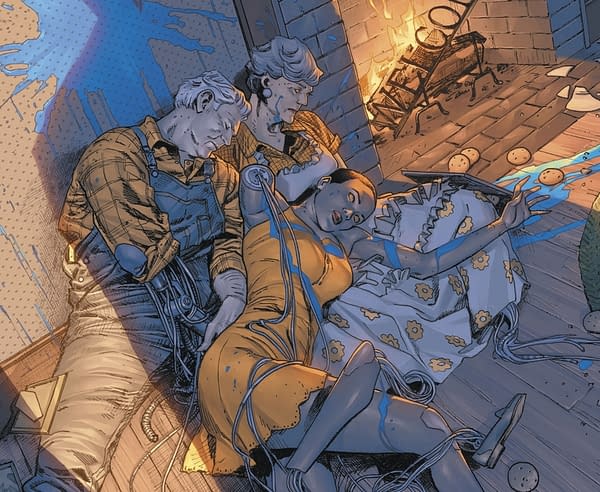 But it has begun on social media… spoilers obviously, of course. Top five anime betrayals continued pic.twitter.com/HMpyN02rX3

— Margherita Blacksand (@JayBaklava) September 26, 2018
I started reading DC Rebirth at the start, mainly to see how such a large undertaking played out. I lost track of it a handful of issues in. Really liked the Wally West stuff.

You can imagine my frustration upon hearing about Heroes in Crisis. It's not permanent, but it's dumb.

— Tullbery (@Tullbery) September 26, 2018
Por que não deixam o Wally West em paz? Caraca, DC… o que custa? Nem li Heroes in Crisis mas já estou chateado

— Thiago Garcia (@thiago_pato) September 26, 2018
Okay.

Heroes in Crisis.

I know the spoilers.

No, I won't post/share them.

What I will say is:

R.I.P. Rebirth and the last bit of goodwill it had with fans.

I know that sounds dramatic and even hyperbolic, but it's honestly going to be that upsetting for many, if not most.

— Captain Marvel Talk! (@CaptMarvelTalk) September 26, 2018
Didn't they JUST bring back Wally West? What kind of dumpster fire is this series?

— Captain Marvelous (@ShinGokaiRed) September 26, 2018
DC: "Hey, let's bring the original Wally West back, then just kill him off-panel because we can't figure out what to do with him." This kind of stupid bullshit is why I don't buy mainstream superhero comics anymore.

— Strahd von Dread (@StrahdvonDread) September 26, 2018
(Spoilers for Heroes in Crisis)

Dc just spent two years building up Wally West. They even made him the official fastest man alive. I don't know if this was King him self, or some editorial decision. I'm so fed up with DC!s their back n forth. I can't even see straight.

— Keystone Devil (@Keystone_Devil) September 26, 2018
Why the fuck did you kill Wally West

Again

— Jacob (@StratoJac) September 26, 2018
TOM KING KILLED WALLY WEST. Not just a Flash, but WALLY WEST. And didnt bother giving him a single panel worth a damn. Fuck off.

— Brandan (@SpeedsterSite) September 26, 2018
@DCComics I'm out!Thanks to bloodthirsty ex-CIA @TomKingTK for having DickGrayson shot in the head,&now in 1 issue killing legacies,including WallyWest&Roy. @JimLee @dandidio1 Taking my business elsewhere!!U forgot Wally kickstarted Rebirth?Where's @geoffjohns when u need him?Bye pic.twitter.com/lebI2N42wo

— Manuel S. Almeida (@manuelsalmeida) September 26, 2018
he's so … uh, … he certainly looks um……… well, he's definitely … u know, there! pic.twitter.com/K2oF8UnKMD

— FUCK heroes in crisis! (@wallacewezt) September 26, 2018
…sorry, HEROES IN what, now?

— Wally West (@StillTheFlash) September 26, 2018
Guess who's screaming bc of Roy Harper, Wally West, and Heroes in Crisis

— JSHR [かいだ] 🇯🇵🇵🇭🏳️‍🌈 (@goQgleIt) September 26, 2018
Heroes In Crisis #1. So yeah, this was good. Im sure this story isn't all it seems to be so i won't cry over Hotspot just yet. This was a good showing for Harley as well. Smart, dangerous and psychotic. Mann's art reached a new level of perfection only enhanced by Morey's colors.

— Wizard of Ooo (@KeenanLance_) September 26, 2018
Killing off characters for no reason (including one of the few gay male characters DC have), spoiling the story in advance with poorly thought out adverts and taking a subject that could actually be done in a positive way (treatment of emotional trauma) fucking appallingly.

— Bevis Musson (@bevismusson) September 26, 2018
// yo voy a hacer spoiler y Lagoon Boy murió? También Citizen Steel? Yo quiero saber en donde salía Citizen Steel antes porque ya no está la JSA

— best of neena thurman (@bestofdomino) September 26, 2018
what if Kyle is actually dead too pic.twitter.com/rmbKFWQm0G

— tammar is forever sad about roy harper (@RoyHaarper) September 26, 2018
roy harper and wally west i love you with all my heart

— carol (@kirkdameron) September 26, 2018
Shoutout to that guy at AWA who only cosplays Roy Harper and has all his tattoos….. hope he's doing well today

— BOOSTER GOLD DID NOTHING WRONG (@zelloyd) September 26, 2018
I've really grown to like Roy Harper over time. Gotta pour one for the real. pic.twitter.com/APiElTfxz9

— – (@pseudonova) September 26, 2018
i love you roy harper. sigh

— heroes in crisis hate account (@deadpoolwebs) September 26, 2018
What if a year ago I told you that a Watchmen story would be more fun and less depressing than a book featuring Booster Gold, Superman, Wonder Woman, and Harley Quinn?#DoomsdayClock #HeroesInCrisis

— Comics Lamar (@Soji_SideQuest) September 26, 2018
Of course, as I'm sure folk at DC will say, they wouldn't do it if you didn't care….
Enjoyed this article? Share it!