Ninjak vs. the Valiant Universe: A Flawed but Fun Introduction to the Characters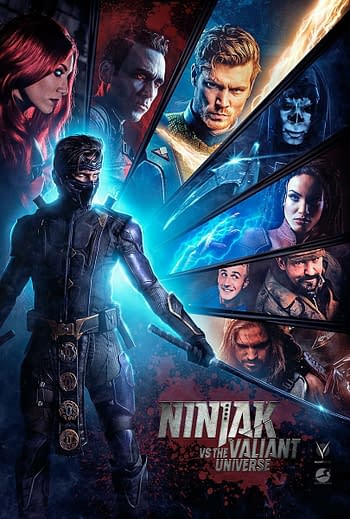 Back in September of 2016 I got a chance to visit the set of Ninjak vs. the Valiant Universe. I went on a day that they were filming the Ninjak (Michael Rowe) vs Bloodshot (Jason David Frank) scene and got to meet both actors, directors Aaron and Sean Schoenke of Bat in the Sun Productions, and a bunch of the Valiant crew. It was a lot of fun — I really enjoyed the day and looked forward to the video that wasn't scheduled to be released for another year. Though it was delayed a bit longer than that, you can finally watch it…. but from earlier reporting, you'll want to do that today as it will be gone tomorrow.
The story is straightforward, focusing on the character of Colin King, aka Ninjak (Rowe), who is part of the super team Unity and works for M:I6. An old enemy, Roku (Chantelle Berry), forces him to steal the Book of the Geormancer or she'll kill the wife and daughter of his handler, Neville Alcott (Craig Young). And of course he can't say why he's doing it, so once discovered, the Unity team is sent after him. He has to go up against Bloodshot (Frank), the Eternal Warrior (John Hennigan), Livewire (Ciera Foster), X-O Manowar (Derek Theler), Shadwoman (Damien Poitier), and the team of Archer (Alex Meglei) and Armstrong (Kevin Porter).
Bat in the Sun Production does webseries with great fight scenes and mediocre acting and effects. Knowing that going in, you can properly set your expectations. There is plenty of good here as Rowe, known to a lot of fans as Deadshot from Arrow, is very good as Ninjak and looks the part — including a very authentic-looking costume. The story, where not brilliant, is a good introduction to a bulk of the Valiant Universe, which is not nearly as well known as other comic universes out there.
Frank's deadpan performance as Bloodshot fits the character, and Hennigan's Eternal Warrior is well done. Shadowman's portrayal by Poitier also feels right for the character. It's hard to say about Theler's X-O as the costume didn't feel like armor at all, but more like something a cosplayer would put together. On the bad acting end of the spectrum was Berry's Roku, who just seemed to be maniacal villain 101. The truly painful part was watching Archer and Armstrong, whose fight was noticeably sped up, and the dialogue just didn't work.
Overall, Ninjak vs. the Valiant Universe is a fun introduction to the characters and worth watching for Michael Rowe's Ninjak alone.
So, while you can, here is Ninjak vs. the Valiant Universe.