Cooper Hefner Returns Playboy To Its Bare Essentials
In October of 2015 the word spread quickly that Playboy Magazine was going to eliminate nudity from its pages. It was a rather shocking announcement for as much as the publication was known for its cutting edge cartoons, articles and attitude, the Playmates were always the forefront of the image. One of the most vocal critics against the move was Cooper Hefner, son of the magazine's founder Hugh Hefner. The younger Hefner didn't believe that nudity was the reason the magazine's sales had diminished, but rather how women and nudity were portrayed.
The reaction to the change did not go over well and Cooper Hefner was brought in to be the Chief Creative Officer for the magazine. With his arrival, certain changes were undone. Hefner tweeted the following: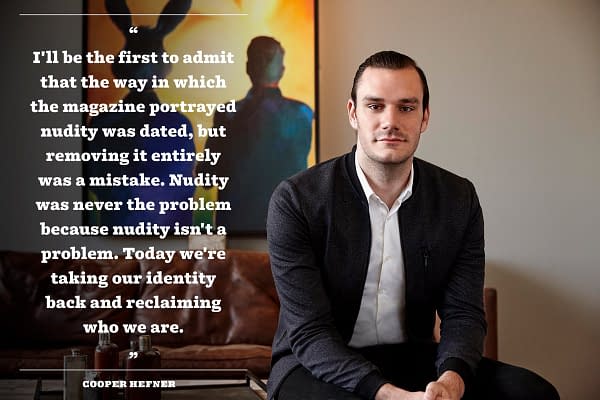 The March / April issue of Playboy will bring back the nudity, but also some of the old favorites like Playboy Philosophies and Party Jokes. The one thing missing from the magazine cover is the phrase: "Entertainment For Men". Hefner talked about how the magazine will continue to be focused on men's interests, but seeing as how gender roles in society are evolving, the magazine needs to as well.
In his address about the changes, Cooper stated:
And although I'm picking up the pen where my dad left off with The Playboy Philosophy and he and I have a tremendous amount in common, we also have vast differences of opinion—which I suspect I'll find as I continue writing these installments to set the record straight on who we are today. But one thing is clear that both my dad and I understand at its simplest form, and that is what Playboy and the United States strive to represent in their greatest forms: freedom.
The new issue, which is available for download now and will be on sale Feb 28, will feature interviews with Van Jones, Scarlett Johansson, and Adam Scott along with being the first issue under Cooper Hefner's guidance.
Now… if he'll just bring back the cartoons.