So, It's Cosmic Ghost Rider Destroying Marvel History from Paul Scheer, Nick Giovannetti and Gerardo Sandoval
Man, I thought Marvel were going to do this properly. But no…
After running a serious of teases suggesting that Marvel was going to rewrite the history of the Marvel Universe, who really gave the Fantastic Four their powers, who brought The Amazing Spider-Man back after Spider-Man No More, who found Captain America on ice before the Avengers did and who saved Jean Grey from the Dark Phoenix Saga?
Instead expect something like Deadpool's Secret Secret Wars unveiling Deadpool's forgotten role in that eighties' crossover event, including being a host for Venom and hooking up with Rogue…
This spring, comedian and The League star Paul Scheer re-teams with Far Cry writer Nick Giovannetti (Deadpool Bi-Annual, Guardians Team-Up) for COSMIC GHOST RIDER DESTROYS MARVEL HISTORY #1: an all-new limited series, where the Cosmic Ghost Rider is stuck in the past. So what's the Cosmic Guardian of Justice going to do? Rewrite the origins of the Marvel Universe, of course

Find out the answers starting this March, when COSMIC GHOST RIDER DESTROYS MARVEL HISTORY #1 hits comic shops!
You know if they want some more ideas, Jude Terror had quite a few suggestions to add … could we get a repeat of the Doopool situation from Infinity Warps?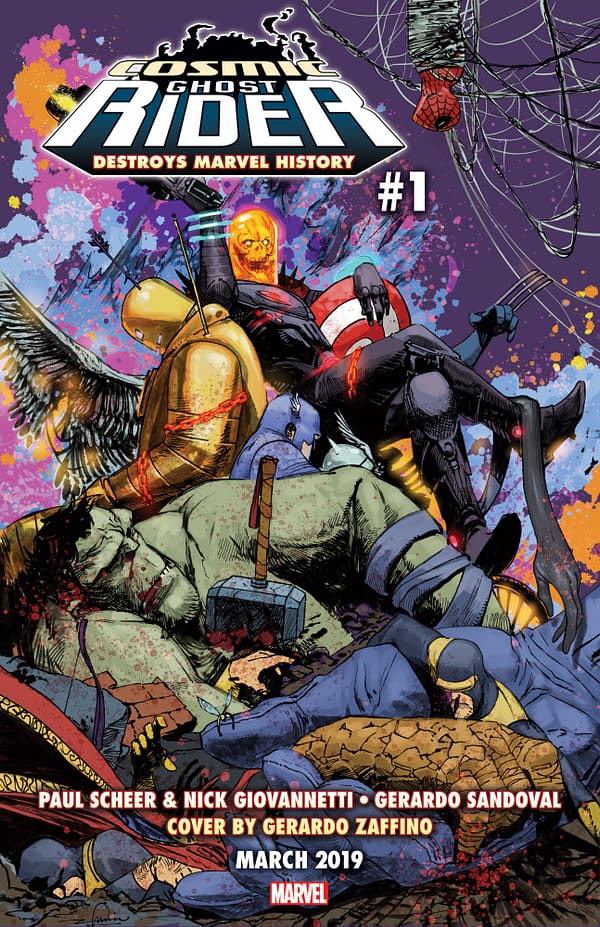 COSMIC GHOST RIDER DESTROYS MARVEL HISTORY #1 (of 6)
Written by PAUL SCHEER and NICK GIOVANNETTI
Art by GERARDO SANDOVAL
Cover by GERARDO ZAFFINO
On Sale 3/6/19