 While the American comics scene is highly regarded, it's always nice to be reminded of what good storytelling sans superheroes and world-shattering events looks like. Sometimes it's enjoyable to just lose oneself in a good European comic, preferably translated. Then again, some are still easy to follow if they haven't been translated because they let the art tell the story. Comics are a much bigger deal overseas (and even bigger in Asia!), so anytime a comic is prestigious enough for translation to be marketed to us in the states, chances are it's phenomenal because the publisher wouldn't be wasting money translating it if it wasn't. I commend Drawn & Quarterly, Fantagraphics, First Second Books, and other publishers who are on the frontlines fighting the good fight, and making sure we as readers and fans of the medium get a good taste of what the rest of the world has to offer. In today's column I'll be looking at the Best U.S. Edition of International Material category.
Keep in mind I cannot vote for who wins (nor can you, probably), as per the rules. Plus voting ended June 1st. However, that's not keeping me from being vocal regardless!
Who is eligible to vote?
Comic book/graphic novel/webcomic creators (writers, artists, cartoonists, pencillers, inkers, letterers, colorists
All nominees in any category
Comic book/graphic novel publishers and editors
Comics historians and educators
Graphic novel librarians
Owners and managers of comic book specialty retail stores
Who is not eligible to vote?
Comics press or reviewers (unless they are nominees)
Non-creative publisher staff members (PR, marketing, assistants, etc.)
Fans
Before I get back to trimming Alan Moore's beard to use for binding so I can be eligible for next year, let the games begin!
Best U.S. Edition of International Material
Beautiful Darkness, by Fabien Vehlmann & Kerascoët (Drawn & Quarterly)
It's up to Princess Aurora to keep civilization as she knows it running, and continue to be kind to her people and the creatures of the forest. Only problem is, she's the only one with good intentions while the rest are cannibalistic, deceitful, and just plain evil. In this beautifully dark, macabre anti-fairytale, Vehlmann and Kerascoët bring a truly original story to life, accompanied by equally beautiful watercolors.
Blacksad: Amarillo, by Juan Díaz Canales & Juanjo Guarnido (Dark Horse)
Blacksad is back, and decides to take the long road home by offering his services as a valet for a rich businessman. Driving around in style in a yellow Cadillac, Blacksad soon finds himself carless after a couple of beatniks nick his ride, and he makes it his mission to recover the car. Only problem is one of the beatniks, Chad, is wanted for murder, and ruins the car before running off to join the circus. Blacksad travels across 1950s Midwest looking for Chad, along with a few other interested parties, only to soon discover trouble plagues Chad's wake. Beautifully brought to life by Canales and Guarnido, this latest Blacksad episode is another classic.
Corto Maltese: Under the Sign of Capricorn, by Hugo Pratt (IDW/Euro Comics)
The first volume of 12, Under the Sign of Capricorn collects the first six short stories of Pratt's Corto Maltese. Set during the Great War, Maltese's adventures include exploration, interacting with natives, and even a treasure hunt. Included in this collection is "The Secret of Tristan Bantam," "Rendez-vous in Bahia," "Sureshot Samba," "The Brazilian Eagle," "So Much for Gentleman of Fortune" and "The Seagull's Fault." This first volume is a great example of Pratt's exquisite work, and a great piece of treasure to anyone wanting to discover what made Pratt so celebrated throughout Europe.
Jaybird, by Lauri & Jaakko Ahonen (Dark Horse/SAF)
A dutiful little Jaybird attends to his poor, sickly mother whenever she rings the bell. His entire life, all he's known is cleaning the cobwebs from picture frames throughout the house, and is to never go outside. His only friend a spider, the Jaybird goes about his daily routine until one day he's prompted to explore beyond the door. What he finds is a twist straight out of The Twilight Zone. Lauri & Jaakko Ahonen do a wonderful job keeping the reader in suspense throughout.
The Leaning Girl, by Benoît Peeters & François Schuiten (Alaxis Press)
There's something about 13-year-old Mary. After a bizarre accident on a roller coaster, she can only lean and never stand-up straight. Scientists can't help her, and her own parents send her away to school where she promptly escapes and joins the circus. It's not until a scientist who plans on building a rocket to another world thinks he can help her condition, then the real adventure begins. Beautifully illustrated and insanely intricate, The Leaning Girl is out of this world.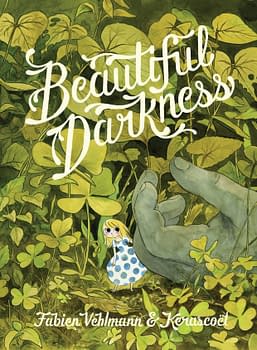 Who I think should win:
Beautiful Darkness, by Fabien Vehlmann & Kerascoët (Drawn & Quarterly)
The cover alone tricks you into a false sense of security, for what starts out as a lovely little fairytale of a princess wooing a prince, it suddenly takes a dark turn when it's revealed that their home is the corpse of a young girl. Think The Borrowers if they were horrible, disgusting little creatures instead. The watercolors throughout keep that charming, magical tone of a fairytale, but the actions of the individuals is a swift reminder that this is definitely not a story to share with children.
Who I think will win:
Beautiful Darkness, by Fabien Vehlmann & Kerascoët (Drawn & Quarterly)
I've heard several people gush about this book, and with good reason. While Blacksad is always a crowd pleaser, it's Beautiful Darkness' turn to shine at the Eisners this year. It's a great representation of European comics, and wonderfully translated for English speaking audiences to enjoy.
Who I think should have been nominated:
Arsene Schrauwen, by Olivier Schrauwen (Fantagraphics)
I'll be honest, I didn't know who to recommend for this category since I'm not all too hip in the European comics scene, but friends tell me Arsene Schrauwen is a great read with beautiful illustrations.
Who do you think should win / been nominated?
Cameron Hatheway is a reviewer and the host of Cammy's Comic Corner, an audio podcast. You can hide in corpses with him on Twitter @CamComicCorner.
Enjoyed this article? Share it!