Bleeding Cool is owned by Avatar Press and always has been. Such a clear conflict of interest. Obviously, Avatar Press is going to use Bleeding Cool to promote its own products and projects. Well, you'd have thought.
But last month I had to read about their March 2018 solicitations on the Diamond Previews website, rather than them telling their own in-house reporting team.
Would this month be any better? No. Instead, I found the April 2018 solicitations listings on their sister-retail site Comics Cavalcade.
You know, they have my email address and everything.
Anyway, they have the new series of Crossed +100 written by Amazing Spider-Man writer and Netflix Daredevil's Christos Gage. And a massive slipcase volume of Star Wars/The Wicked + The Divine writer Kieron Gillen's Uber series.
CROSSED +100: MIMIC #2
$5.99
Cover: Gabriel Andrade
Writers: Christos Gage, Pat Shand
Artists: Emiliano Urdinola, Raulo Caceres
MR, color, 48 pages, monthly
Two epic tales in every giant-size Crossed +100 Mimic issue! The world of Crossed +100 was created by Alan Moore and introduced us to an entire civilization and language set one hundred years after the Crossed outbreak devoured humanity. Now Christos Gage delves into that future with MIMIC, as one of Beau Salt's disciples invades a military base to pick apart the best and brightest. Each issue also has a second feature as writer Pat Shand teams up with artist Raulo Caceres to deliver a chapter of AMERICAN HISTORY X, based on the events Moore spotlighted as key points in the saga. Available with a sizzling array of covers: Regular by Gabriel Andrade, History X Wraparound and American History X by Raulo Caceres, Fatal Fantasy and Hellish Homage by Renato Camilo, and Ms Mayhem by Christian Zanier. Don't miss the three-cover Crossed Over set by Matt Martin, each limited to just 250 copies, nor the Century (of Blood) cover limited to 100 copies also by Camilo.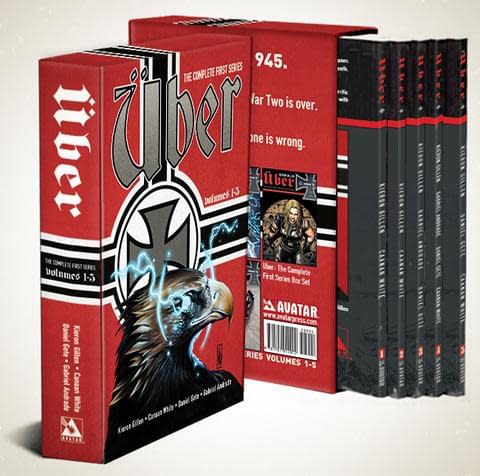 UBER Slipcase set of Vols 1-5
$89.99
Writer: Kieron Gillen
Art: Daniel Gete, Caanan White, Gabriel Andrade
MR, Color, slipcase, set of 5 collections
The five volumes of collections making up the entire first series of Uber, Kieron Gillen's breakout hit reinvention of the alternative history genre, is now available now in a handsome slipcase set! April 24, 1945, the world holds its breath as the war is only days away from ending. Russian troops move through Germany to the final objective… Hitler himself. As those around the mad dictator crumble, the much ridiculed threats of the "Wunderwafen" finally materialize. A new weapon is delivered, one with unstoppable power – a weapon like no other and with a madman pulling the trigger. The Ubers change the direction of World War II providing a dark and uncompromising alternative history in a way that you've never seen. This Slipcase Set contains the collected Uber Volumes 1,2,3,4 and 5.
UBER: INVASION #1 Fall of Boston
$5.99
Writer: Kieron Gillen
Covers and Art: Daniel Gete
MR, Color, 32 pages, bi-monthly
Sieglinde embarks on a treacherous gambit that may yet save Germany. While Russia must call up on their most unbalanced of Battleships to protect their flank. Available with Regular, Wraparound, War Crimes, Propaganda, and Blitzkrieg by series artist Daniel Gete, and a limited VIP Premium cover by Gabriel Andrade.
UBER: INVASION #2 Homage
$5.99
Writer: Kieron Gillen
Covers and Art: Daniel Gete
MR, Color, 32 pages, bi-monthly
The astounding Action Comics #1 Homage cover!
UBER: INVASION #4 Activation
$9.99
Writer: Kieron Gillen
Covers and Art: Daniel Gete
MR, Color, 32 pages, bi-monthly
A new limited edition cover by Gete!
Enjoyed this article? Share it!