Fresh off his success playing in DC's Sandman Universe with Lucifer and House Of Whispers, Dan Watters has a new Image comic with artist Dani, coming from Image Comics. And today is the final order cut-off for Coffin Bound #1.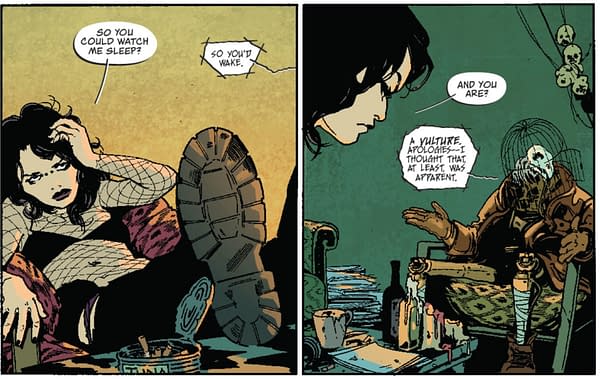 It's no surprise that when you crack open the comic that you feel like you've entered Neil Gaiman's iconic fantasy world, complete with Izzy, a Death-esque Goth main character, creepy skeletal-vulture man, and a toothy monster both literary and figuratively named Eartheater.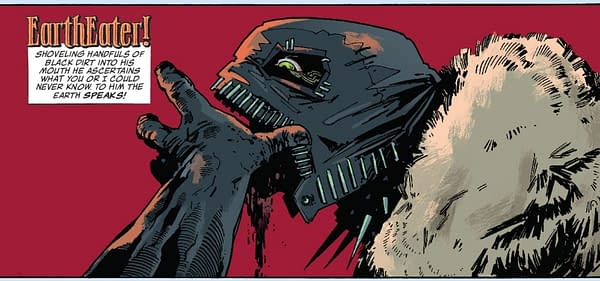 But then you get a big shootout and it seems worlds away.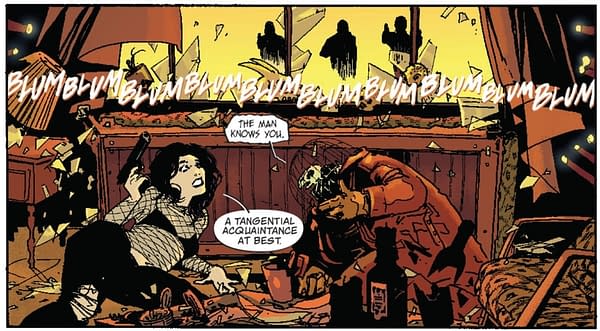 But do you remember those early days of Sandman, when everything was just a bit too gross, and flesh was stripped from bodies a lot? That kind of level. I miss that a bit, and Coffin Road delivers in spades, by way of Frank Miller's Sin City or Eduardo Russo's 100 Bullets.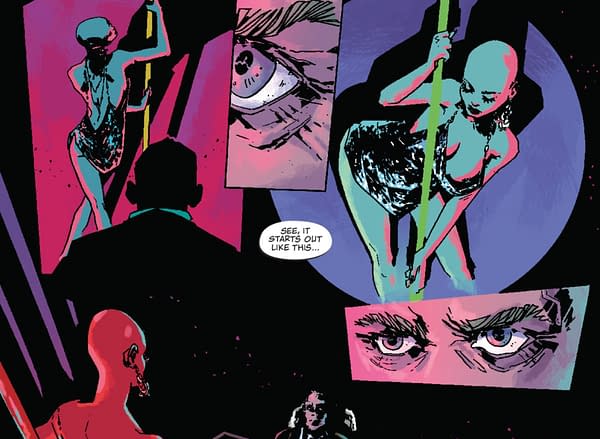 Even the lettering of the vulture (above) seems straight from Sandman's Matthew The Raven, below. Another dead bird…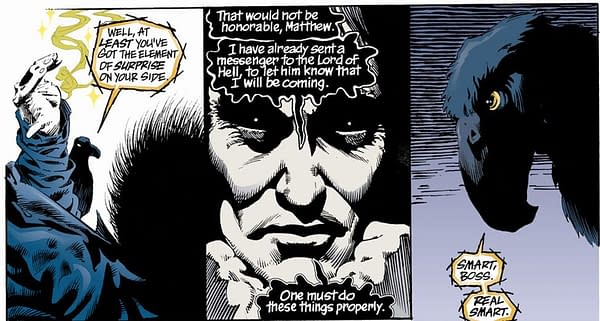 As I seem to mention far too often when we're down the pub, he wasn't even born when Gaiman's Sandman was first published. By Dan and Dani hammer it home a  number of ways, sometimes subtle sometimes…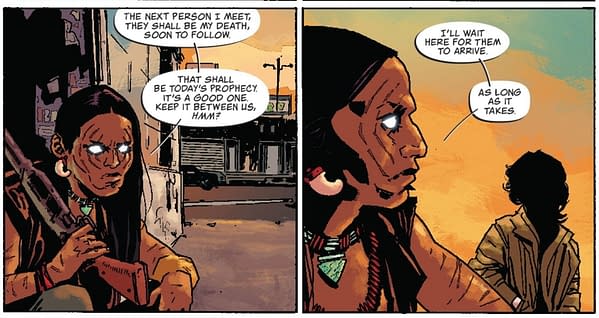 That's Izzy sneaking up. The next person met.
But this is not meant to be set in any Dreaming, but a very real world, with levels and layers, above and below, those pursuing and those pursued, and people – or impossible things – with very definite purpose. There are lots of guns, lots of bullets and lots of things blowing up. It reminds me a little of Donna Barr's Stinz in that regard, as well as Bob Fingerman's levels of hell, the Eartheater's mission and demeanour reminiscent of the Saint Of Killers, and just a touch of Doom Patrol's Dada. Oh and Adam Ant.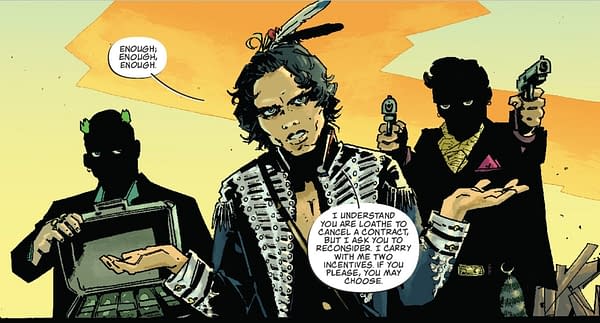 In fact, if you wanted a portmanteau, I'd go with Mad Max: Dali Road. They can use that if they want.
This is a weird one, but weird in the delicious way those new comics that Vertigo used to put out during its heyday once were. Hell, I namedropped enough of them. And Image Comics marketing's picked up the thread, too. I'm hearing that retailer outreach coming from Image Central for the past month has been banging the Sandman drum. Expect to hear a lot of that from this Friday's Retailer Lunch and Horror Comics panel at San Diego Comic-Con. Image is positioning this launch among the upper echelon of their horror bestsellers, Ice Cream Man, Infidel, Gideon Falls, Die, and Bitter Root.
Image Comics are making Coffin Bound #1 returnable to comic book retailers. Who have nothing to lose. And I was reminded of a sign by friend-of-Bleeding-Cool Dennis Barger for when Paper Girls #1 first came out. Now selling for $50 on eBay.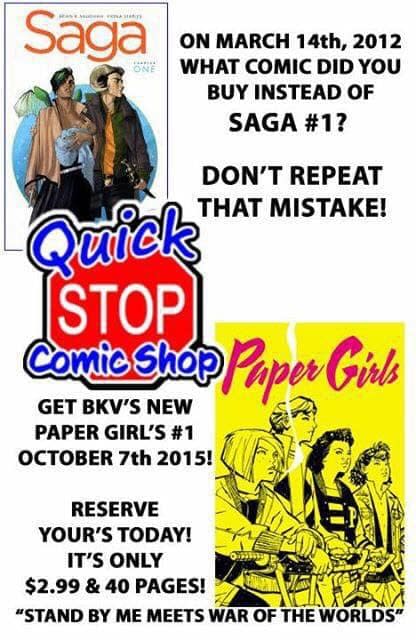 Might Dennis have to make another sign?
Here's the panel, the solicit and the official preview…
Image Comics: Bone-Chilling Insight into Bestselling Horror Comic Books, Thursday, July 18, 1:00 p.m. – 2:00 p.m., Room: 23ABC SAN DIEGO COMIC-CON

Join W. Maxwell Prince (Ice Cream Man), Pornsak Pichetshote (Infidel), Dan Watters (Coffin Bound), Jeff Lemire (Gideon Falls), Kieron Gillen (Die), and Chuck Brown (Bitter Root) as they discuss their spine-tingling craft and share the secrets to creating some of the darkest, most thrilling comic book series on the market. Moderated by Chloe Ramos-Peterson (Library Market Sales Representative at Image Comics).
COFFIN BOUND #1 (MR)
(W) Dan Watters (A/CA) Dani
SERIES PREMIERE! Cars! Guns! Entropy! Chased by an unstoppable killer, Izzy Tyburn has decided that if the world won't have her in it, it can have nothing of her at all. She's re-treading her life, leaving nothing but burned rubber, ash, and the sun-scorched bones of those who get in her way. Join writer DAN WATTERS (Sandman Universe: Lucifer, LIMBO), artist DANI (2000AD, Girl with No Name), and colorist BRAD SIMPSON (JESUSFREAK, MCMLXXV) on a road trip through a blood-splattered life.
"It's a gleeful of literary grindhouse comic that brings to mind Milligan's Arthouse Pulp and notes of Pretty Deadly. Out in August. Pre-order now." –Kieron Gillen

"A Lynchian crime chase desert noir fever dream with its own messed up internal logic. Fun." –Rob Williams

"An acid drenched road trip, seeping violence and weirdness of the best kind. Definitely one to check out." –Ollie Masters

"Gorgeous and odd and very much its own unique monster. I am jealous at its filthy strangeness." -Ivan Brandon

"A gore-splattered-but poetic-road trip with one of the strangest stripper scenes in comics." –John Harris Dunning

"Dreamlike, mythic, relentless and strange." –Kurt Busiek

"Excellent. Like finding a weird Alex Cox meets Jodorowsky road movie you didn't know existed. Literate, full of ideas & complimented by Dani's Guéra meets Pope-ish art." –Iain Laurie
"Pure Doom. Watters spins a fantastic Kerouac-Ian fever dream with Dani dropping some story chops, solid gesture and moody blacks. It's a great hook that will take you Under. Coffin Bound Rules!" –Andy Belanger

"Your lessons of life delivered at the end of a muzzle by a choir of grindhouse philosophers laced with the wisdom of dead birds. I can hardly think of another story so fully infused with Dan Watters and Dani aesthetic." –Ram V
"Dani is quite a discovery: the work is very inventive and actually very careful but the line is alive and organic-the ink just spills down and branches into the right places. And the language style Watters launches here is just wonderful-I summon Milch because it's eccentric and neo-antique like his DEADWOOD speech, rippling with character and drunken with its own pleasure… Coffin Bound is a damned joy." –Warren Ellis

"Coffin Bound is a distillate of madness. A slice of apocalyptic dreamtime cut with engine smoke, acid nihilism and dirty juju. This is some top-class necrofuel, my friends, and you need it in your brain-tank pronto." –Si Spurrier

"Coffin Bound is a comic with a strong pulse that bleeds all over your hands while reading. You should give it a read." –Declan Shalvey
In Shops: Aug 07, 2019
Final Orders Due: Jul 15, 2019
SRP: $3.99
Enjoyed this article? Share it!