Darth Vader Annual #2 Review: A Brutal Prequel to Rogue One
[rwp-review-recap id="0"]
Grand Moff Tarkin discovers Darth Vader scouring the data vaults on Scarif. Vader wants to know about Project Stardust, but Tarkin isn't happy about this intrusion. Tarkin, with the help of the Emperor, informs Lord Vader that he is to assist Tarkin in any way he can, and this leads the Dark Lord to Geonosis, where the parts of Project Stardust are being constructed. There have been acts of sabotage, and Darth Vader and Commander Orson Krennick are to root out the cause.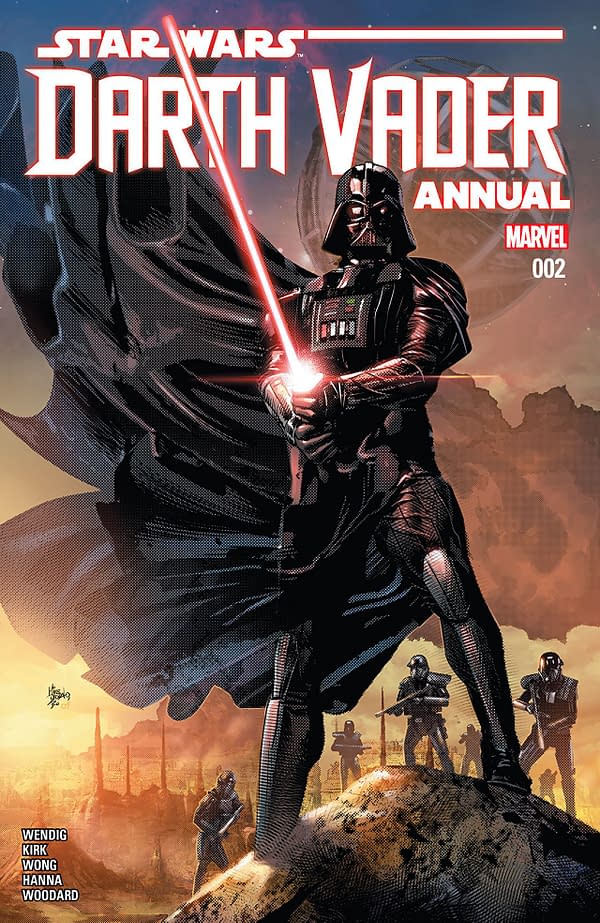 As you can glean from the details (and the title), Darth Vader Annual #2 is a tie-in story for Rogue One: A Star Wars Story. Vader is investigating sabotage of the preliminary construction of the Death Star, and more details of the story tie-in to the film from there.
It does have a little of that stench where everything that happened in Rogue One happened for some grand reason that came before it, but that does little to sour the surprisingly brutal nature of the comic. The comic wants you to remember that Darth Vader is a ruthless villain and a zealot of the Sith ways.
Tarkin is presented as a scheming and conniving politician, which suits the character well. Krennick is little more than a toady, and that's a little disappointing considering how much fun he was in Rogue One.
The comic keeps a brisk pace all things considered. This is not an Annual that overstays its welcome.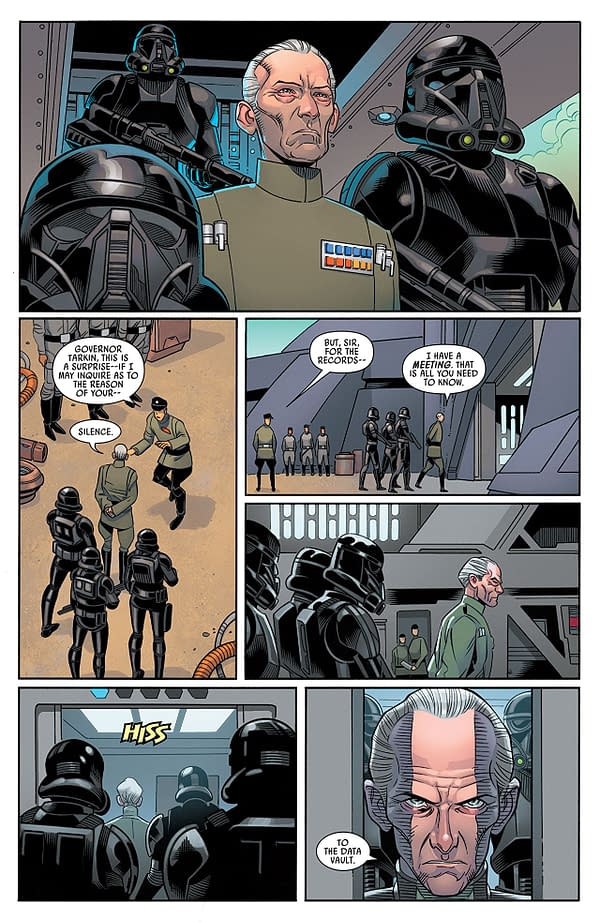 Leonard Kirk is the artist on this comic, and he brings a sleekness and expression to the comic that does the story justice. There are moments where Vader looks counterintuitively cartoonish, and it hurts some of the more serious moments. However, for every moment like that, there is a panel of Vader looking down with shadows on his mask, menacing whoever is unfortunate enough to be in his way. More shadowing would have helped in some scenes, though. Nolan Woodard is the color artist, and, while the color adds life to the book, it would have been nice to have more dark shades to match the narrative tone and personality of Vader.
Darth Vader Annual #2 is a brutal and compelling tale of Vader in the events that led to Rogue One. There is plenty of action, browbeating, and cruelty to keep the reader engaged, and the art, though not perfect, is still good and does much of the work it needed to accomplish. This one earns a recommendation. Give it a read.
[rwp-review-ratings id="0"]
[rwp-review-form id="0"]