David Avallone has a Writer's Commentary on Elvira, Mistress Of The Dark #12, on sale now from Dynamite. He writes,
Have you read all your Elvira comics? This is gonna be wall-to-wall spoilers. Here we go…
Covers: John Royle contacted me, as I was plotting this final arc, to suggest a fun final cover for the series: Elvira and Dracula doing the "Titanic" pose. I hadn't actually considered bringing Vlad back for the last issue… and it was a perfect capstone. John has this amazing habit of suggesting cover ideas that end up inspiring the story inside. I agreed to the cover, but said it had to be "our" Dracula… Vlad the Impaler as designed by Dave Acosta in issue one. He was perfectly happy to comply, and produced this funny and beautiful cover, with colors by Mohan.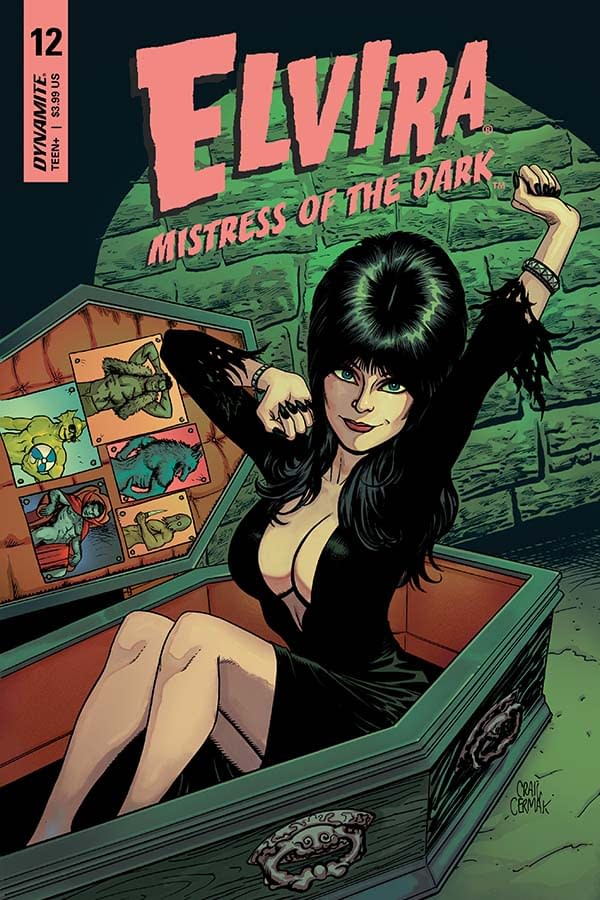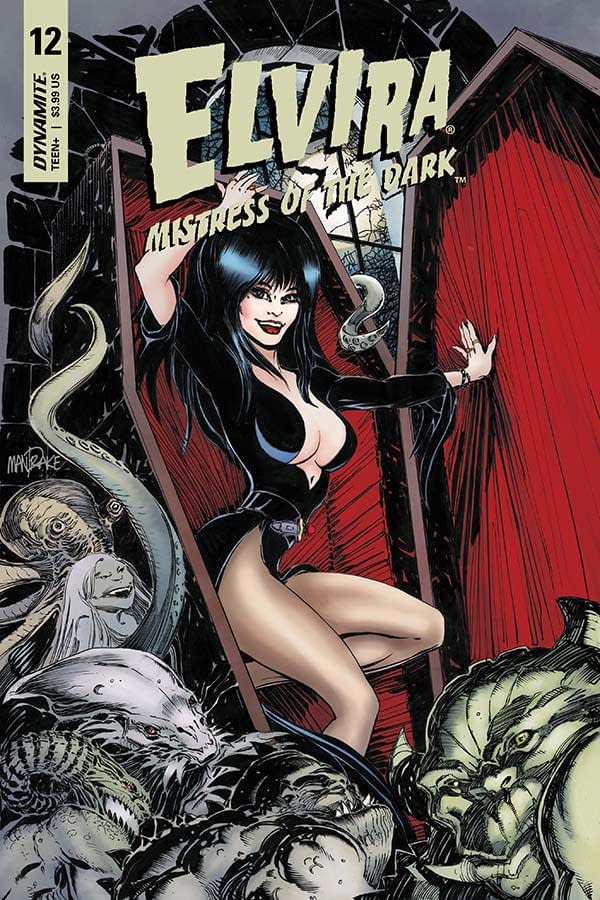 So who wants a Vlad the Impaler miniseries now? Let Dynamite know!
I had no idea we had Tom Mandrake (with Sian Mandrake) on board for our "A" cover until I saw it online. A really great cover: I particularly like the goblin looking back at "us" in the foreground. Even the cover breaks the fourth wall. Craig Cermak's cover, colored by Brittany Pezzillo, like Mandrake's, has a coffin … and shows Elvira's bedtime pin-ups, which are hilarious.
Inside Front Cover: Word to the wise… the recaps are funny, and you should read them. You should read it. I've been doing a running gag for twelve issues about Elvira's reluctance to do recaps, and it continues to run here. I also spelled "Luciferian" wrong… and no one caught it. Probably because it's a word I made up? I don't know.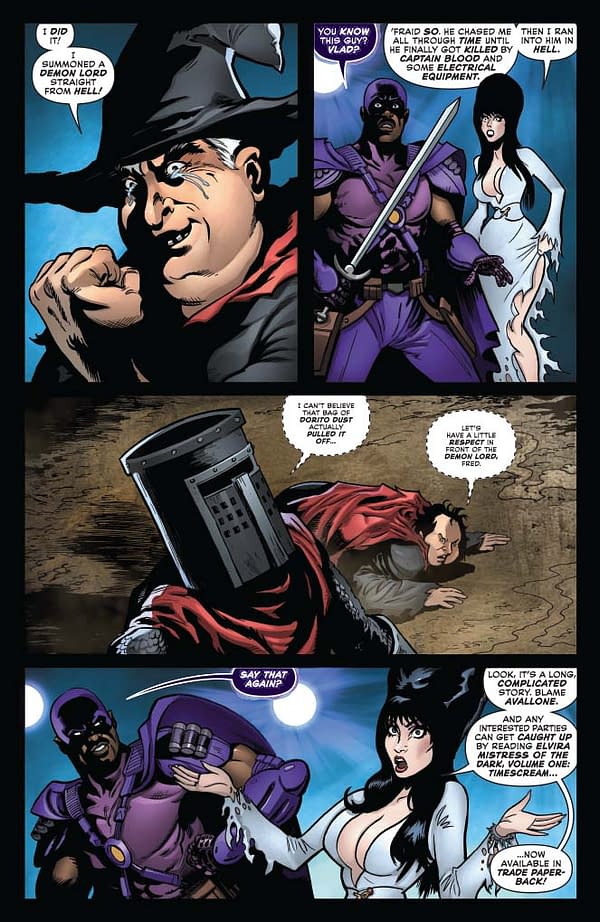 Page 1: A moment of calm before the storm, as everyone reacts to Vlad's appearance on the last page of issue 11. I always try to remember how these comics are going to read when they're collected in a trade. Elvira says Vlad got "killed by Captain Blood and some electrical equipment." This is from ELVIRA: MISTRESS OF THE DARK #4. It wasn't literally Captain Blood… but it was Errol Flynn pastiche Neville St. Claire (remember him?). Elvira, smartly, plugs the trade paperback.
This is as good a spot as any to point out Walter Pereyra's amazing, vivid colors… and Taylor Esposito's lettering. I love the purple balloons for The Soul Survivor when he's using his "Batman McGruff Crime Dog" voice.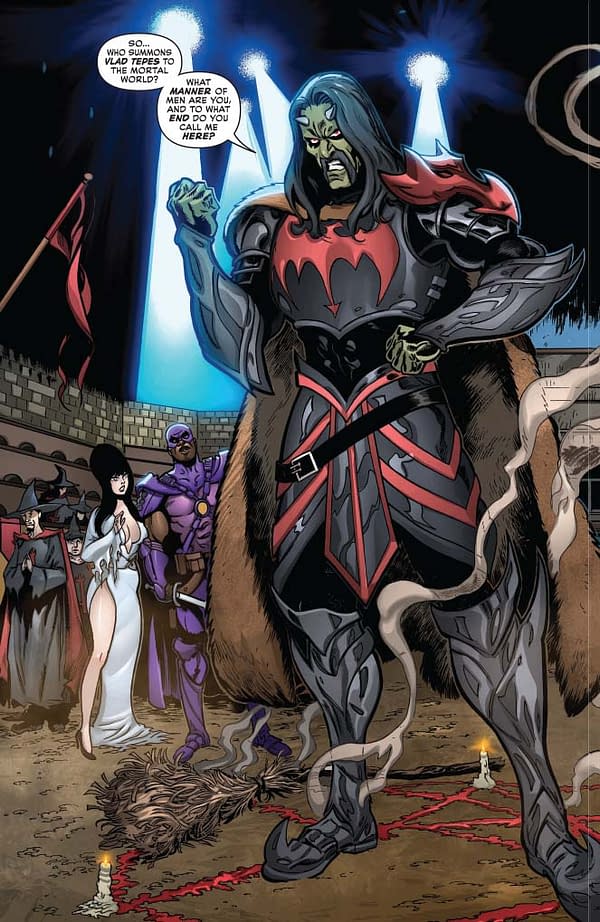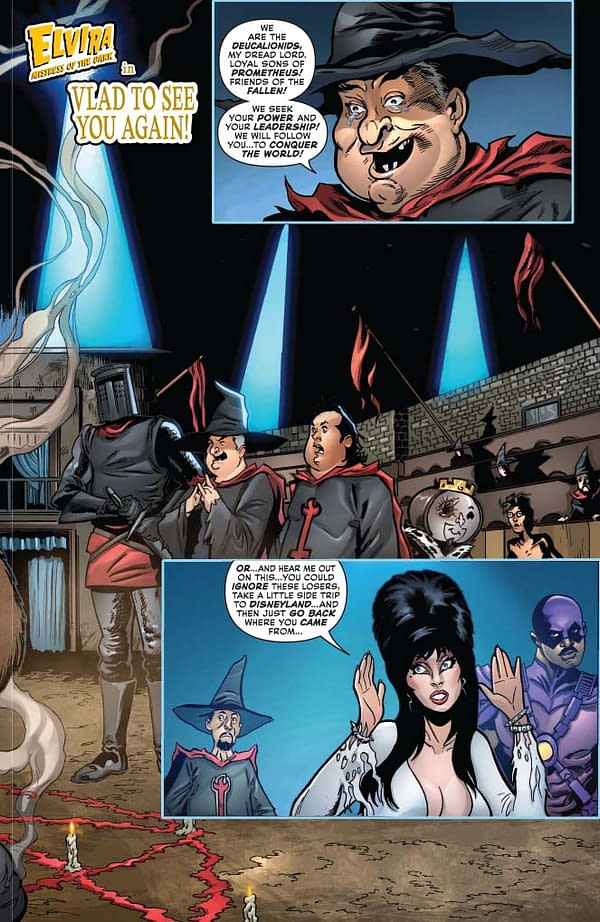 Pages 2-3: Dave Acosta, ladies and gentlemen… bringing the two-page spread realness. Dave has been my most consistent partner in comics, and this issue is the last one we have together on our mutual schedules. Dave is off to work on a creator-owned independent thing (which looks AWESOME.) I'm sure we'll be back together before the year is out. I love working with Dave: he is (obviously) supremely talented, he can draw anything I can describe in a script, and all that aside, he's a great guy and I consider him a close friend.
The shirtless teen in the background slipped out of the Corny the Unicorn costume on last issue, and that's King Turkeyleg standing next to him. They're a sad bunch.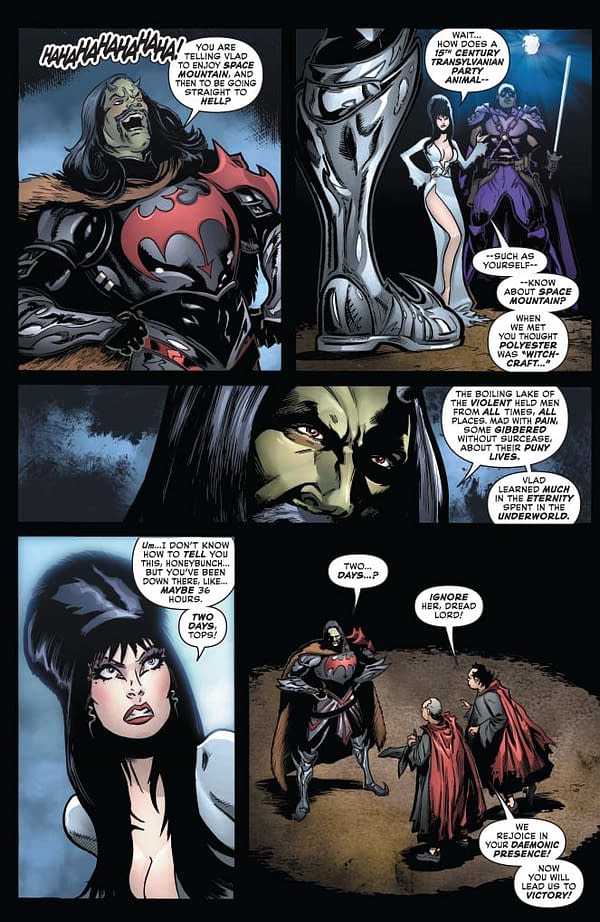 Page 4: Apparently, some dude in the Lake of Fire was talking about Disneyland. It's possible. Dave Acosta pointed out to me that Elvira – in her time-travelling – has gotten confused here. Two days have passed for her… but she killed Vlad in 1935. So Vlad has been down there for 85 years. That said… 85 years is not quite "an eternity." I thought about changing it, but I thought I'd leave Elvira mistaken and see if anyone caught the mistake. Did you?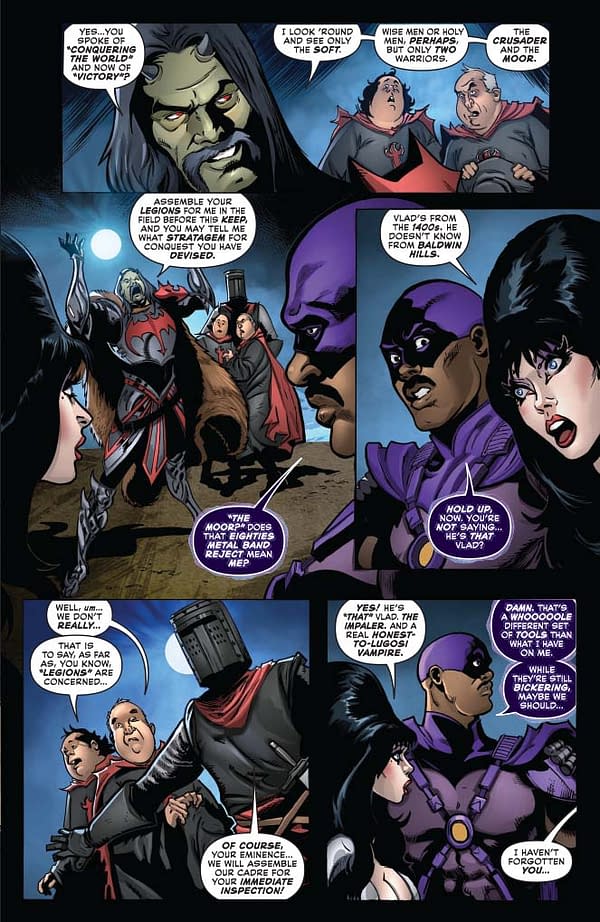 Pages 5-6: Vlad the Impaler has no experience of African Americans… I mean, he comes from a time before America itself… so from his frame of reference Ivan is "the Moor." Baldwin Hills is an area of Los Angeles that has traditionally been known as the "Black Beverly Hills." It's where Ivan Houston, the man who semi-inspired Ivan St. Croix, lives currently. Yes, this is very inside stuff… but aren't you glad you learned an interesting thing?
Page 7: When I wrote issue 9, I wondered if Cassandra Peterson (the real Elvira) would reject the idea of losing her "Darkness" and being in white for a couple of issues. As always, she was gracious and supportive and went along with it. Now the Darkness is coming back…
Page 8: This is not to dunk on Medieval Times people, LARPers, cosplayers or your Friday night D&D club… I'm sure they're fantastic people, fun to hang out with, great friends. But honestly, would you want to try and conquer the world with them? Probably not. I think in the last panel, Vlad is starting to look less like Zardoz-era Connery and more like present-day Danny Trejo. (Which would be pretty great casting when we make the movie, if anyone wants to make that movie…)
Pages 9: So far in this issue, Elvira has called The Soul Survivor "Punisher" and "Judge Dredd." It's funny that in this specific instance – fighting a vampire – I didn't think of a far more obvious comparison: Blade.
Page 10: Vlad goes full bat-wings. Someone told me that my joke on the bottom of page 10 – Vampire McNuggets – was a real thing. I had no idea. I was just reaching for a joke about "fast food for Dracula". Here is the actual McDonald's "Vampire McNugget." Did everyone know about this but me?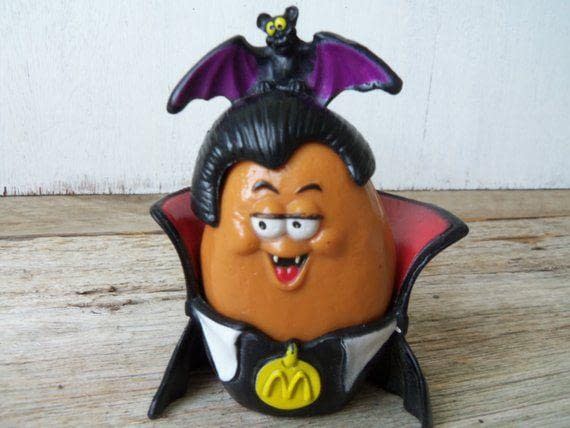 Page 11: The Soul Survivor swings into action. Apparently he's a Simpsons fan: Squeaky-Voiced Teen is the official name of the recurring character on the show. Meanwhile, out comes the trademarked catchphrase again.
Page 12: We've previously established our Vlad is vulnerable to electricity, so he's not loving the Stun-Staff™. Elvira reminds the reader that I haven't let her use her catchphrase EVEN ONCE. Look, it just hasn't been appropriate.
Page 13: As noted, Dracula means "Son of the Dragon." Apparently my excellent editor and collaborator Kevin Ketner did know it. I'm glad he added his own note to that effect.
It's kind of a Bugs Bunny thing… but I always love it when characters who find themselves in imminent danger say "eeep" in a really small voice… rendered perfectly by Taylor, here. Also note the dark orange sky slowly transitioning to a lighter color. The sun is rising. (Our Vlad doesn't burn up in daylight… I just like the effect.)
Page 14 & 15: If you go back and read issue 9, Vlad is saying the same bad dialogue Elvira's co-star was using in the low budget vampire movie she was starring in.
In all my research… I'm still not entirely clear if Vlad the Impaler was a Vladimir or a Vladislav.
And now, thanks again to Walter Pereyra, the orange sky turns blue as the eldritch power of the Besom opens a portal back to Hell for Vlad. I love Dave's work on the disintegrating Vlad, and the badass Elvira, on this page. So awesome.
Page 16: One last ride on the Besom. Wouldn't you? I love the angle looking down on the roof of the Dark Ages Diner … which looks like any other roof, of any other big building.
Page 17: Have the Deucalionids learned their lesson? Elvira destroyed their headquarters: maybe they'll find something better to do with their time. Meanwhile, the Soul Survivor does the Batman thing. It's a superhero thing.
Page 18: Home sweet home, with beloved Gonk. And we "meet" Ivan St. Croix for the first time. Technically. I love that while he pretends to care about hiding his secret identity… he runs around in a suit exactly the same color as his superhero costume. Great disguise, Ivan.
In panel 3… is that a framed photo of Pee-Wee Herman? I honestly JUST noticed that now. Nice one, Dave.
Page 19: The real Ivan, Ivan Houston… his son is an incredible (professional) baker. I thought about that, and about Famous Amos… and wouldn't it be funny if Bruce Wayne's fortune came from something as harmless as… cookies? Do you think there should be an Elvira/Soul Survivor miniseries? I would like to see Ivan again. He's a fun character.
Page 20: And we come to the end. Always bittersweet. I debated whether it was an exercise in total narcissism to put myself (and Dave Acosta) into the last page… but Dave didn't make me TOO devilishly handsome. Elvira's had a running dialogue with me through the whole 12 issues, and I thought it would be fun to wrap it up (and hype Shape of Elvira) at the very end.
I am tickled to have at least one panel of Elvira looking over my shoulder as I type. Sometimes I felt that way – in the best possible sense. Cassandra has been a complete joy to work with, and I'm proud of these twelve issues. I can't thank her enough for indulging all the crazy ideas I've had for this comic.
I'm proud of Dave Acosta's incredible art, and this epic story we've told. Thanks, Dave. I already miss you.
Thanks to Kevin Ketner: I couldn't have made this all work without him. Thanks to Taylor Esposito, who I can't seem to make a comic without. Thanks to colorists Andrew Covalt, Ellie Wright and Walter Pereyra, who brought Dave's art to vivid life. Thanks to the cover artists… too numerous to mention here, but all amazing. And as always, thanks to Joe Rybandt and Nick Barrucci, who let me play in their sandbox.
I'm already writing issue three of the next Elvira series… but I can't tell you what it is yet.
Til then… UNPLEASANT DREAMS!
(See? I did let her say it, eventually. It only took twelve issues.)
Enjoyed this article? Share it!