David Steward II Launches Polarity Animation Studio To Develop Lion Forge Comics
We placed David Steward II 44th on last year's Bleeding Cool Top 100 Power List with good reason. Founder of Lion Forge in St. Louis publisher, he is now announcing the work of the holding company and investment platform Polarity, founded last year, of which Lion Forge is a part, saying "over the past year we have been quietly and strategically building a portfolio of companies and new offerings beyond publishing to ensure we have content across every entertainment avenue available today, and actively preparing for what audiences will be seeking in the future" noting that "today's audience has many ways to interact with dynamic and impactful content delivered on multiple platforms; from television, movies, streaming, and gaming."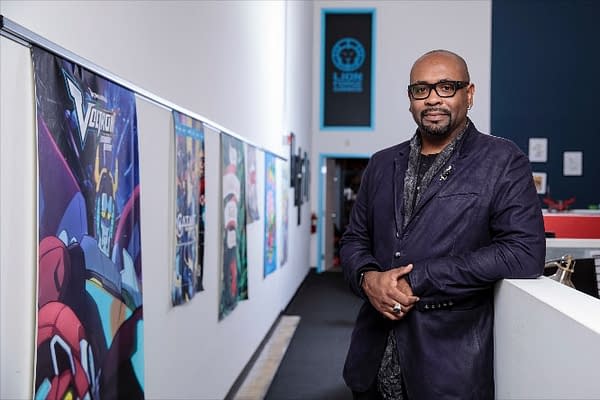 Today that means he has announced the launch of an animation studio for TV and feature film content. Steward told Forbes "we see an advantage in integrating everything under one umbrella… We're focused on the creation of things that have legs in various formats. Comics is just one of the formats we know and love, but there are obviously many big opportunities in today's entertainment market."
And that the new production company will develop content based on Lion Forge properties as well as original material. That Lion Forge received inquiries about developing its properties into animation and other media in the past, but needed to organize its own production capabilities to ensure that the final product aligned with the company's and the creators' vision.
Alongside Steward and Carl Reed, Chief Creative Officer, Polarity has hired a number of individuals from other businesses.
Edward Hamati who joined in June as President of Polarity, was director of BioGenerator for seven years and previously worked with David in private equity. In addition to managing the firm with David, Edward leads the firm's corporate development activities including M&A and investments.
Others include Shonagh Clements, Chief Legal Officer of Polarity, previous Executive Vice President, Adminstration – General Counsel at Aboussie & Associates, Inc in St Louis.
Angie Smith, Chief Financial Officer of Polarity.
Chip Schafer, VP, B2B services focus of Polarity, previously of StoryTrack Studio and President of Lion Forge Labs.
Rick Johnson, VP, publishing focus of Polarity, previously VP Sales of GL group Inc and President of Bayard
There's also Brea Callaway, Operations Coordinator, previously executive assistant at Lion Forge and at Cel Shaded Ventures. Deanna Godat, Executive Assistant to the CEO, previously Assistant to Senior Regional Vice President & Regional Vice President at KBS Capital Markets Group, Terry Patton, Human Resources Manager, previously Human Resources at Family Resource Center of Missouri, and Matt Heath director at Polarity and previously Investment Banking at Wells Fargo.