Days of Hate #7 Review: Clarity Problems Don't Undermind the High Quality
[rwp-review-recap id="0"]
Seven weeks have past. Xing has begun seeing Freeman for more recreational purposes. Amanda and Arvid sit in a desolate office building in Pittsburgh. Freeman struggles to balance his time with Xing while hiding it from his family. Arvid begins having terrible nightmares.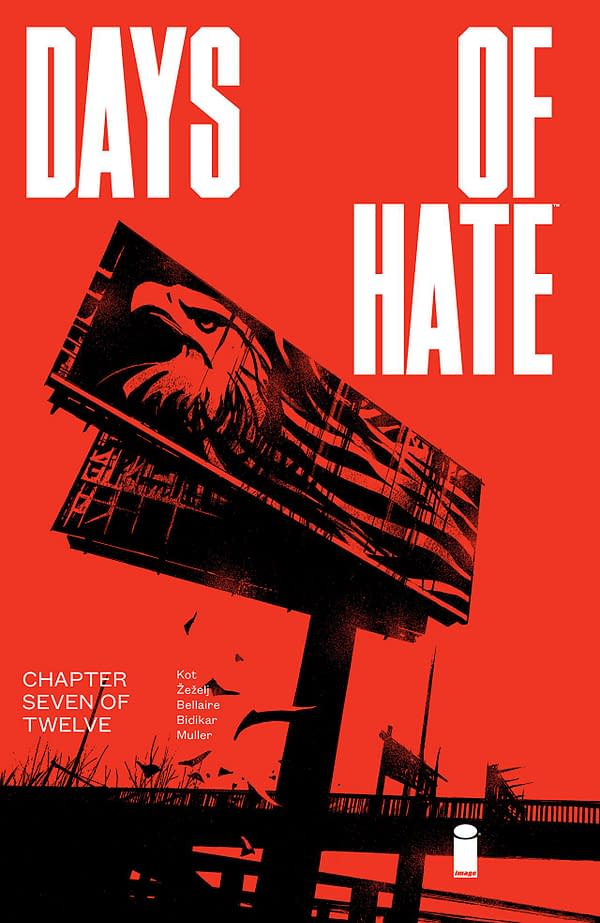 Days of Hate #7 begins the second half of the maxiseries and returns to the slow-burn nature of the title. Some things have changed such as the new relationship between Xing and Freeman. Focus is put on Arvid once again, and he and Amanda are struggling to move their plans forward.
The book still has a problem with keeping established characters distinguished and conveying information more clearly. Days of Hate drips with atmosphere and desolation, but it seems skittish about keeping things clear and apparent to the reader. Subtly is everything, but you can be too subtle.
This problem is most apparent in the last scene of the book. I'm decently sure of what is going on, but there's enough doubt so that it doesn't quite land like it should. Even without clear context, the scene is still harrowing, but it's not quite the personal tragedy for one of the characters which the book seems to be conveying due to the lack of clarity.
Also, something as simple as using characters' names more would help.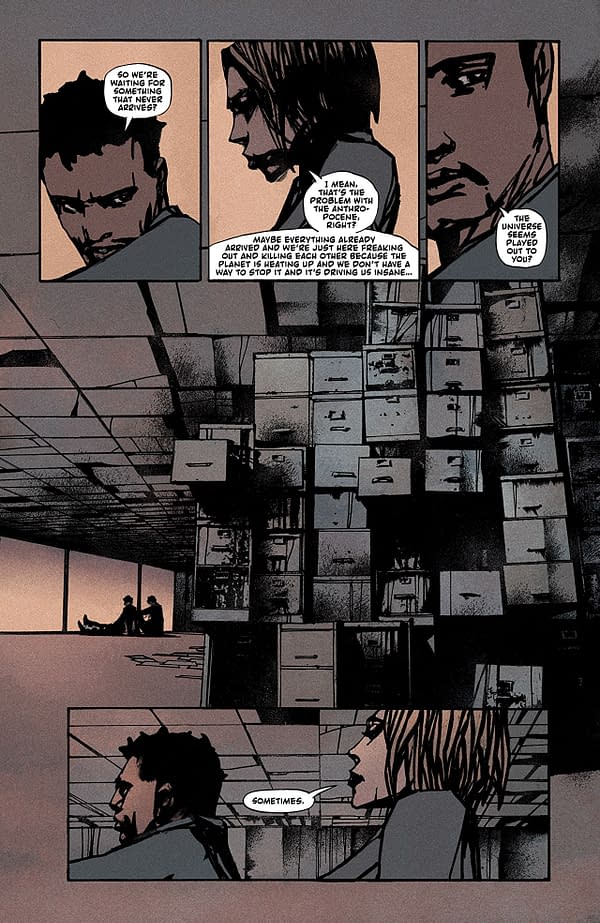 Danijel Zezelj's artwork remains excellent, but it's partially culpable in the clarity problem. The heavy shadowing and using implied features mix to create a wonderfully atmospheric and destitute visual aesthetic, but it keeps characters from being visually memorable. The washed-out colors from Jordie Bellaire give a similar problem where a character doesn't really have a clothing color association to remember them by.
Days of Hate #7 is another good issue of the Ales Kot story, but it highlights some problems which I had hoped would be ironed out by this point. I can still recommend the comic with ease, as it is a harrowing and effecting experience. Feel free to check it out.
[rwp-review-ratings id="0"]
[rwp-review-form id="0"]