DC Cancels Batman Who Laughs Orders, Reschedules Criminal Sanity #5
DC Comics has told retailers that they have cancelled all orders for the trade paperback edition of Scott Snyder and Jock's The Batman Who Laughs, collecting the seven-issue miniseries and the one-shot special issue The Grim Knight, which will be resolicited at a future date.
The Question: The Deaths Of Vic Sage collection by Jeff Lemire and Denys Cowan which was previously delayed will also be rescheduled for the 24th of November.
Eisner-winning writer Jeff Lemire joins forces with the legendary art team of Denys Cowan and Bill Sienkiewicz to resurrect Vic Sage, only to destroy him all over again…and again… For years, Vic Sage has worn the faceless mask of the Question to clean up the streets of Hub City by sheer force of will. He knows right from wrong. He knows black from white. But what happens when he is drawn into a conspiracy that reaches from the heights of Hub City power to the depths of its underground tunnels? What happens when things stop being black-and-white and start getting a little gray? And what happens when, in a secret chamber deep beneath the city, Vic Sage meets his own end…and his new beginning? Collects issues #1-4.
While the long-awaited Joker/Harley: Criminal Sanity #5 will be rescheduled for September 9th.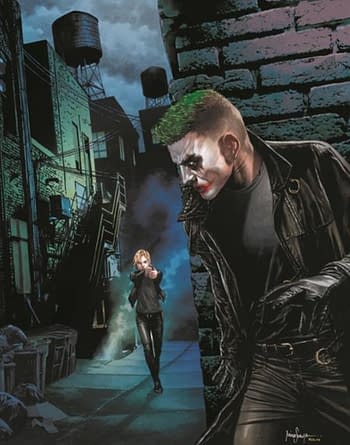 JOKER HARLEY CRIMINAL SANITY #5 (OF 9) CVR A FRANCESCO MATTINA
Written by: Kami Garcia
Art by: Mico Suayan and Jason Badower
Cover Art by: Francesco Mattina
Dr. Harley Quinn has confronted horrific crime scenes created by a serial murderer who treats his work as high art. But when she is confronted by the killer himself, her life takes a drastic turn. Will she be able to return to the status quo, and simply help the GCPD to catch this killer? Or will the encounter change her forever?