Solicited as an ongoing series, and originally listed on Amazon as 'Volume 1', Doom Patrol: Weight Of The Worlds will have its final issue in January with #7 and its Amazon listing for the collection has had the volume number stripped off it.
DOOM PATROL: WEIGHT OF THE WORLDS #7
written by GERARD WAY and JEREMY LAMBERT
art and cover by NICK DERINGTON
Everyone needs to be held like a baby. Bundle yourself up, slide into the loving arms of a friend, and strap yourself in for the thrilling conclusion to Doom Patrol: Weight of the Worlds. ON SALE 01.29.20 $3.99 US | 32 PAGES FC | DC BLACK LABEL FINAL ISSUE
This is not the end of Young Animal, Gerard Way's curated imprint, as January also marks the beginning of Far Sector, a new Green Lantern comic that may have a lot more legs than the initial solicitation suggests.
It's also notable that Brian Azzarello and Emanuela Luppachino's announced Birds of Prey ongoing Black Label comic book has been switched to a 96-page one-shot for ten bucks, containing what would have been in the first four issues.
It's been a rocky road, originally solicited as a series for October, it was delayed to January for the Birds Of Prey movie opening, and now cut down in size rather dramatically… man, Azzarello isn't having much luck with editorial and publishing over the Black Label titles is he?
BIRDS OF PREY #1
written by BRIAN AZZARELLO
art and cover by EMANUELA LUPACCHINO and RAY McCARTHY
cover by IVAN REIS and JOE PRADO
variant by J. SCOTT CAMPBELL
Black Canary's life has spiraled out of control: her personal life is going through the ringer and her band is in crisis when an old flame resurfaces only to flicker out and set her on an all-new mission against an all-new opponent. The only thing she has to be grateful for is the fact that she's not alone, as Huntress finds herself on a collision course with Black Canary's quarry at Detective Montoya's urging. Meanwhile, Harley Quinn has resurfaced outside of Gotham City and out of the Suicide Squad, with a new lease on life that is sure to make everyone else's life more complicated.
And that's only the first five pages of this high-octane, graphic novel-length one-shot that pushes the Birds of Prey far beyond their limits and puts them up against the most brutal crime syndicate to ever sweep into Gotham City! Hardboiled superstar writer Brian Azzarello and the bombshell art team of Emanuela Lupacchino and Ray McCarthy take the Birds into the no-holds-barred world of Black Label, and none of them will ever be the same!
PRESTIGE FORMAT ONE-SHOT ON SALE 01.29.20 $9.99 US | 96 PAGES FC | DC BLACK LABEL
Some of this material was previously solicited as BIRDS OF PREY #1 and 2.
This issue will ship with two covers. Please see the order form for details.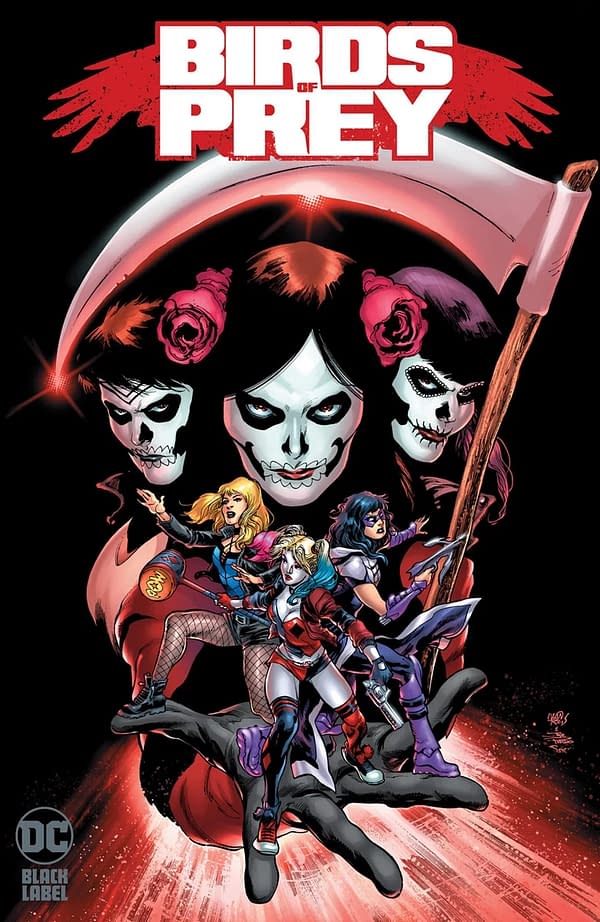 Enjoyed this article? Share it!