The comics industry has a long history of exploiting creative minds and turning their creations into corporate-owned intellectual properties to be endlessly milked for adaptations, merchandise, and unauthorized sequels and prequels. Just ask Alan Moore! But the latest move by DC Comics and squishy British quarantine-violator Neil Gaiman definitely takes the cake! In a new contest, Gaiman and DC are asking fans to tell them all about their weirdest dreams. A new website advertising a contest called Drawn from the Dreaming contains a phone number, and if you call the number, you can hear a special message from Gaiman soliciting descriptions of your "strangest, most vivid dreams."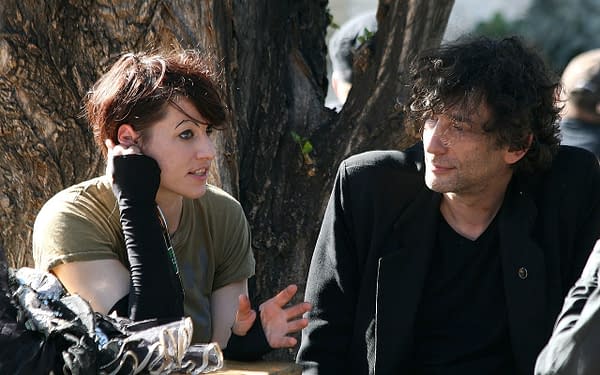 "I'm here to invite you to take part in an experience we're calling Drawn from the Dreaming," says Gaiman. "Will you share an encounter from The Dreaming, from the kingdom of Lord Morpheus? Or to put it another way, would you describe one of your dreams to us? You'll be rewarded with an exclusive listen to one of the stories from the Sandman. Your dream could be illustrated by a top DC Comics artist, possibly one of the artists who drew the original Sandman graphic novels. These drawings will be shared from our Instagram, Drawn from the Dreaming. Follow along as we build this collection."
"So, in a few sentences, I want you to tell me about one of your strangest, most vivid dreams," Gaiman ghoulishly continues. "What happened? What did it look like? How did you feel? Include your name and your Instagram handle so we can tag you if your dream gets picked."
Winners of the contest will have their dreams brought to life by DC Comics artists, while losers will have them made into songs by Amanda Palmer. How could you resist an opportunity like this? Head to the Drawn from the Dreaming website to turn over your innermost subconscious thoughts to a global corporation and a pasty Englishman today!
Enjoyed this article? Share it!