DC Comics is returning to offering exclusive retailer/creator variant covers for their two big comic books in October. Marvel has stopped completely of late, but usually, DC Comics has one or two every other month which everyone takes up, while Marvel Comics usually offered around ten a month, which few took up. But of late, it's been DC and the smaller publishers still doing this. And for October, DC Comics is offering retailer variant card stock covers for their upcoming Batman #100 and Rorschach #1. Print runs are usually set at 3000 copies, with variants of that at 1500 and 1000 copies respectively. Here's a Comics Elite retailer variant for Harley Quinn #75 as an example.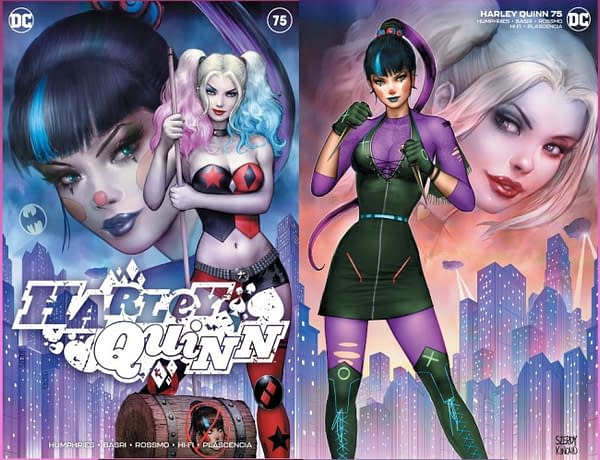 Batman #100 is by James Tynion IV, with art by Jorge Jimenez, Guillem March, Carlo Pagulayan, and Danny Miki.
"The Joker War" comes to a city-shattering conclusion as Batman battles The Joker in a brutal, no-holds-barred duel in Batman #100 — and this issue is available with exclusive custom variant covers! Also in this 56-page issue, after the senses-shattering conclusion of "The Joker War" come a pair of short stories that will chart what's to come in Gotham City and Batman. Don't miss the first showdown between Batman and Clownhunter!
Interested retailers must contact Stuart Schreck, DC Comics' Manager – Sales, no later than Friday, July 24th and all orders for custom retail variants must be finalized by Friday, August 28th. No new orders will be accepted after that date.
Rorschach #1 is by Tom King and Jorge Fornés.
It's been 35 years since Ozymandias dropped a giant interdimensional squid on New York City, killing thousands and destroying the public's trust in heroes once and for all. And since that time, one figure in a fedora, mask, and trenchcoat has become a divisive culture icon. So what does it mean when Rorschach reappears as an assassin trying to kill a candidate running against President Robert Redford? Who is the man behind the mask, and why is he acting this way? It's up to one detective to uncover the true identity of this would-be killer-and it will take him into a web of conspiracies involving alien invasions, disgraced do-gooders, mystic visions, and yes, comic books.
Interested retailers must again contact Stuart at DC Comics no later than Friday, July 24th and all orders for custom retail variants must be finalized by Friday, September 4th. Say, I wonder if you can get Dave Gibbons? Maybe not…
Enjoyed this article? Share it!