DC Comics' Infected Connective Tissue in Batman/Superman #6, Batman #87 and Hell Arisen #2 (Spoilers)
Okay, so we are getting a little more connective tissue in DC Comics today over the Infected storyline. Batman/Superman #6 has the infected Commissioner Gordon, captured, in the Halls Of Justice.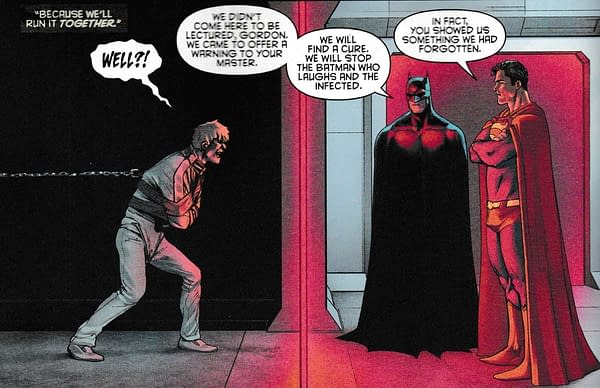 You might have thought that they had learnt not to keep the Infected in the Halls Of Justice after what happened with the Batman Who Laughs. Indeed, in today's Batman #87 they seem to have a much better system for keeping people like Cheshire isolated, which was built by Bruce Wayne.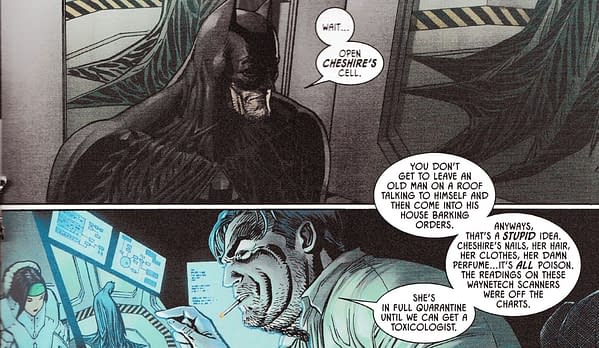 Because, yes, Batman #87 is recognising that the Infected storyline is happening, even if they don't actually mention it by having Gordon replaced by Harvey Bullock as Police Commissioner in Gotham.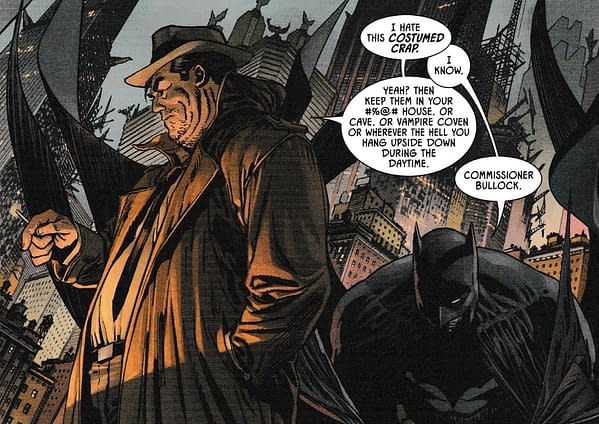 Even though he knows this will all change back at some point.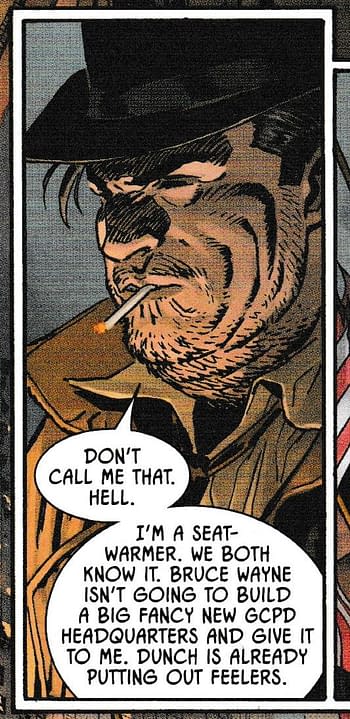 But as Lex Luthor discovers in his quest to get some of the Infected DNA in Hell Arisen #2, in his attempt to fight the Batman Who Laughs…

…and deciding that Gordon is his best bet for a pure strain of the infection…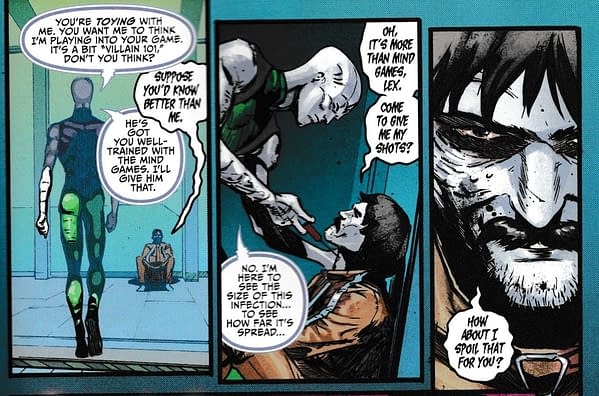 And this is the guy who is meant to be rebuilding Gotham?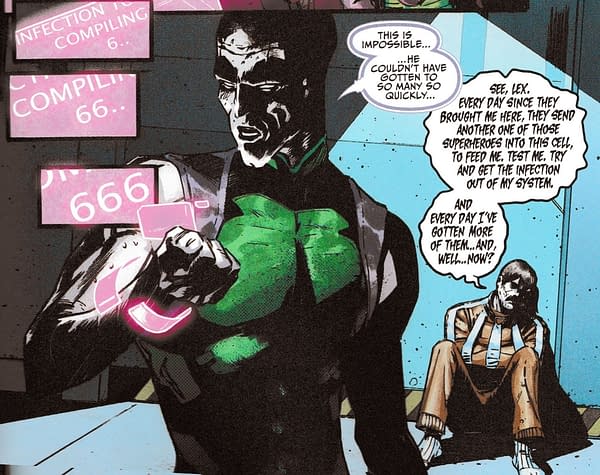 Bat Batman.
BATMAN SUPERMAN #6
(W) Joshua Williamson (A/CA) David Marquez
The Secret Six may have met their match when they faced the combined might of Superman and Batman, but don't count these infected heroes out yet. With the Batman Who Laughs freed from his prison at last, the clock is ticking for the Dark Knight and the Man of Steel to track down the escaped Deathbringer, Sky Tyrant, King Shazam, Scarab, and the most tragic to Superman…his cousin Kara.In Shops: Jan 22, 2020
SRP: $3.99

YEAR OF THE VILLAIN HELL ARISEN #2 (OF 4)
(W) James Tynion IV (A/CA) Steve Epting
Apex predator Lex Luthor is on the hunt for the Batman Who Laughs. To catch his prey, he must follow a trail of broken heroes… leading him to Jim Gordon, one of the victims of the Batman Who Laughs' deadly virus that turned the heroic police commissioner into the worst version of himself. The trail leads Lex to a lonely cell in the Hall of Justice – but it's not the good guys who come to stop him. It's more of the Batman Who Laughs' dangerous operatives! And if they couldn't resist the influence of the Dark Multiverse, then how can Lex?In Shops: Jan 22, 2020
SRP: $4.99

BATMAN #87
(W) James Tynion IV (A) Guillem March (CA) Tony S. Daniel
The Riddler has been lying low since his humiliating defeat as part of Bane's army- but as costumed assassins start to make their way into Gotham City, Edward Nygma may have the answers he's been looking for. Or at least, the answer to why Deathstroke is trying to kill him! Is it possible that Batman's tussle with Slade Wilson was all just a ruse to get the killer closer to his true target?In Shops: Jan 22, 2020 SRP: $3.99
Batman/Superman #6, Hell Arisen #2 and Batman #78 are out today from DCComics… I bought mine from Piranha Comics in Kingston-Upon-Thames. Piranha Comics is a small south London comic store chain with a small south-east store in Kingston-Upon Thames's market centre, which runs Magic The Gathering nights on Fridays, and a larger south-west store in Bromley, which also runs Magic nights and has an extensive back issue collection and online store. If you are in the neighbourhood, check them out.