During the DC Comics Nation panel at New York Comic Con, DC Comics publisher Dan DiDio revealed the DC Comics timeline. Bleeding Cool got the best resolution possible, deliberately low res for the presentation, and we have been doing out best to squint at various blurs to work out what they mean. With the help of others, we think we've done a pretty good job – though there is still much to fill in. Split into four generations, each taking a chunk of years. Generation 1 – 25 years, Generation 2 – 15 years, Generation 3 – 15 years and Generation 4 – 5 years respectively, DC Comics has squeezed its 85 years of publishing into 60 years, since just before the second world war. How that explains a missing twenty years, how the stories played out differently, how certain people didn't age, well we will have a Crisis for 2020 to explain all that.
I'm told the timeline is a by-product of what's coming. But also that it really really wasn't supposed to be revealed onscreen. And no one realised that, even when it was, that Bleeding Cool and friends would be able to read it.
Because he's the other thing. I am told that when it was put up on those screens, it wasn't the final timeline, but an out of date version.
Which means what we managed to see may well be subject to change. Oh and some of those changes may now be as a result of certain fan reactions.
We're all part of the matrix now.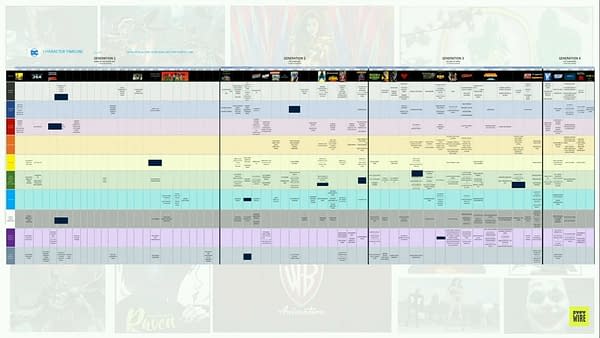 Enjoyed this article? Share it!