DCC '15: The Building The World: One Lego Brick At A Time Panel
By Matthew Barta
Judging by the title of the panel, I assumed that this would be a family heavy crowd, and in that I was correct. Having a screen set up in the corner of the room, I thought maybe they will be showing off some of their personal creations and what not. I would imagine most of the crowd felt the same way. That is what being a fan of Lego is all about, imagining. When it comes to the way they presented this panel, the imagination fell flat.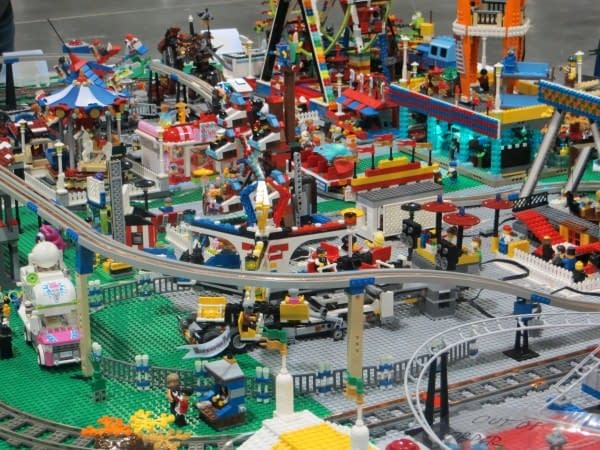 As we went through the introductions, it seems more like people trying to sell their books, not Lego related, with only one member who truly had anything to do with Lego. Next came the fun part. The moderator decided to read off questions that had been asked of the panelists on the Internet. The rest of the panel continued to give answers down the line and that filled up the next 40+ minutes. No one cares what someone's favorite obscure piece is. We wanted to see what the coolest thing the panelists ever created was. Sure there may have been a few comments that received a laugh from the crowed, but the panel was lacking in any real entertainment value.
By the time the panel had ended, well over 30% of the crowd got bored and decided to just get up and leave. I felt really badly for all the children who attended with the hopes of something halfway fun and entertaining. What made it worse is when the moderator asked "Who's just here for the free Legos?" yet they had no free Legos, or any Legos at all to produce. With all the hype around Lego at the convention, after multiple video games and one "Awesome" movie, you would think they would have done something just a little "Creative."
Sidenote: There were some amazing Lego-related displays available for viewing on the convention floor of DCC, however, and you can find that gallery here.