A Tales From The Four Color Closet Special by Joe Glass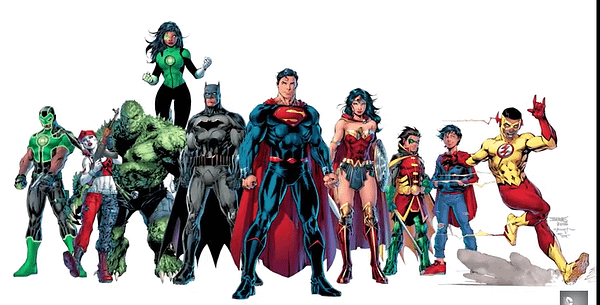 Yesterday saw DC's massive media event announcing this Summer's Rebirth retooling of the DC line. Now, before going into aspects which have personally left me feeling let down by DC, let me say that there are a number of books and creative teams announced I am very excited about. There is some great stuff there, by some truly talented teams.
But after DC You, the Rebirth feels less like a new chapter, but returning to a previous part of the story. After all, we are going from a line filled with diverse art styles and story telling, which had nearly half a dozen LGBTQ led titles – Constantine, Poison Ivy, Harley Quinn, Midnighter, Catwoman, Earth 2..
…to a line that feels much more like a consistent house style running through it, and to just two and a half LGBTQ led titles. Harley Quinn, The Hellblazer and Detective Comics.
That we know of – as of now, little is known about Phil Jimenez's Superwoman series. But Batgirl is losing her LGBTQ+ Burnside cast as well.
As DC themselves stated, they are 'doubling down' on their core characters and titles, by going twice monthly but also by creating a lot more books under those family lines. Problem being with that is many of their core characters are white, heterosexual and male. Now before I get the SJW branding and calls of demonizing white, hetero men, I am not saying there is anything inherently wrong with that, merely that its a terribly homogeneous way of telling stories.
DC You brought a sense of diversity that could only increase going forward – except Rebirth came along and it feels like everything has taken a step back. I still have hope: some of those creative teams are known for being very LGBTQ+ inclusive with their secondary characters and cast in their books, and there's still the chance that there are more books to come that we maybe just don't know about yet. But for now, the Rebirth announcement, whilst it did contain books that were exciting and interesting sounding, has felt like a step back for the LGBTQ+ audience, among others.
It's left me feeling, as an LGBTQ+ comic creator with The Pride, that there has never been more of a need for the series. Previously, I had wondered if as mainstream comics seemed to be getting better, maybe the time had passed. But as Marvel have no LGBTQ led titles after Angela: Queen of Hel finishes (even if they always tried to back away from the admission that the series is LGBTQ+ led and interest), and now DC seems to be taking a step back from that diversity, it feels like the reasons I had to start the series are coming back again. So I'm more enthused than ever to make sure the Kickstarter to collect the series hits goal and move on to the next volume.
We've gone from being able to see ourselves as leads in a number of diverse titles and ways, to being shrunk back. Yes, it is great to still be included as part of ensemble casts and supporting characters, but the LGBTQ+ community so rarely gets the lead, it feels empowering when it happens. What empowerment we got with DC You has been curtailed by this Rebirth.
Joe Glass is a Bleeding Cool contributor and comic writer, creator of LGBTQ+ superhero team series, The Pride! The Pride #1 was one of the Top 25 Best Selling Comixology Submit Titles of 2014, and the series is now running a Kickstarter to be brought together into a hardcover collection. He is also a co-writer on Welsh horror comedy series, Stiffs.
Enjoyed this article? Share it!