Dead End Kids #1 Goes to Second Print, #2 Sells Out Ahead of Release
Bleeding Cool previously reported that Dead End Kids #1, from Frank Gogol, Nenad Cviticanin, Sean Rinehart, and Source Point Press, had sold out its first issue and was selling for $35 on eBay before it even came out, which begged the question of whether it would get a second printing or not.
Looks like Dead End Kids #1 is getting that second printing after all.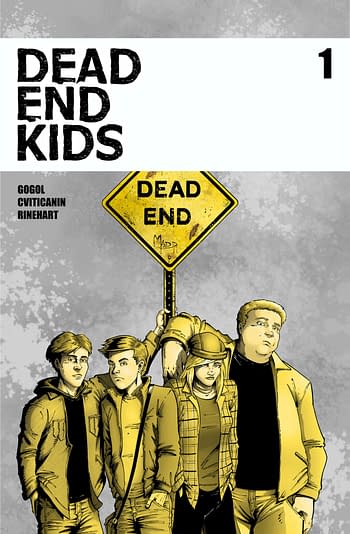 Dead End Kids #1 is back for a 2nd printing! It's 1999. Ben, Murphy, Tank, and Amanda are four screwed-up kids from broken homes, but they have–had each other. When Ben is murdered, Murphy and his friends set out to find who killed him and find themselves in the crosshairs. Dead End Kids is a dark coming-of-age murder mystery set in the 90's from the creative team behind 2018's critically acclaimed GRIEF.
Bleeding Cool also hears that Dead End Kids #2 just might be sold out ahead of release, too.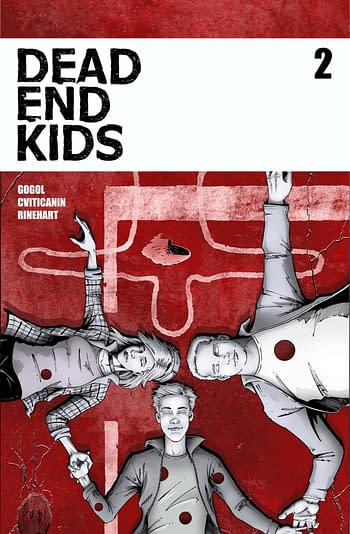 Things get worse as the kids come face-to-face with Ben's killer! And, as Murphy continues to take more drastic measures to avenge his friend, Tank and Amanda are faced with the question of how far are they willing to follow their friend down that dark path. Friendships are tested and broken, and that's not the worst of it as this breakout series from Frank Gogol, Nenad Civiticanin, and Sean Rinehart barrels toward its final chapter!
Final orders for the second printing of Dead End Kids #1 are due 8/19 for a 9/11 release. Dead End Kids #2 hits shops 8/21.