Death Trap: Matt Miner and Christopher Peterson Deliver Revenge in a Mercury Cougar
Death Trap is a brand new "carsploitation" comic book series that launched on Kickstarter today, from the creative team of handsome writer Matt Miner, artist Christopher Peterson, colorist Josh Jensen, and letterer Matt Krotzer, about a girl named Ollie teaming up with her dead father's ghost (which haunts a classic Mercury Cougar) to seek revenge on "methed-out carnies" and circus freaks. If that sounds like more action than your brain can possibly handle… wait until you see the pages!
To learn more, we spoke with Miner and Peterson in a launch-day interview:
---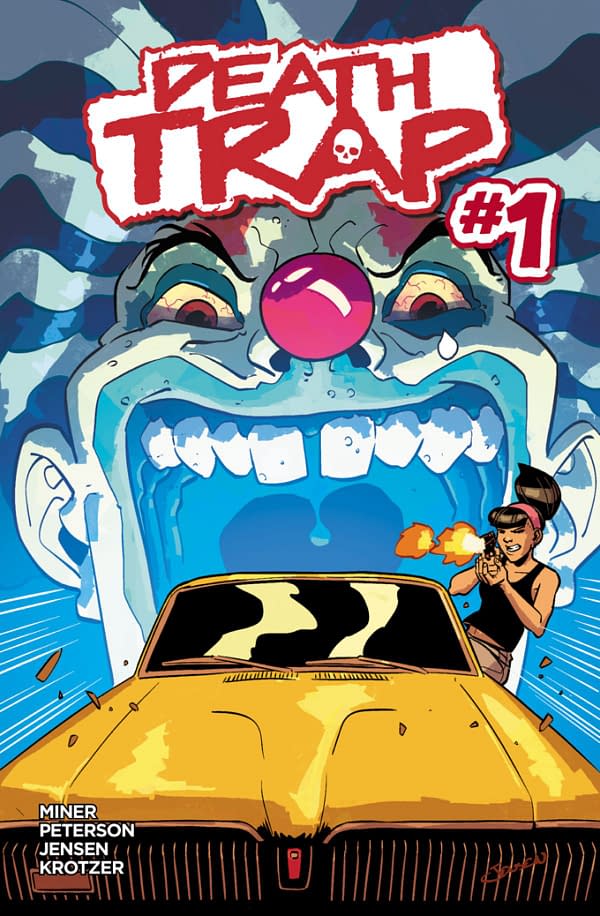 Tell us about Death Trap.
Matt Miner: It's a f'n bananas comic about a girl who teams up with the ghost of her dead father (who haunts his old muscle car) to get some revenge for his murder, in an underworld of a circus freak crime family and a bunch of methed-out carnies in a rival crime organization. It's utterly bonkers and we're having so much damn fun with it. Conjoined twins! Sad murderous European clowns! A guy who thinks he's a tiger! Dancing bears! Bearded strong women! A weirdo mermaid fish girl! A hitman nicknamed "Bob" because of his bobblehead obsession! And, tons more.
It's totally nuts and it's the most fun you'll have with a comic in 2020!
Christopher Peterson: Death Trap is the best comic of 2020 that doesn't star Harley Quinn.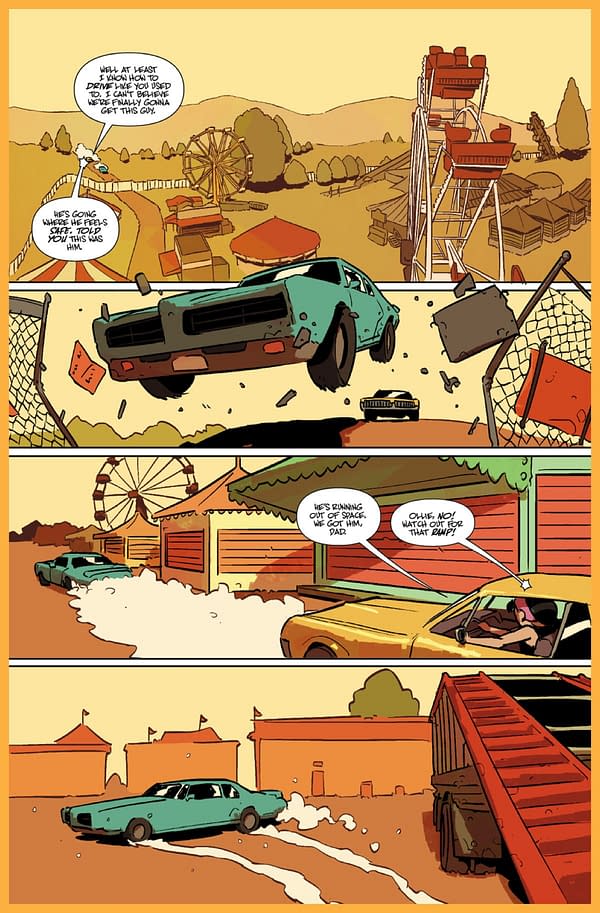 Matt, you told me that this new series is "less contentious than my normally super opinionated stuff." What happened? Did Disney get to you too?
MM: I was born Disney. My grandfather was an artist on countless Disney movies, and at Disneyland, and my great uncle was a composer and conductor who did the music for stuff like Sleeping Beauty.
Now, how do I leverage that into a sweet gig writing a Maggott, Marrow, & Skin book for Marvel?! Answer me now!
Chris, Death Trap is your return to comics after four years, with your last series being (I think) Broken World in 2015. What have you been up to, and why is Death Trap the right series for your return?
CP: Prior and during BW, I kinda lost my way mentally and comics (the industry, social media and such) was getting me to a weird place and I needed to back off for a while. I took on a 'regular job' doing creative work for online courses and being an artistic director of sorts. I finished there and actually had done a few random things that probably didn't show up on anyone's radar like fill in issues/pages for a few creators wrapping up some series for Black Mask and Image and then a couple pitches.
Things went cold for a while then suddenly had a snowball effect of people reaching out to me and of all that, the main one that stuck was Death Trap from Matt and it seemed like stars aligned or however the will of the force happens. Matt and I had previously pitched a carsploitation type comic back around Broken World time and it was almost a revisit but completely different plot, rules and circumstances. It turned out to be something I needed bringing me back to what I liked in comics past – a mix of Allred's Madman and Lapham's Stray Bullets (for me how I saw it), they were two of my favorites and it sparked something I hope to carry forward.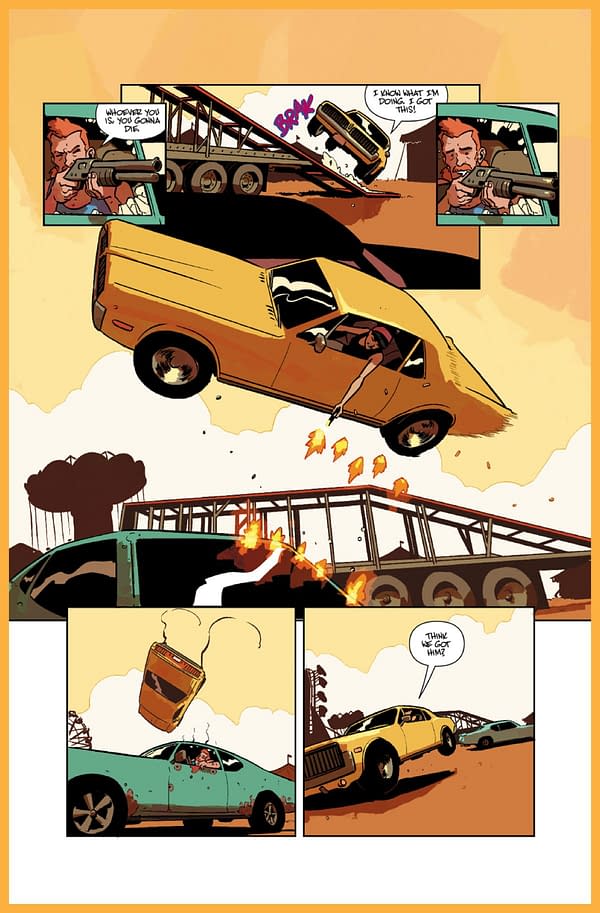 The Mercury Cougar is a classic movie muscle car, with George Clooney driving one in From Dusk Till Dawn and Diana Rigg driving a Cougar in On Her Majesty's Secret Service, amongst others. Why did you choose to go with the Cougar for Death Trap's signature haunted vehicle? And for car buffs, what specific model is it?
MM: It's a 1968, and it's the car I'm gonna buy when Death Trap hits the big-time, duhhhh. Send us your Hollywood bucks, because we need a giant, cuddly, and bloodthirsty CGI albino dancing bear named Wojtek (pronounced Voy-Tek) stomping meth-heads on Netflix or Amazon Prime, y'all!
I'm only kidding. Kinda.
CP: Specific model? I specifically can't find it to reference. Yeah Matt, those ads you sent me a year ago expired. Pretty sure this car is made up.
MM: That's why I told you to save the pictures, Chris.
CP: Those 6 pictures are all I have, like a used up playboy mag you found out by a dumpster when you were 11. They only go so far, man!
MM: You and these dumpster Playboys again?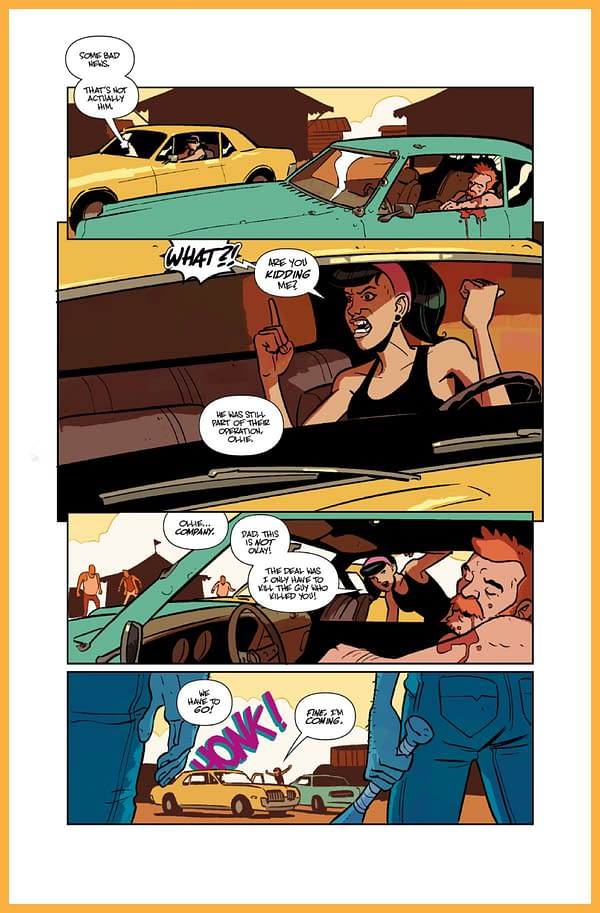 What can people who choose to back Death Trap on Kickstarter expect to get for their money, in addition to the comic?
MM: The 2 covers up on the Kickstarter are KS exclusives, y'all. When this thing goes to comic stores with its publisher, it'll have a regular cover, and smart folks who backed the Kickstarter and got the sweet, sweet, exclusives will have some major bragging rights. Also you can get all kinds of book packs of previous stuff I've written, GWAR exclusives, and even get yourself drawn into the book as a human OR a bobblehead figure, name a character after yourself, or customize a license plate on a bad guy's car!
CP: I think we're offering some pretty cool services. I was reminded of way back when I supported a kickstarter for Trickster which offered cool 'creator' services. I know ours aren't as glamorous but I hope they're fun, like character designs, a cover and script review. And overall, they get to feel like they've helped us and joined us in this endeavour and hope I get to meet every one of them at a show to thank them.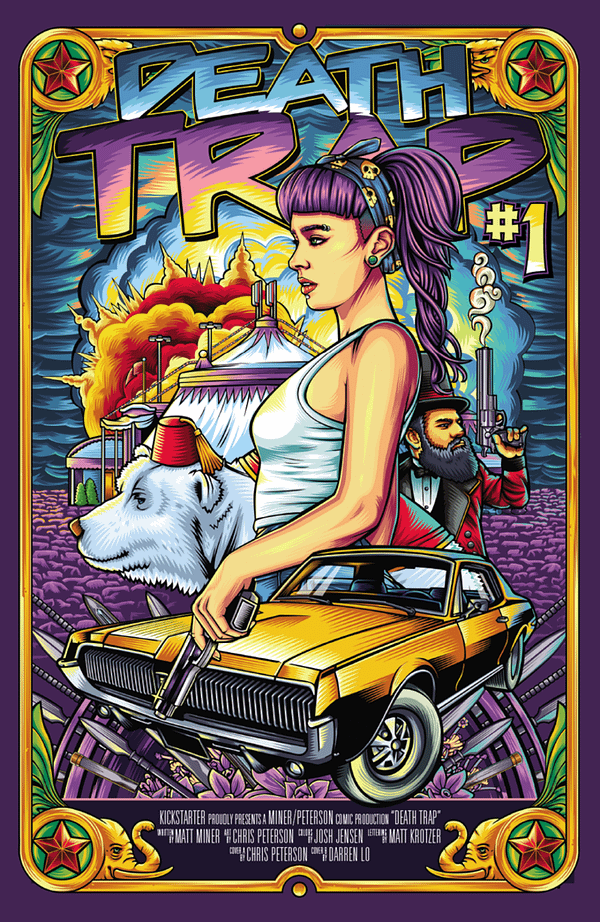 ---
To back Death Trap, head to the Kickstarter page right now! And if you're not convinced yet, maybe this trailer will do the trick…
https://www.kickstarter.com/projects/mattminer/death-trap-4-issue-comic-series-a-girl-and-her-ghost-car